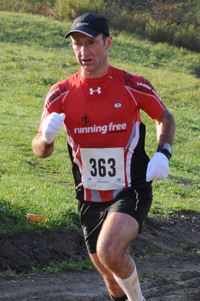 Matt Sharp
Team Running Free Markham
Member Since: 2012
Occupation: Solutions Installation Manager – Johnson Controls Inc.
Home: Newmarket
About Me: I took up running in the fall of 2008 and I can honestly say that it has changed my life. I completed my first Half and Full Marathon in the Fall of 2009, as part of the Learn to Run Half/Full Marathon Clinic at Running Free Newmarket. I also purchased a road bike in late 2009. Since that time, I have been an active participant in Andy Hayes' Learn to Run Clinic at the Newmarket location starting 5 and finishing 4 Marathons. Through his coaching, my Full Marathon finishing time had dropped from 4:44 to 3:21:57.
Sports: Running, Cycling and Skiing.
Athletic Goals: Qualify for Boston. Increase my running speed to be more competitive in my age category. Run a minimum average of one race per month in 2012.
My most catastrophic racing experience was: Collapsed at the 2011 Huronia Duathlon 250m from finish due to dehydration.
My most memorable racing experience was: Qualifing for Boston at the 2012 Disney Marathon.
Favourite Racing Gear: Mizuno Elixir 6 shoes, Sugoi compression wear, cycling shorts,and jackets and CEB compression socks all available at Running Free.
Favourite Race: Disney Marathon
Favourite Race Food: Carbo - Pro, Cytomax, Lava Salts and Roctane- all available at Running Free.