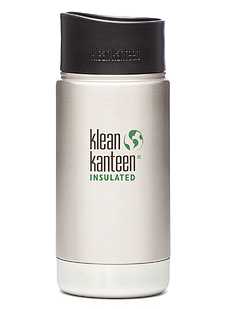 OK I know, what does Running Free know about coffee mugs and what do coffee mugs have to do with running? Well…I run and…well… I drink coffee. So when our favourite reusable water container company, Klean Kanteen, came out with a double walled, stainless steel coffee mug, I had to try it. They didn't disappoint. Like the famous Klean Kanteen water bottles, their mug is the absolute best option available. I was so impressed, I wanted all my running buds to know, so I ordered them and voila; they are now Running Free's official reusable coffee mug of choice. Here's why…
1) Klean Kanteen used the same 8/18, food grade stainless steel throughout the mug as their famous bottles (18/8 is the best stainless steel available).
2) This double walled mug will not be hot to the touch (guaranteed) and will keep your beverage piping hot for hours…literally. I've made tea at 8:30am and was sipping hot tea at 2:00pm later that day. Would be great for soup too…although I haven't tried that yet.
3) The biggest pet peeve with any reusable mug in the past (other than plastic leaching who knows what into our hot liquids) is the inability to clean the lid well especially under the slide. Klean Kanteen obviously thought this through and came up with an ingenious way to disassemble the lid making every part of the mug easy to clean. It's a little difficult to explain, but trust me, this feature will impress you.
4) There really is nothing comparable to this mug, but if you were to compare (as I did) you will discover swanky coffee shops sell really expensive reusable mugs that don't even come close to Klean Kanteen. Why pay more for an inferior product?
5) Most coffee shops (all the good ones –national or local) will give you a discount of about 10 cents when you bring in your own mug. That doesn't sound like a lot but if you drink as many coffees as I do, you will end up with enough money for a great dinner out for two at the end of the year. 1 to 2 coffees a day for a year means you save $40.00 to $70.00 a year. Wait! It gets better. You will ease the burden on your city or town on disposal costs too. Our environment benefits as disposable cups don't find their way to landfills or incinerators. Not to mention the emissions associated with transporting disposables to coffee shops then to landfills. Also, reducing paper cup consumption means less trees cut down for a one time use item. There's more, but I think you get the picture.
6) 1% of sales of Klean Kanteen is directed towards groups doing great work on behalf of our environment. Another 1% goes towards cancer research. It's so easy supporting this brand. They are a refreshing gem of a company with ethics virtually unmatched in the industry.
There you have it, all the best reasons to get yourself the Klean Kanteen reusable, stainless steel, double walled beverage mug.