Heading into Labour Day weekend's Canadian Iron 226, the only reward/goal I had in mind was to finish at around 11:30. I was well on my way to doing so until the 3 flat tires I encountered on the bike put an end to any thoughts of that goal. I considered bailing but I think that if you quit a race once (when you are mechanically and physically able to continue) then it becomes easier to do so the next time. I don't want to start down that road and I think you can learn from every race experience. I am glad that I stayed in the race because I was rewarded with a memory I'll have for a lifetime. Here's what happened:
Canadian Iron 226 – Ottawa (Sept. 4, 2010)
3.86 km Swim – Great for me 1:18:46. My right shoulder was messed up from Ironman Lake Placid so I swam 3 times since then (a total time of 1 hr) to give it a rest. After this swim, I could feel it was slightly dislocated again. Fun stuff but always a reality for me.
T1 – 8:00. Took wetsuit off at the beach, and made the long run to transition. Chilly conditions meant a bit more time in T1 to put on more gear.
180 km Bike – On pace for 5:30-5:35, then had 3 flats (maybe if I carry less spares I'll have less flats? Hmm) – dreams of a PB was over. Rode the last tire on less than 20 psi (i checked later) for 11 km). Serious gale force winds almost blown off my bike at least half a dozen times. Suggestion to race organizers – mark the potholes! (Just like John Salt does at MultiSport Canada) – still a well-done race though. I snapped a piece of my aerobar off in addition to getting flat #1. I was not the only one as there were quite a few bottles at the side of the road at that spot. I really don't know how my wheels or fork didn't crack or how I avoided an "endo". That was not the only hole in the road either. Yes, I did pass that spot 4 times before but my mind was numb from doing all those laps and didn't remember it. I was still on pace to got sub 6 hrs but flatted 2 more times on the final lap. Bike completed in 6:26:34.
T2 – I looked at the time, and calculated that I could still bang out a better than 12:30 finish – even with my injured hamstring, which was feeling quite decent. However, such an effort would have beaten me up for a finish time that would have meant not too much. So while my goal time was out of reach, I decided to wait for my buddy Ace and be his personal pace bunny to get him a PB – whether he liked it or not. Plus, I needed to do a long run for the Run for the Toad and burn some calories for my post-KFC treat.
While in T2, I chatted with Allan Chud (won his age group for the Iron 113) and Cindy Lewis (8th overall woman at Ironman Louisville last week) of Absolute Endurance for a while – they reminded me of my KFC reward too. I then changed out in the open – yes, public nudity – because the change tents were blown wide open with the crazy winds. Ace came in, soon afterwards, he did his thing and we headed out. I spent 19 minutes and 6 seconds in T2. The slowest transition time of the entire race and I loved every second of it.
42.2 km Run – 5:35:35. Basically, I served as the "no walking" police, rather than a pacer. I'd allow walking through aid stations or to let heart rates to come down but that was it. The first 15-18 km was a struggle but once over that hurdle Ace was a machine. He got stronger and this is the way to do an Ironman run. Heck, there were a few times I had to work to keep up to him.
In the end, Ace ran a PB, and beat his previous Ironman time by over 90 minutes! That made my day and I'll always remember it. Especially when we approached the finish line and he refused to cross the line ahead of me. Being the classy guy that his is he said, "Either we finish together or you finish ahead of me." We were at a standstill a few metres from the finish and I am sure the spectators were wondering what was going on. Since he would not move an inch, I grabbed his arm and we crossed the line together. I am so glad I didn't quit because I would have missed this awesome achievement by a great guy. Ace – you rocked it my friend. You rewarded me by toughing out that run. Congratulations! And Prem, congrats on your first IM finish, along with the many other Running Free guys and gals out on the course – Rob, Liz, Derek, Anthony, and others I just met in passing along the bike ride.
Final time – 13:48:00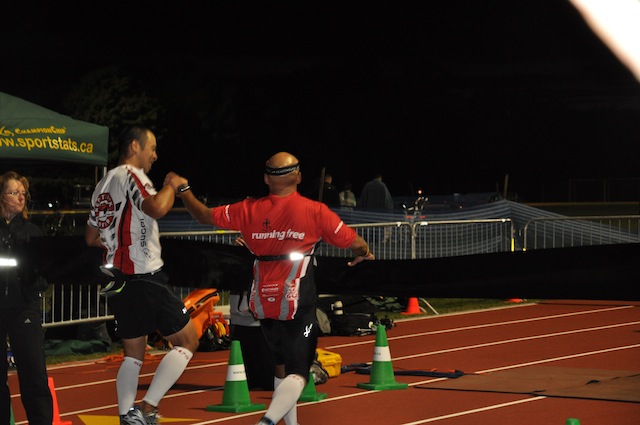 Other thoughts – Brutal conditions today. Some may say this is an "easy" course but I say no Ironman distance race is easy. You still have to cover the distance and do the work. Sure the potential for fast times is greater with a flat course but this means you are pedaling the whole time, there is no time for rest or coasting down hills. This will take its toll during the run. In my experience these flat course also tend to have a lot wind (ie: today in Ottawa, last year too but not as bad as today, and at Ironman Arizona). A race course is as hard as you want to make it. Plus, as you can see from my experience, anything can happen on race day. You can be in the best shape of your life, but a mechanical can mess with all of that. You just have to make the best of it.
Major thanks to the best in-laws a guy can have. I truly hit the jackpot in that department. D & L – thanks for making the trip, and enduring the windy and chilly weather a little longer than expected. BB – as usual you rule too!
See you at Lakeside or if you need a 2:15 (10 and 1) pace bunny at the Scotia Half, make sure to search me out.
Oh, and if you think my KFC thing is a joke, check out what I had for dinner a few days after the race. My other reward from the race. Oh yeah, I had some more the week after too. This has got to stop.