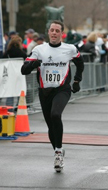 I tend to think of the Around the Bay race as either the last race of the winter season or the first race of the spring season. Quite often it is both. This year was no exception and the fact that the race organizers held the event one week sooner than in previous years – on the day that is the cusp between winter and spring no less – seemed to recognize this.The questions most runners seemed to ask themselves and each other prior to the race, other than questions of pace and goal times, seemed to focus on clothing. What is the appropriate attire for a 30 KM race on a morning that the temperature hovers around 0°C and there are forecasts of freezing rain and snow? I saw every possible answer to this question at the start of the race including full weatherproof winter gear to shorts. I don't recall seeing anyone in a singlet, but I didn't get a good look at the front of the pack at the start. I went with something in-between the two extremes: a somewhat light pair of tights, a long-sleeve shirt with my Running Free short-sleeve team shirt overtop, gloves, toque, and, most importantly, wind briefs. My friend Chris once commented that 'wind briefs' sound like they should do the opposite of what they are intended to do. I'm pretty thankful that, despite the name, they perform their intended function quite well.
Having decided on what to wear for the race, I had to come up with answers to the other pre-race questions of pace and goal. I took the advice of Nick and John who both cautioned me about running this race hard while planning to run my first Boston in just weeks. Their advice seemed to be echoed by many of the runners that visited the booth at the race expo on Saturday afternoon as I heard many stories that seemed to back up this wisdom. Having an extra week between the Hamilton and Boston races might make a difference, but I know that my training over the last few months has suffered due to my weekly commute to Vancouver and I opted to go out slowly and aim for an initial pace between 4:40 and 4:45 per kilometer.
Fortunately, I found fellow Team Running Free member David Topping at the start of the race. While David has not been commuting to Vancouver each week, he has been doing a lot of cross-country skiing this winter so he had a race plan that was similar to mine. The first few kilometers were quick at around a 4:30 pace, but we quickly settled into our planned pace. Shortly into the race, Emmanuel Ronchin, another Team Running Free member who identified David and I due to our snazzy team apparel, caught up to us. Eman was a little more aggressive in his goal and ran ahead of us after a little while at our pace.
The winter portion of this race appeared as the race course makes its way from downtown Hamilton toward the waterfront of Lake Ontario. As we turned to head north, the driving wind and mixture of freezing rain and snow confirmed my clothing decision but made me wish that I had included some form of eye protection. Once we hit the half-way mark at the lift bridge and turned back toward downtown, the weather became less of an issue as the wind was at our backs and the snow and rain had stopped. We hit the 15 KM timing mat at 1:10 into the race, almost exactly at a 4:40 pace. As we came into the Burlington (i.e. hilly) section of the race, I was feeling pretty good and decided to pick up the pace a little bit and run by myself, averaging a 4:35 pace for the remainder of the race.
With the wind at my back and the day starting to warm up, I quickly found that I had to remove my toque and gloves and thought for a moment that those guys I saw wearing shorts at the start of the race may not have been so crazy after all. I have always found this part of the course to be a good challenge and, having not expended too much energy during the first 20 KM of the race, I was able to pass a good number of runners through this section.
When I reached the top of 'the hill' I spotted a Team Running Free shirt. Setting this as my next target, I caught up to Eman on the bridge into downtown Hamilton. At this point, we were all reminded that this was still only March as a cool headwind picked up for the remainder of the race and I went back to thinking that it would have been crazy to have run the race in shorts.
I could tell that Eman was struggling a bit as I caught up to him but as soon as he recognized me he was able to pick up the pace and run the last two kilometers of the race with me. Aside from asking me several times how much of the race was left, he seemed to be doing well enough at this point to finish strongly. Once the finish line was in sight, I decided to use what energy I had left to sprint to a 2:19 finish. While it was not my personal best at Hamilton – that was last year's 2:11 finish – it was probably the most enjoyable time I've had running Around the Bay (despite the weather) as I was happy with being able to stick with my race strategy, the negative split, and being able to help a fellow Team Running Free member to finish. I'm hoping that Boston won't present any weather challenges, but I'm sure it will be a good race if I stick with a reasonable race strategy and have fun.