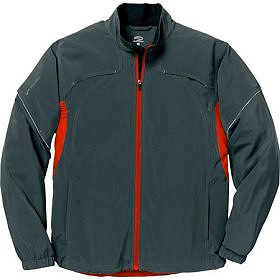 Last year I was fortunate to get an oppurtunity to try out a Brooks Running Jacket. After reviewing my running apparel, I realized I had many outdated running jackets and could really use a new one. 
After looking at the inventory at Running Free I chose the Brooks Airplex II jacket.  Although the jacket looks fairly plain to look at, Brooks has incorporated the Aireplex TM  feature into the design.  Aireplex fabric combines water resistance, breathability, wind protection and comfort and soft, supple microfiber polyester with high-tech DuPont Teflon water repellent finish.
Although these features sound great, I needed to prove the quality of this jacket by running in various weather conditions.  After running in windy, rainy & below zero temperatures I realized how great this jacket really is.  It was very good in the wind, comfortable, and didn't retain water.
On the negative side, I like jackets with the pull cord inside the pocket.  This jacket has it located on the outside.  Sometimes when my arm swing is low I catch my fingers in the loop.  Also, the price tag of $94.99 seemed a little high to me, I personally probably would not purchase a jacket for this high cost.  Perhaps, since I haven't bought a jacket in a while I have been out of touch with today's prices. If you add up all of the features and quality, the price starts to look more realistic.
Overall, I would recommend this jacket to all runners and especially those who run in temperatures below zero and high winds.  So far this jacket has performed well for me this winter in conditions ranging from 0 C – 20 C wind chill conditions.