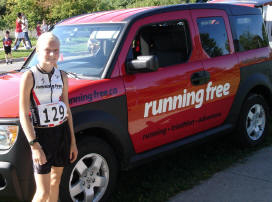 I, like a lot of other kids ran cross country in elementary school. The elementary school cross country experience was a really good introduction to running for a lot of us; sure we had the track and field days but for serious long distance running it is usually your first experience. Kids join the elementary school cross country team for various reasons and some surprise themselves, coaches and parents with their natural ability. If you are one of those kids who like the cross country experience, you should join one of the Minor Track Association Clubs in your area (www.minortrack.ca) to get coaching and training. It will really help once you hit high school.
Once you get into grade nine you will notice that the meets are really different from the elementary school meets. You will be a little overwhelmed by the sheer number of runners, longer distances, surviving the starts and various course conditions which usually include big hills.
I joined the cross country team at All Saints Catholic Secondary School in Whitby the first week of school and was excited about the up coming season. I met the coaches who were great and a lot of other kids who all had the same interests. I ran seven cross country meets and one relay over the course of two months and have learned many key lessons that I want to share with you. Hopefully these lessons will help you become a better athlete, love the sport and not repeat errors that most people make when running cross country for the first time in high school.
The first things you need are appropriate shoes for cross country. Running shoes are ok for jogging, but for cross country you need cross county shoes. These are shoes with spikes. The best selection of running spikes is at Running Free. You will see many different types of spikes. There are sprint spikes, medium distance spikes, long distance spikes, and cross country spikes. My recommendation is to buy cross country spikes because they are the most versatile. Cross Country spikes have cushioning in the heel, offer rubber soles, are very light weight, and best of all can use different sized spikes. Use the big 9mm spikes for running cross country as they will help with the hill climbs and mud. When track season starts just put in the 6 or 7mm spikes and you are all set for indoor or outdoor season.
The next choice is proper clothing. Bring lots of clothing options as the weather conditions can change drastically hour to hour. Do your walk through in an old pair of shoes so you don't get your good running shoes all muddy. Put your cross country spikes on just before you go to the start area as they are for races only. 95% of the time you will wear shorts but as I experienced with one race in Thunder Bay in November it can get really cold. A light pair of leggings is needed by all runners but a heavier pair can also be used when in cold races and winter training. I looked around and bought a great pair of medium cold running tights by Insport at Running Free. I also bought an Insport Xodus DynamiX under shirt. This t-shirt is the new high tech material that contains x-static silver fibre technology that regulates your body temperature. As the weather got colder it became necessary to really layer up before a race to keep warm and also have the ability to shed the clothing fast as the start of the race approached.
The start of a high school cross country race is one of sheer panic when first experienced. Picture 200 kids bunched together at a line all having the same purpose. Every one wants to be at the initial turn or marker first while the course narrows. Survival is the key as you don't want to fall and be trampled. I have never liked being boxed in on starts and if possible go to the extreme inside or outside position to feel comfortable. It allows you to run the start at your own pace and not get boxed in or if someone falls avoid the crash. The first rule of starting a cross country race is surviving.
Pace is the most important thing in a cross country race. A lot of the kids get caught up in trying to win the start of the race, but there is no medal for the person who is first after 200 meters. Getting a decent start and getting into race pace is the most important point. You will pass the sprinters; the rest of the race is all about strategy and guts.
The most exciting part of the cross country season was qualifying for OFSSA. This is the Ontario High school championships that were held this year in Thunder Bay. Kids who qualified for OFSAA were the top three finishers in their regional meets and the top school teams. Over 200 kids ran in the girl's midget race which was 3k in length.
I learned many lessons about being away from home that week and how you need to really focus on the big race.
Last but not least is the amount of school you can miss by running in the meets. I missed ten days of school in the first two months and it was really tough keeping up with the home work. Best advice is to talk to your teachers and try to get work ahead of time.