Location: Millbrook , Ontario
Date: May 13 and 14, 2006
Race Description: Two day stage adventure race
Website: www.stormthetrent.com
 
 
Scramble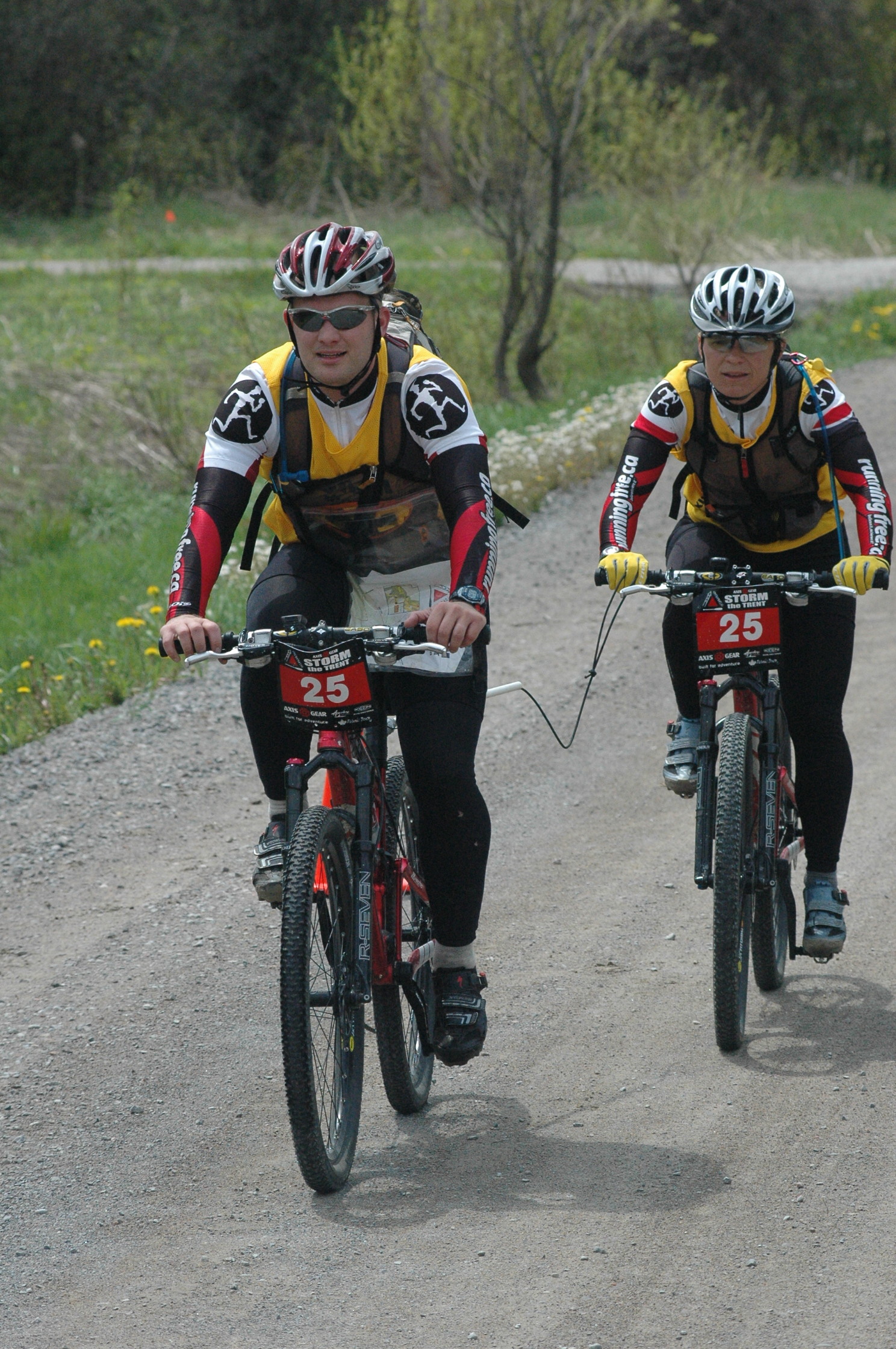 One week before the race our support crew cancelled on us. We spent the week frantically emailing everyone we knew begging for support. Unfortunately this was a popular race weekend so most people were busy. The Wednesday before the race Jill tested positive for strep throat and goes down with a high fever. With no support and one very sick racer it did not look good.
 
By Friday we had resigned to doing the shorter TREK race (which did not require support) and began to get organized. Two hours before the 8:00pm race briefing our luck began to change. A call came from another racer offering for his support to support us as well. This was an incredible offer we could not refuse. So plans changed. Kalon rushed the kids to our babysitters while Jill scrambled to put together the gear and food. Two hours later we were telling race director Sean Roper we were back in the race (thanks Sean).
 
Lying in bed that night we both couldn't believe our luck- that was about to change.
 
Day One- High Temperatures
 
From the meeting last night we had the maps and were ready to face the start- a 22km paddle across Rice Lake and up the Ottonabee River. 5kms in we had lost the lead pack and were struggling against the choppy waters and windy conditions. Our light canoe was being tossed around and took on a lot of water from the waves crashing over the bow. It was a frustrating start as we knew we were losing a lot of time to the leaders. Once on the river we finally began to feel like we were moving forward and caught one co-ed team. We were slow to transition as we had to load our own canoe on the car and tighten all the straps as our support crew was unable to.
 
Our bikes were ready though and we took off on what should have been our strongest part of the race. The first bike section was on a mixture of gravel and paved roads. Usually we tow along this type of section averaging around 30kms/hour. Unfortunately this is when we learned that what Kalon thought was just nerves, was a lot more- a high temperature, chills, and incredible weakness. He was now sick!
 
Our strength as a team in previous races has been our ability to work together with what we've got. This however has almost always been a stronger male supporting his wife. In order to finish this day, the roles needed to be reversed. So we shared the towing on the bike. When one fatigued the other took the lead. We made up sometime on the leaders, but were a lot slower than normal.
 
As we entered the unmarked section of the bike course that went through the Ganaraska Forest we had to work more independently on the bikes as the trails became sandy and more technical. Fortunately we nailed the navigation and kept up with the third placed co-ed team. After retrieving the three control points we biked into the run transition.
 
On the run we ran in to more difficulty as Kalon was feeling very weak, his fever still burning. There were two control points to retrieve which were located along a trail run loop. After retrieving the second control point we decided to follow a bearing through the bush to cut distance.  Although the pace is slower in the bush, Kalon was unable to keep up a good running pace, so the decreased speed helped to him to conserve energy and didn't take us any longer than it would have to run the trail.
 
Back on the bike for a short 13km road ride in to the Millbrook Valley Trail System. Here we were required to complete the task of loading and carrying one bag each of mulch that was dumped along a marshy section of trail. From there we waded through thick swamp, crossed the road, and headed in to the last 4km trail run to the finish. This was a tough 4kms as the day was getting warmer and Kalon's fever worse. Kalon had pushed so hard through the day and was ready to collapse as the last 2km were straight up. What happened next will probably never happen again. Jill found some inner strength from parts unknown and carried both packs (she usually doesn't even carry her own). Without the pack Kalon could breathe again and together we made our way to a fourth place finish for the day. Despite our many problems throughout the day we were only fifteen minutes behind the third place and thirty minutes off the leaders.
 
We left for home after cooling Kalon off in the creek and grabbing some yummy Jake's food. Having the race so close to home was a big advantage for us as we could relax in our own space. After a nap Kalon's fever finally broke, we ate some more food, bathed, and went back to bed.
 
Day Two: Still Not Our Best, But Better
 
Knowing we had a good chunk of time to make up and still not feeling at our best, we started the second day mentally strong. The day started with an unmarked run section through Northumberland Forest on a mixture of cross-country trails where we had to locate five control points. At the start teams spread out in all directions, however we had chosen a similar route as second place team Canadian Outback. Being so close with them the pace was quick as we navigated through the trail system of the forest. Even though some route choices were slightly different we kept meeting each other at the control points. About 5kms in Kalon's bladder broke open. Losing all your liquids usually spells disaster, however his lighter pack was a blessing (and a bit of humor as we watched 3L of Gu2O leak out the back of Kalon's pack).  We picked up the pace even more near the end of the route. We were tied for first coming in to the transition to bike area. This was a very positive way to start the day after such a disappointing first day. We knew we could not accomplish our original goal of winning the race, but we were determined to make up as much time as possible with what we had.
 
On the bike we worked with Canadian Outback in a pace line along a short paved section that lead in to an ATV trail, and then out to a marina on Rice Lake where unfortunately our boats awaited us again.
 
We entered the water at the same time as Canadian Outback (still in first), but quickly started to fall back. Our reliance on pure strength in the paddle domed us again to a zigzagged, wet route across the choppy 12kms of Rice Lake. This was frustrating and not the best part of our race. We have both decided to sign up for some technical paddling training.
 
Off the water, we met our support crew who decided to go above and beyond for us and load our canoe on to the car by themselves. This saved us an incredible amount of time and stress (thank-you, thank-you, thank-you).
 
This next bike leg was the most challenging of the course as we started up a long, long hill that lead to some technical ATV track. It continued through the Power lines where we were forced to push our bikes up numerous steep sandy hills, but also provided us with some sweet sandy descents (one of which Jill had a highlight reel endo!).  Coming into the unmarked road section we picked up the pace and started to hammer. Not wanting to be caught from behind, and knowing we were racing the clock, we worked again to share the draft. This was the only part of the race that we felt like us. It ended a little too early as we had just caught Canadian Outback on the transition to the run.
 
Once again we were required to carry bags of mulch to a marked location, and then continue on marked trails through wet boggy areas and soft cedar forest to find two more control points. No mistakes and we headed for the finish line along the marked 4km trail that yesterday had challenged us.
 
Crossing the finish line we knew we had done the best we could have on that day. Both of us had given all of what we had, and had not asked anymore from the other. We held our breath for the next fifteen minutes as we waited for the next team to come in. When that time came and past we knew we had third. We then held our breath as the time for coming second came closer and closer. We came less than five minutes short of second as the next team came across the line (this would have been the time it took us to put the canoe on the car the first day).
 
Third place seems to like us, and for how we felt, for the fact that two hours before the race briefing we weren't even going to be able to race, third place was awesome! We owe a HUGE thank-you to Davis and Caroline for supporting us and to Sean Roper for putting up with us entering, unentering, and reentering. This was our first multi-day race and we loved it!