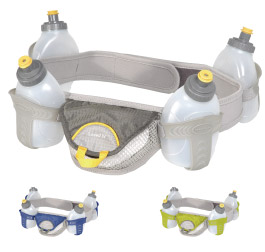 The Nathan Speed 4 hydration belt has been a definite step forward in my training gear arsenal (lol). I have been using it for 4 weeks now for all my runs, both short and long. The fit of the belt is great with very little bounce and no spinning at all. I found that I always fight with my Fuel belt from creeping up on my runs, the Nathan belt stays where it begins and has a great deal of comfort built right in.
Bottles
With four large 10 oz bottles (over 1.1 liter) that fit in holsters that are designed to hold them snug, I can go out for some pretty long runs without having to refill more than once. The bottles have a larger opening than the regular Fuel belt bottles making it possible to stuff in medium sized ice cubes and more importantly, I am now able to scoop my GU2O right into the bottle and mix it there. The bottles have a soft rubber like feel to the nozzle giving them a better feel in the mouth as well as making them even more leak proof.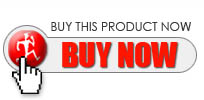 The holsters are made from a soft plastic and form a socket that is ready and waiting to take the bottle. These sockets make it very easy to find where the bottle is to go and you can cram them in with only one hand without having to worry about missing or pushing the bottle right through the webbing. The bottles sit very nicely with a definite "completely in" feeling when you push them into place. These sockets also stand out quite a bit and can catch on things more easily, I caught a branch while running trails and the belt popped off, but I am sure that this could happen with any belt that you wear if you aren't being careful when you run. The only problem that I have had with the belt and holsters so far is that it wouldn't fit under my jacket when it was fully loaded (but again, that is the jacket's problem not the belt).
Storage Pockets
The two pockets on the belt make it easy to carry a load of things needed on the long run. The larger pocket is divided into two sections with a key ring and also has a third "secret" pocket to stuff money or Advil into. The material of the main pocket is stretchy mesh allowing it to hold plenty of necessities. This week I was able to stuff in 4 gels and a travel pack of tissue (with room to spare). There is another smaller pocket on the front of the belt which could easily hold 2 gels and your keys or a small cell phone. I used it to hold Tums and M&M's (remind me never to do that again!).
Fit and Feel
The belt fits snugly with a fair amount of elasticity to allow for movement and breathing. It has a comfortable breathable mesh and soft pipping to make it feel nice and cool on those warm day runs. I am not sure if I could wear it against skin but it looks comfortable enough to do it. It is also the kind of belt that you can wear around your waist or slung low on your hips if you prefer. There is plenty of room on the Speed 4 to pin a race bib and other versions have bib pins/clips built right in if you prefer to wear your belt during races. The bottles are evenly dispersed around the perimeter of the belt with a little more room on the front for you to clip on add-ons or stuff your shirt through. When fully loaded, I find the belt more comfortable turned around backwards with the rear bottles and large pocket facing forward, but that is just my preference to have more weight forward. There is also a gear loop provided on the front of the belt to hook on any additional gear that might be necessary to carry such as a camera, gloves or headlamp (basically anything with a lanyard or caribener).
Pros:
One hand loading and unloading of bottles
Virtually bounce, spin, and creep free.
Lots of storage room.
Bigger bottles
Different colours available
Cons:
larger feel with the solid feeling holsters
bigger bottles mean heavier
Bottom line: A lot of thought has been put into engineering a top notch product. While it isn't a new idea, it is a huge improvement in every category over the market leader, Fuel Belt. So runners now have a choice in the market of hydration belts, I have made my choice and it is the Nathan Speed 4 Belt.
http://www.nathansports.com/our_products/hydration_nutrition/speed_4.html