– Date: May 28, 2007
– Description: Opus Epic 8Hr MTB Solo
– Location: Mansfield
– Race Name: Opus Epic 8hr MTB Solo
– Sport: MTB
– Race web site: www.chicoracing.com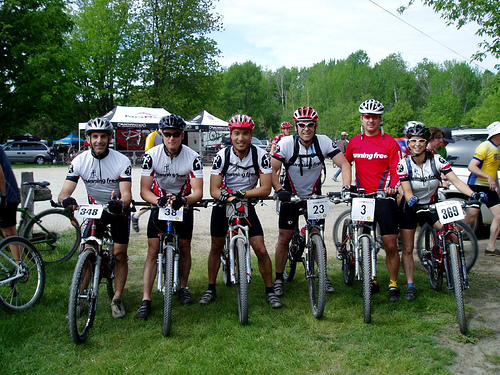 Team Running Free members were out in full force at Mansfield for the season opener for the Epic 8hr series. Harper Forbes and Joe Gabor used the race as preparation for the 6 day expedition race Raid the North Extreme @ Prince George, BC while Bill Logie was preparing for the Test of Metal MTB race, Denise Rispolie for Quest for a Cure (and the Death Race) and myself and Bill Trayling preparing for the 7 day mountain bike sufferfest, the Transrockies Challenge.

The Epic 8 @ Mansfield is the first of three 8hr mountain bike races in Ontario put on by Chico Racing. Many use the race as a tuneup for the popular 24hr Summer Solistice @ Albion Hills. Under great weather conditions, over 100 solo riders and 100+ relay teams set off on the 10.5km looped course. Right from the get-go the course takes a rolling hill climb before it entered some fast and twisty single track.
While not a super technical course, there were 3 sections to note during each loop:
1. An off-camber descent off a side of the hill – one slip and it's off the hill!
2. A long and gradual hill which changed from double track into tight, sandy single track that kept going up and up and up!
3. A sharp descent into a track of sand that made staying on your bike a challenge!
Congrats to Bill Trayling who place 2nd in his division with a mind numbing 14 loops! Also props to Amy and Catherine for supporting 9 riders! Best of luck to the rest of the gang who showed that RF athletes can ride too!