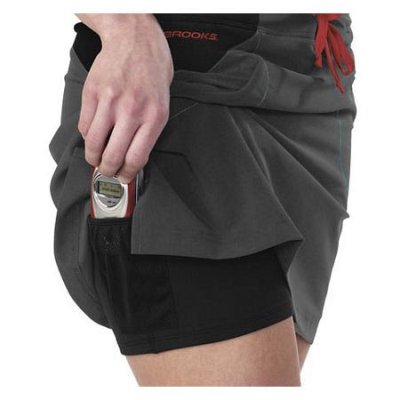 I read about the Brooks Motion Skort in a recent issue of Shape Magazine while flying. I could not wait to get back to the store and buy it just for the cute look. This semi-fitted skort stylishly blends miniskirt and fitness short in a sporty union. I tried on every single skort at RunningFree. The best fit and most comfortable one was the Brooks Motion Skort. It felt like it was custom made for my frame.
The fit is semi-fitted so go smaller than your normal size. The length is good too and extremely comfortable. There is a hidden pocket at left front hip; features an internal stretch short with cell phone pocket. The pockets are great for carrying extra GU.
This skirt can definitely take you from a long run to running errands without feeling exposed. The inner short avoids chafing and they do not rub or ride up. It's very flattering to the female body, conceals the upper thighs and looks athletic without being revealing like compression shorts. You can be strong, feminine, and feel awesome at the same time.
Features:
Hidden key pocket and internal stretch short with cell phone pocket: For storage and convenience
Internal stretch short: Ensures comfort and coverage
Fabric content body: 86% polyester, 14% spandex
Fabric content panels: 93% gradient moisture transfer polyester, 7% spandex
Inseam: 7″
Stuff that I don't like:
Only 2 colour choices
Front drawcord. I like a clean look in the front but have learned to ignore it.
I am so thrilled with my purchase. I wear them all the time and especially on the long runs. They are so comfortable. The skirt is so cute and makes it even funner to run.