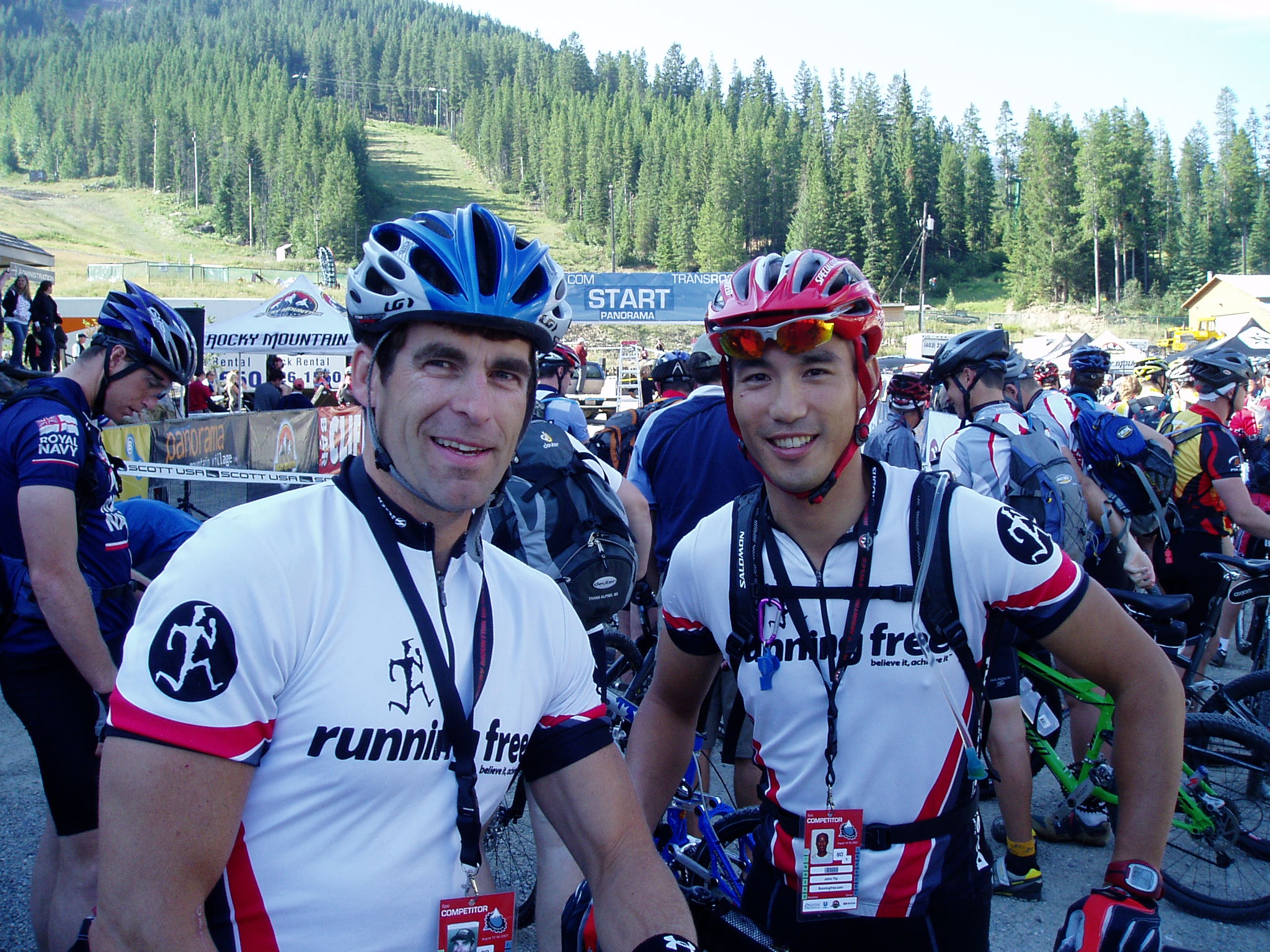 The Transrockies Challenge is one of the world's premiere mountain bike stage races. Along with its parent race the TransAlps Challenge (Germany) and La Ruta de los Conquistadores (Costa Rica), the Transrockies is known for its gruelling climbs and technical descents.
Spread over 7 days, the route covers more than 30,000ft of elevation gain and 600+k of gravel roads, singletrack, doubletrack/ATV trails. Less than 5% of the total distance is on paved road. As part of the race entry fee of $1800, you are provided breakfest, dinner every day, shower and washroom facilities, and a tent to sleep in every night. If you had some extra money, you can rent an RV.
More than 300 teams from 20 countries showed up for Transrockies VI Panaroma to Fernie. In past editions, the route started in Fernie and ended in Panaroma. For the first time, both Fernie and Panaroma have now been host sites for the start and finish of this epic race.
For this event, Bill Trayling (former adventure racing teammate) and I joined forces. Bill is a former world-class paddler, that discovered multisports. Since moving to the Horsehoe area, he has become one of the province's top master's mountain biking, having placed 2nd at last year's Ontario Cup and podiumed at the last two Epic 8 MTB races.
For me, the only mountain biking I have done has been in adventure races with the odd 24hr MTB relay or part of a multisport race e.g. Jay Challenge. This year, I completed my first ever solo MTB race (Epic 8hr) and only trained on the bike. However, as life events took over (marriage, honeymoon, buying and selling homes, work) I found myself sadly out of shape and totally unprepared for the Transrockies.
Stage 1 – Panorama to Invermere – 33km, 1139m of elevation
This stage was considered a prologue of sorts. Short enough to get your legs and lungs going. However, what this stage did was set the tone as to what the Transrockies was going to be about: brutal pace, hike-a-bikes, technical singletrack.
After a loop through the resort, the climbing began almost immediately up the ski hill. 600 riders jammed into a service road required tonnes of concentration so that you didn't wipe out and take the whole peloton down with you! As we ascended, the pitch got steeper and riders popped off their bikes to continue walking. Bill and I powered up until we hit our first bottleneck into the single track.
While the front runners could ride this section, the sheer volume of riders caused a backup that forced us to walk the next 5-7km. The single track quickly changed pitch and went straight up above the treeline. We were soon huffing it with our bikes on our back climbing to close to 7,000ft. My legs and lungs were screaming in agony!
Once over the pass, the trail became off-camber. One slip off the trail and you were down the cliff. We saw this a couple of times.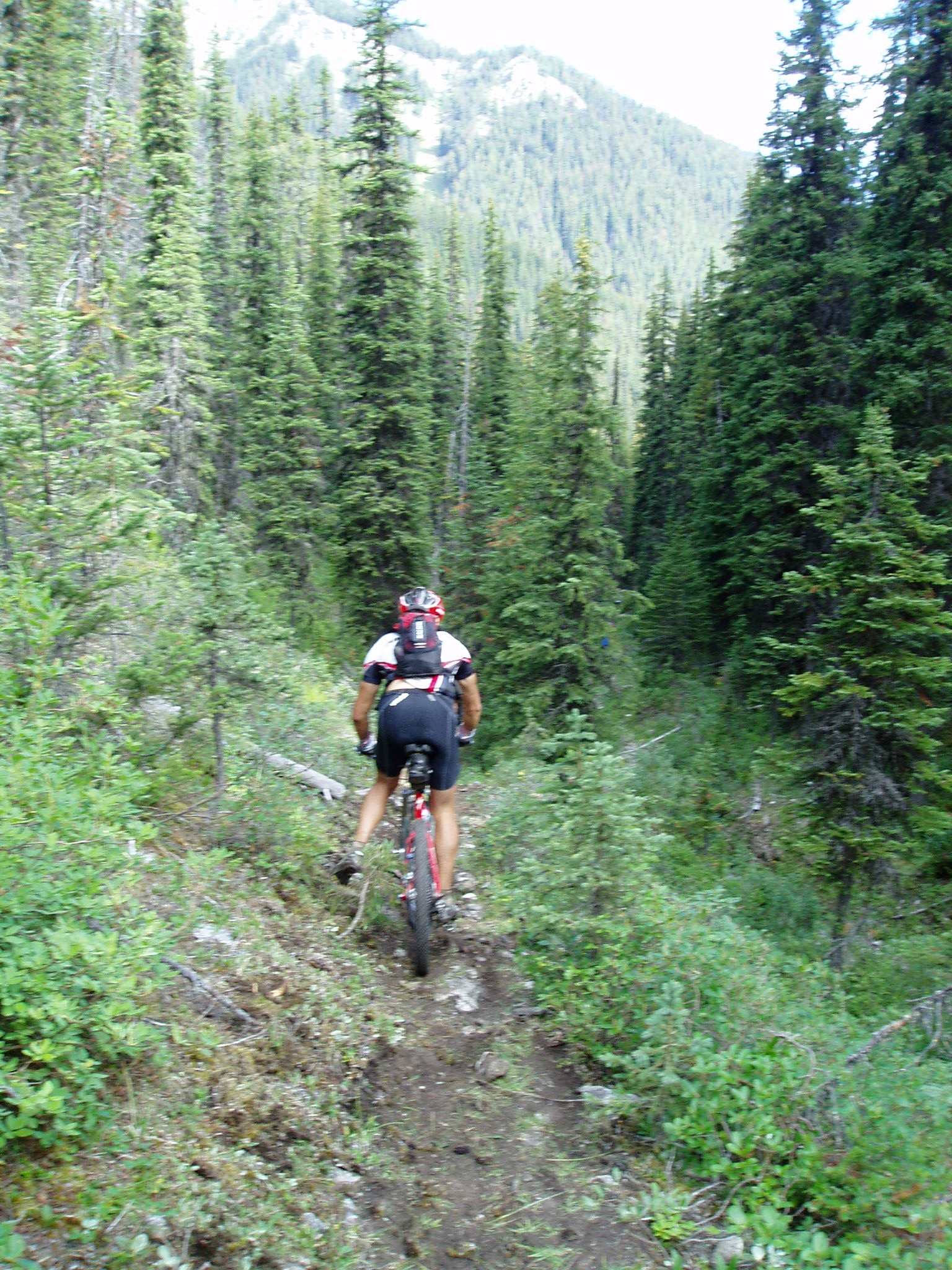 After ascending close to 3000ft, there was a tricky descent with 36 switchbacks. The picture doesn't quite capture the steepness. Note that I started to unclip just in case I was going to crash! On one switchback, Bill crashed heavily and I nearly ran ontop of him! As some form of payback, Bill took a leak on my hairpin turn. As I was attempting to turn, I slid out and wiped out on his pee…
The stage ended with 5-7km of single track. Bill couldn't really enjoy it because all his gears were messed up. He ended up spending $300 replacing his cassette. I couldn't enjoy it cuz I was fried! 4hrs+ later we rolled in to the high school in Invermere dreading what was coming in the coming days.
Stage 2: Invermere to Nipika 60km, 1300m of elevation
Coming into Invermere was a shock on how efficient we needed to be to ensure our bikes got washed, tweaked, we had to shower, eat, get briefed for the next day, organize food and water for the next day. Soon enough though we had it all sorted. Our best move of the race was to hire a young local, Blake whom we paid $20 to wash our bikes for the week. This saved us the hassle of waiting in line to get our bikes washed.
Stage 2 reflected a typical day at Transrockies:
5:30am wakeup to 6C temperatures in your tent. the race organizaiton sets up a tent city for competitors. You have the option of an RV (but it is pricey)

6am breakfest – breakfest and dinner are provided. A mobile catering truck manages all meals for the 1000+ competitors, media, volunteers etc.

6:30am system purge

7am get bike ready, nutrition for the day, study map book. Course is marked but the course book provides details on elevation gain, hazards, and technical nature of the trail.

8am start – 300 teams of 2 are corralled by wave.

12-4pm race!

4-5pm clean bike (well get Blake to clean!), fix bike

6pm dinner

8pm podium ceremony where the coloured jerseys (just like tour are presented) and the days slide show and video summary

10pm bed, apply tiger balm, take anti-inflammatories, pack for next day

Repeat for 7 days!
We rolled out of Invermere @ 8am. We enjoyed a steady climb up a paved road for about 3km. It was a hazy morning but nothing beats 600 riders in tight formation riding up the side of a mountain.

Roughly 5km in, a single rider heading DOWN was screaming her partner's name "Gilles! Gilles!". We chuckled. I guess she took off her partner and lost him in the mix. Ultimately they would have the last laugh as they ended winning the 80+ mixed category…
The luxury of the paved road changed into gravel road, which then changed into an ATV trail – straight up. The climb was endless. One by one, riders popped and began riding their bikes. Bill forged ahead and I tried to stay with him, without success. Behind us we heard a car. A car? A car that stopped right in the middle of the trail. What the hell?! What on earth was a car doing on an ATV trail? Apparently it was a group of women who had gotten lost looking for a scenic drive!
After what seemed liked hours, the climb finally ended. I managed to stay on my bike for the bulk of it. Bill was waiting up the top for probably 10 minutes! Thankfully a fully stocked aide station helped us refuel for the descent. On a normal day, this would have been an awesome descent. But stuck behind a team, it was a lot of braking and walking. We heard riders behind us complain and cripe. Any attempts to pass were futile on this descent. Turns out the descent was quite difficult with many river crossings, rooty, rocky, branchy type of terrain. A pattern of ride a bit, brake hard and walk started to appear. Despite the slow pace, Bill managed to wipe out, hit a tree and crack his helmet. Not good.
The stage ended with some beautiful UPHILL singletrack in the beautiful mountain resort of Nipika.