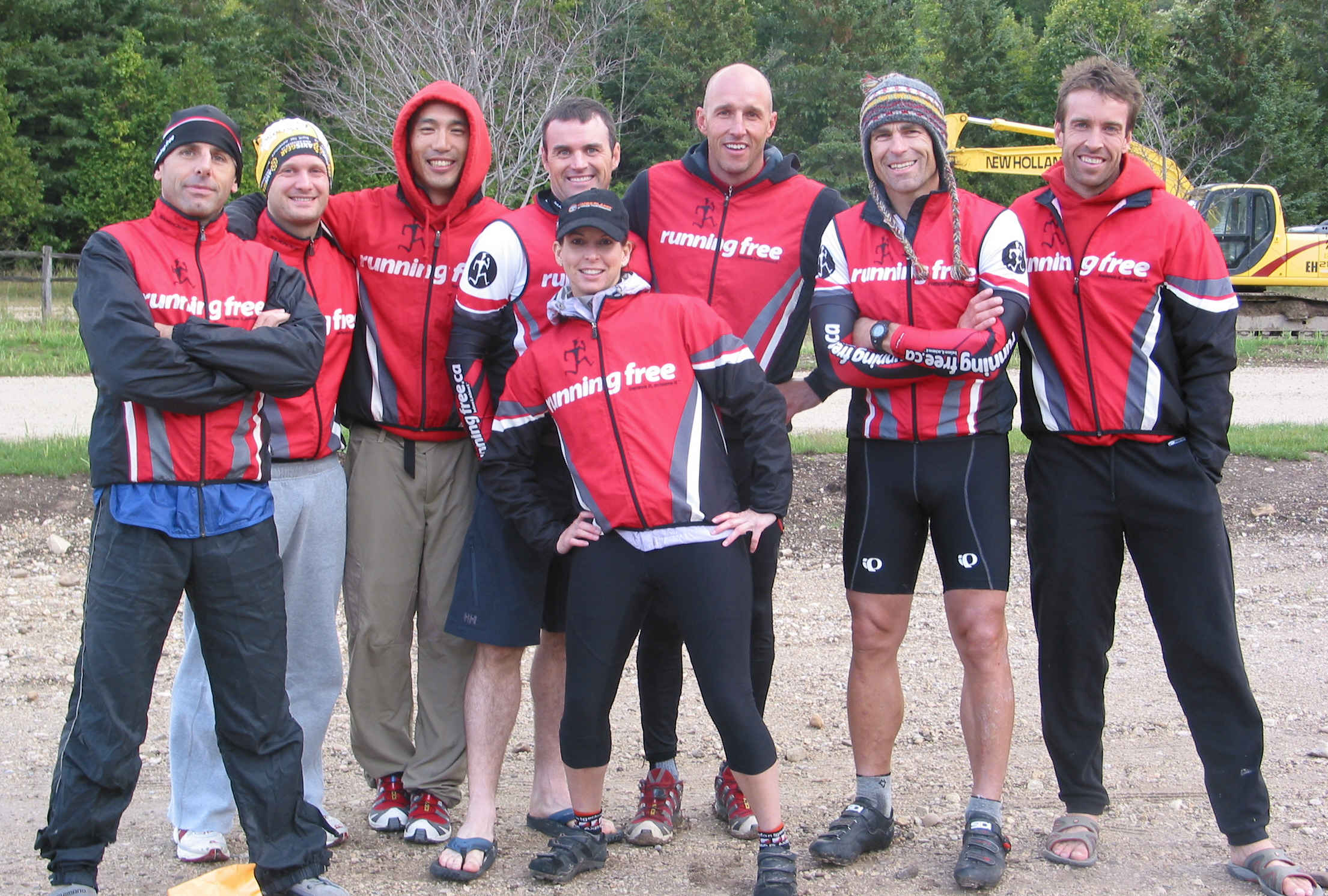 The Keen Adventure Sports Games – Sept 15-16/2007

The Keen Adventure Sports Games was a recent addition to the race calendar held in the Collingwood, ON. The concept is pretty simple: race in one or more of the 6 discrete events, race in all of the events on one day, or race all 6 events spread across two days. The latter, the Keen Ultimate Challenge was the most appealing of all options! Who could refuse to participate in that sufferfest?

Turns out many Team Running Free athletes could not refuse either. Besides myself and teammate/staff Bob McGrath, Brad Brock and Bill Logie (the "locals", our Running Free chicks, Denise Rispolie and Audrey, hot off their win at 24hr MTB, my fellow Transrockies Challenge pals Harper Forbes and James Galipeau (not in picture) and Colin Ridge and his teammate. My teammate from Transrockies Bill Tryaling, Jill (not in picture) and Kalon Sparks and Jennifer Glover (not in picture) showed up one or more events.

It was amazing to hang out with these guys and others pre and post event – it was a different feeling than any adventure race, running or triathlon event – one of the key benefits from this style of racing. It was something course designed Bob Miller wanted to encourage after we had done some Raid Series races that focused on skill, fitness and technique but blended it with the teamwork and navigation skills of adventure races. Armed with the SportIdent timing system, it provided instant results of your splits (common in triathlon, but not so much in AR).

Day 1:8:00am 10k Beaver Valley Paddle

After a sleepless night of hearing the rain come down, we were greeted with howling winds and single digit temperatures!


Heading out to the river, we noticed 4-5ft swells on Georgian Bay. In fact there was a surfer out in the water catching some waves! Under cold and wet conditions, a slew of racers tackled 10k of the Beaver River.

The out and back course provided a couple of interesting sections. Bob and I paddled hard and finished in the middle of the pack – not bad for my second paddle in a canoe all year! Bill Trayling took the win after breaking his skag and running in the forest to avoid some whitewater in his supertippy boat. Only 14 minutes separated the fastest teams to the slowest. It was a good start to kick off what would become an epic day.

Day 1: 11:00am 55k Mountain Bike Race – Beaver Valley Ski Club to Blue Mountain Village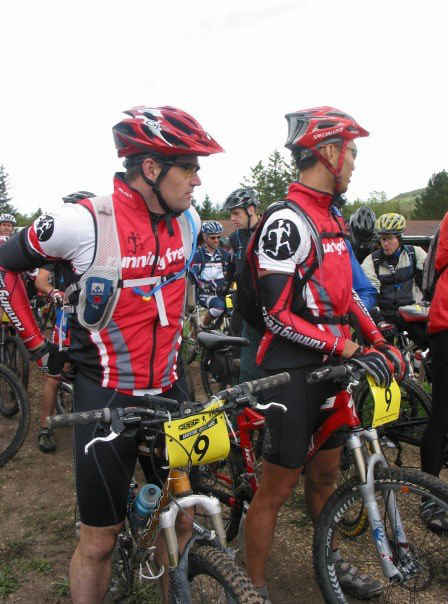 We were still cold when we arrived at the start of the MTB leg. True to form, we started straight up the ski hill. A crash right at the start took out a couple of riders. While just further up, Bill Logie's derailleur got mashed by a branch. I had to laugh at those mishaps until my own mishap happened – my chain slid out of the cassette and got jammed TWICE. Who was laughing now? Our little setback cost us 15 min. We were DFL – Dead Frickin Last and we weren't even 2k into the race. No reason to panic – yet!

While we futzed around trying to fix it, the whole field passed us by, including a reinvigorated Bill Logie who somehow managed to get a new bike! At the top of the climb, we hit the single track and start to descend down a wet and slick trail. Sure enough, as if I didn't wipe out bad enough at the Transrockies Challenge, I endoed badly into the trees. It could have been my sucky bike handling skills or it could have been my worn tread on my tyres didn't have any traction? Nonetheless the slick conditions made for treacherous riding.

The course continued to climb after the descent. Here is where we finally got the main field before we headed out into some windy conditions on the open road towards Kolapore, an area famous for its technical single track. Boy o boy what a mess this section was – a combination of ride, slide out, walk your bike, stop and clean out the gunk from your bike before you wheel locked up and repeat for 5k! I think we moved about 2km/h in this section.It finally opened up in 3 Stages before winding up at Scenic Cave road.

Now after riding the Transrockies Challenge in perfect weather and trail conditions, riding in cold, windy, muddy conditions was a bit of shock! We barely made the 5pm cut-off before we got notice that the run start didn't start until 5:30pm. No rest for the wicked!

Day 1: 5:30pm Conquer the Trail 20k trail run

We zipped across to the Alpine Ski Club.

Again, this race start went straight up the ski hill and wound its way through some hilly terrain in Lorie Forest. I "pecked" my way through the course – I simply hadn't run enough and didn't have the fitness to keep up with Bob who had just run the Death Race. Out came the magic tow line and then we started to move. Boy did we ever move! In the last 4-5k, our average pace skyrocketed and we soon could see Colin just up ahead. We turned on the jets and was just outsprinted by less than second.

9:30pm: Whew! Day 1 done, done and done! Given our strengths in different areas, Bob and I did remarkably well. We didn't sandbag any of the events – we just went as hard as we could or until our luck would run out. Whatever came first. The cold had done a number on us, seeping valuable energy to stay warm. Tonight we would have to rehydrate, stretch and get ready for day 2 but first some map preparation!