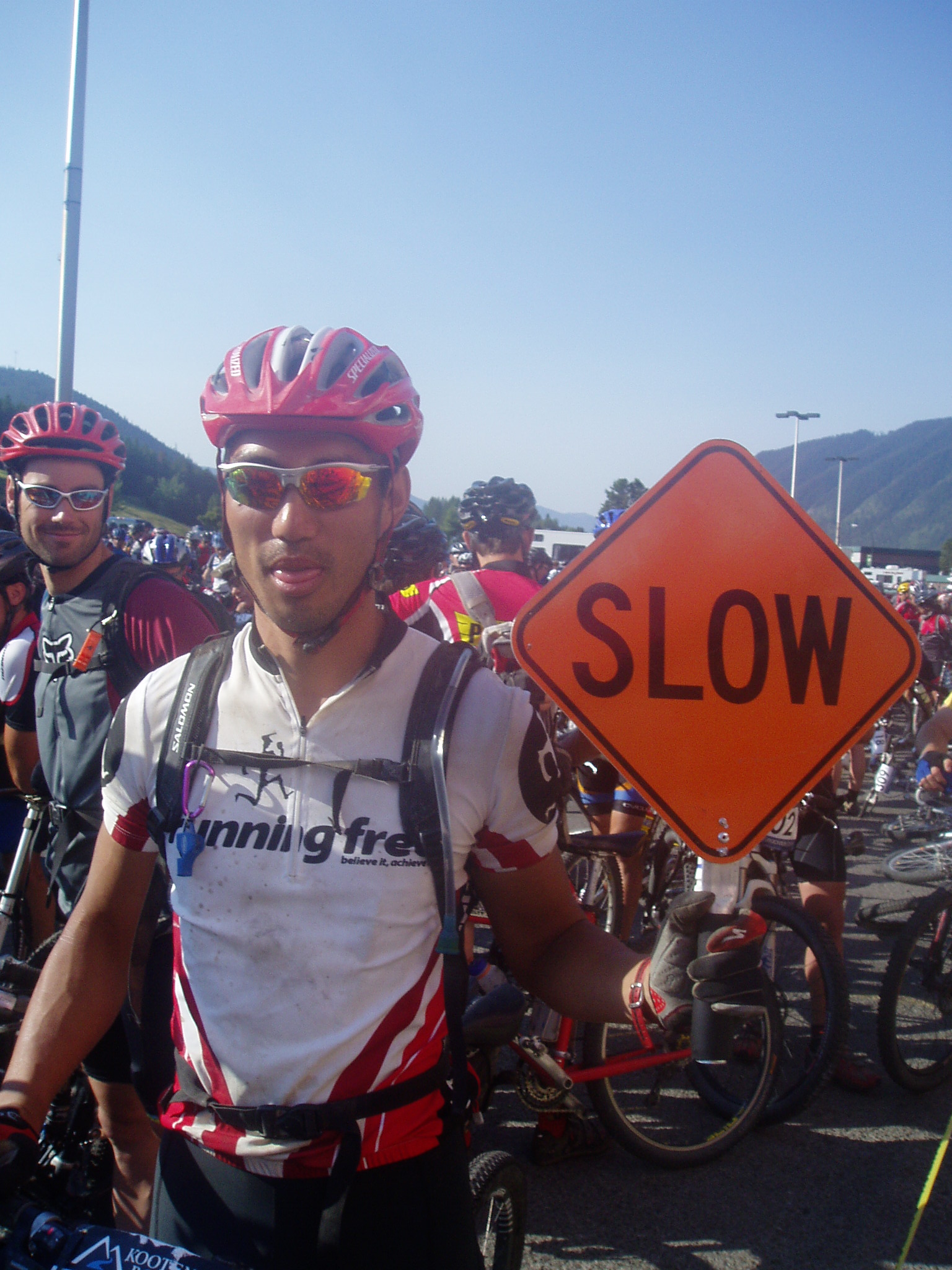 There was a definitely air of excitement at the startline for the final stage of the epic Transrockies Challenge. This would be the last time we would hear ACDC's Highway to Hell to get us going. This would be the last time we would be corralled into the start line 30min pre-race, shivering in the cold. This would be the last time I would ride my MTB!
Stage 6 definitely killed me. If it killed me, I wonder how Bill felt. He definitely earned "Rider of the Race" award from me that is for sure! Surprisingly, despite the soreness and fatigue, this was the last stage to make our mark. While we heard some teams would just stagger in, the majority of teams were thinking the same thing we were: go hard and get this stage done and over with!
The course was well setup for a hammer fest. At the start of the gun, the pace was cranked high as we rolled through approximately 20k of gravel road. Through the dust and hazy light, it was tough going at 30+km/h as rider after rider jostled for position. I surprised myself by hanging in the thick of things for 20k, redlining it until we hit the first climb. On went the tow and Bill the "Billy Goat" hammered up the hill, leaving me completely breathless.
The first 20k took its toll as the course wasn't as flat as we thought. A couple of steep, short hills interspersed with some tight downhill sections made for a fast rolling course. By about 35k most riders in our group were losing steam, me included until we hit the last 8k of stunning Fernie single track. A couple of locals greeted us at the trail head. I observed that they were wearing downhill gear and full body armour. Uh oh. Off went the tow and we entered some world class single track.
Bill flew through the single track and I had a hard time keeping up although I was on edge. Trees, rocks, roots were flying by me at a blistering speed. I had opened up and tried not to brake, feeling the course turn and twist and letting my bike do the work. Two guys were right on my wheel. My heart was pumping fast – gawd, I hope I didn't wipe out! I found a small opening on the side, and moved aside to let faster riders by me. These would be the last riders that would pass us!
We zipped through the single track, through rock gardens, through some very very very steep sandy descents, across wooden bridges I would never dare to ride at home but some how in the thick of things, I could ride clean here. Perhaps is was the 7 days of riding that finally made me a MTBer of sorts? We exited the gnarly single track and took off behind the South Africans who had passed us in the forest. The race was on and Bill screamed at me to hammer it. My legs were as stiff as boards after standing up on my pedals through the single track, hanging on for dear life. While my mind wanted to go fast, my legs couldn't!
I shifted down into my granny gear to spin out and rocketed up to Bill. We rode like maniacs through some double track and paved road, not knowing exactly where we were riding to but all we wanted to do was pass the South Africans. On the last incline, I put my head down, Bill pulled hard and we turned the final corner. The last corner was glorious. Very much like turning down the last corner for the Boston Marathon: a straight away, the finish line less than 500m ahead, the music blaring, the crowd screaming.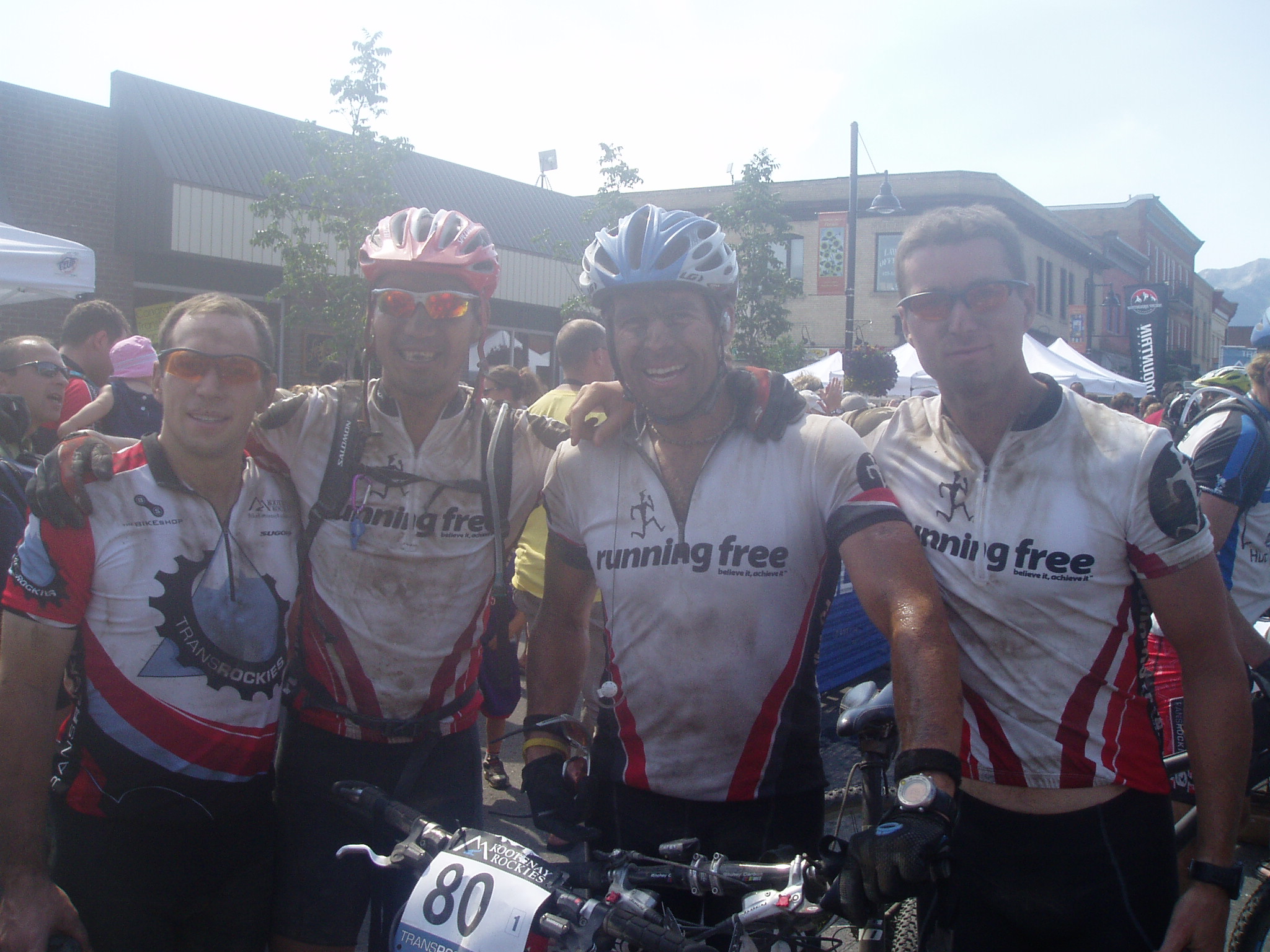 We looked back – the South Africans were still on the incline. We hooted and hollered – 7 days of pain and suffering were over! Bill and I raised our hands in victory as we approached the line (and nearly had a collision). I felt like I had just finished the Tour!
Stage 8 2km, 0 elevation, party stage!
Stage 8 started before we took showers. Lucky for us there was a beer store in our hotel. As with pure Team Running Free tradition, we partied the night away at the finisher's ceremony. All finisher's got to go on stage, and we heard our theme music for the last time.  James and Harper joined by their partners took the "Brown Jersey" for a podium finish for Stage 8, outsprinting those crazy single guys from Team Misfits. At 2am, we truly did conclude the Transrockies Challenge!
Final thoughts…
Not sure what was more epic: completed this event or completing these race reports?! The race is truly an experience. How many opportunities does one get to ride the rockies, camp out every night with 1000 of your closest friends and bike with you buddies? While the price tag may have been steep, the food quality questionable, this event is no doubt truly truly epic – a world class MTB event. To my partner Bill Trayling, you are a trooper, a machine on the bike, and a real teammate. It was an honour to do this event with you. To Harper and James – it was a pleasure hanging out with you guys. You are definitely talented riders with great attitudes. What is in store for 2008?