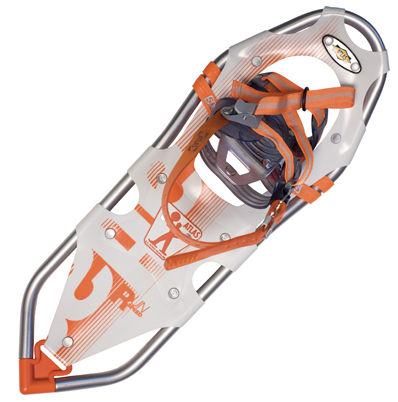 Running and Cycling's best kept training secret for winter workouts! Come out of the "off" season in better shape than when you went in!
With the days getting shorter and the racing season over, the winter is a great time to build power and try some cross training. The winter conditioning season for runners usually involves braving the icy, slush filled streets or living the life of a hamster on a treadmill in the gym. With a great pair of running snowshoes and some winter running gear, you can invigorate your training and join a sport increasing in popularity.
Snowshoe running is a great way to gain strength and power for running and get you outside in the dreary days of winter. Snowshoeing is a great aerobic activity and max heart rates can be achieved. You can potentially increase your VO2 max during winter training by choosing a challenging snowshoeing route. The strength and flexibility of key running muscle groups can also be increased. Since a higher leg lift and more powerful upper body swing are required in snowshoeing, it can work out the entire body. Both runners and cyclists can benefit from this increased power in the hamstrings and quad muscles. Good core stabilization is also developed while snowshoeing.
Like Nordic skiing, snowshoe running is highly aerobic cross training option for runners.
Snowshoeing running has more advantages than Nordic skiing:
Not technique oriented (snowshoeing running is essentially the same as running and does not require practice or lessons). You'll be a pro on your first run.
Lower start up cost for equipment ($199.99 to start snowshoeing compared to $700+ for skate skiing gear)
Do it anywhere (public parks or trails)
Nordic usually skiing requires ideal snow conditions (or groomed trails). Snowshoeing can be done effectively in basically any snow condition, which means you don't have to worry about how many days you can actually use your snowshoes! If there's even a little snow or even if it's icy you can snowshoe!
Less impact than road running or Nordic skiing to give your body some recovery from a hard season
The running snowshoe is not like the old giant tennis rackets of yester year. The modern running snowshoe is made of aircraft grade lightweight aluminum or titanium and weighs less than 2.5lbs. Wet running shoes can weigh that! These smaller, lighter snowshoes are comfortable and allow a lot of maneuverability. Running snowshoes have adjustable bindings that accommodate almost any foot size and width. Use your running shoes with your usual sock selection for warmer temperatures and for colder weather, try a Gore-Tex shoe or performance wool socks.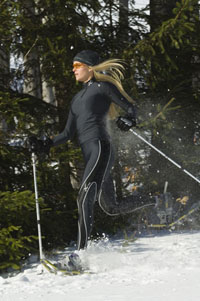 What to Wear
There is very little difference in clothing from winter running to snowshoe running. Just like winter running, the easiest rule to follow is to dress for how warm you are going to be and not how cold it is when you start. Use a simple 10 degree rule where you look at the current temperature with wind chill and dress like it is 10 degrees warmer. Give or take a few degrees if you tend to be colder or warmer than the average person. Following this rule helps keep the moisture transfer of your running clothing quite efficient. Find out more about how to dress for winter aerobic sports.
Winter running/snowshoeing must haves:
Lightweight breathable jacket
There are also other items that can make your snowshoeing day a lot more enjoyable.
Cycling booties: provide extra warmth, wind proofing and water resistance to a road running shoe
Trekking poles: enhance an upper body workout and add some extra power on steep up hills
Pack: to carry some extra clothes, hydration bladder or a thermos of hot beverage.
Water bottle belt: you'll be working hard so you still need to hydrate even if it's cold out
Gore-Tex running shoes: add a little extra warmth and water proofing
With a little preparation you can enjoy even the darkest days of winter and reap the training benefits of snowshoe running.