Fox River Socks recently launched a line of socks that features their new "Ingeo" yarn, a material that is manufactured partially from Corn. This is just the tip of the iceberg of their commitment to sustainability as Fox River has been dedicated to Environmental thinking in the manufacturing of their products for over 30 years. I thought I would share with you some of the initiatives that Fox River Mills has undertaken to minimize their impact while providing some of the best socks we've ever seen.
Fox River's knitting mill is an international model for "green" companies, and is part of a state-of-the-art environmental initiative in our hometown of Osage, Iowa. As part of the Osage Municipal Utilities (OMU) Demand-side Management Program, Fox River has reduced energy costs more than 30%. The OMU program begun by conservationist and now retired OMU General Manager Wes Birdsall in 1974 has become world-renowned. In fact, Osage has been dubbed "the energy conservation capital of America."
Fox River recycles nearly 450,000 pounds of materials each year.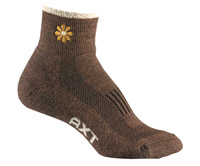 Fox River promotes recycling in all areas. Packaging, boxes, magazines, plastic film, and yarn cones are recycled and yarn scraps are ground up for carpet backing, dog beds and car seat stuffing. We also recycle all machine oils, batteries, fluorescent tubes, old iron and steel machinery, and electronic parts. Our warehousing facility utilizes a "Big Pack" system, which allows us to reuse corrugated storage cartons for as many as three years running instead of simply disposing of them after each use. All mill and office papers are recycled. Even our inkjet printer cartridges are put to good use: they are collected and given to local elementary schools for recycling, as part of their fund raising events. Fox River's forward thinking waste reduction program has reduced annual waste volume by more than 50%.
Energy efficient air exchange systems keep our mill climate controlled. The vacuum system at Fox River removes 50,000 to 60,000 cubic feet of air per minute from the knit/seam floors. Instead of completely replacing the air, the system pulls the vacuumed air through filters and chillers and it is then returned to the mill. This requires much less energy than bringing the outside air back in and conditioning it from the first stages. These exchange systems, along with the water systems, allow us to cool and heat the Fox River facility extremely efficiently.
Water is critical to the sock manufacturing process. Fox River is constantly working to improve the way we use water in and outside of the mill. Water-reclamation and heat recovery systems warm the mill during winter by recirculating excess heat. In the summer, two wells on site pump water to chillers on the knitting floor to air condition the mill. We use the hot air that is generated from the reclamation process to heat the water used in our scouring and dyeing processes. Fox River holds water used after each rinse cycle for use in the next scour/dye process to minimize water waste. Discharged water is tested weekly and Fox River aggressively maintains emissions levels significantly under Department of Natural Resources' established standards. Fox River has also decreased the use of softeners by decreasing acidity and reducing water temperature in the softening process—all of this reduces waste while still retaining the soft feel of our socks.
Proprietary Organic Shrink Treatment—so safe you could drink it! Fox River is implementing a revolutionary organic shrink treat/wet finish process that will allow the company to perform all shrink treating in-house. Currently, Fox River is using this process on all its organic sock styles, and by 2007 will be used on all styles that are treated in-house. Fox River is leading the industry in its use and development of this organic shrink treatment process. Organic shrink treating DOES NOT USE petrochemicals, ozone-depleting compounds, global warming compounds, hazardous air pollutants or wastewater treatable components of any kind. The ingredients used are naturally derived and are 100% biodegradable. They are user and environmentally-friendly. In fact, the non-pathogenic organic process used is so safe, you could drink it.
Socks that keep our environment in mind. Fox River is constantly looking for ways to incorporate environmentally-friendly technology into its socks, including all-natural silver fibers for foot odor control instead of chemically applied antimicrobials, all-natural bug repellents, organic merino wool and corn-based fibers.
Looking toward the future. Fox River is currently in its initial phases of creating even more efficient use of energy and water within our mill. Instead of just reusing the dye side's water, the wet finish wash water will soon be reused as well. This is a more difficult and complicated process because the mill's industrial washers have their spin cycle built in so a discharge system must be created. As they become available, Fox River will acquire dryers that allow for the absolute minimum dry time amounts. This, too, will help save energy. Fox River prides itself on its very proactive stance on energy conservation in all areas of its sock-making process. As John and Jeff Lessard (the brothers who own the company) say, "We do it not just because it is the right thing to do, we do it because it makes sense."