Compression socks, once the domain of diabetics and frequent flyers, have slowly trickled their way into endurance sports. We have seen Paula Radcliffe wear them for the last few years; long white knee high socks – quite a fashion statement. Having used CW-X products for almost 4 years now, I really believe in the benefit of compression technology. Just before I left for France for the Ultra Trail du Mont Blanc (UTMB), Team RF member Bill Logie gave me a pair of calf compression sleeves. Having been in France racing the previous month, he told me everybody was wearing them. At worst, I figured I could wear them on the flight there along with my CW-X pro shorts under my jeans. I wore them for the flight overseas and my calves and legs felt pretty good, all things considered.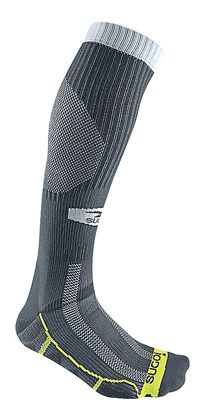 While in Chamonix, I tested them on some non strenuous training runs. They didn't seem to bother me so I decided that I would wear them for my race. I know you are not supposed to try anything new in a big race but with 31,000ft of climbing, I figured it couldn't hurt.
Like CW-X tights, compression socks or sleeves are designed to compress the muscle to reduce muscle vibration. This reduces muscle fatigue, cramping and more evenly distributes muscle strain.
The socks use a graduated pressure that is heavier near the foot and reduces pressure towards the knee, which aids blood flow back to the heart. The idea is to let fresh oxygen rich blood return more efficiently to the legs and feet. In Kona this year, 25% of the racers wore them and at the UTMB this year, I would have to say over 40% did.
After 42 hours and 31000 ft of climbing through 3 countries, I was completely sold on them. (No matter what they look like) It was the only clothing that I didn't take off during the race. Usually near the end of a mountain ultra, my calves are usually toast. After using the compression sleeves, I was amazed that I didn't cramp once. This weekend I tried the new Sugoi R & R Knee High versions and although not as snug as other brands, I found them to be very effective while skate skiing and my legs felt great even after 8 months of no skiing.
Give them a shot this winter – No one has to know since you can hide them under your tights for the next couple of months and unveil them this spring.