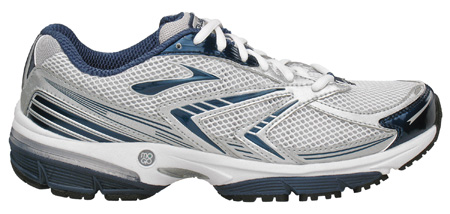 I have been wearing Brooks Glycerin running shoes for years now and, while I have tried on other shoes at various times over the years, I always leave Running Free with a pair of Glycerins. There's a good reason for this.
If you check out the Brooks website (www.brooksrunning.ca), you'll learn that the Glycerin (now on version 7) incorporates a number of proprietary technologies that provide exceptional cushioning from heel to toe of this high-end neutral shoe. Other Brooks innovations ensure an efficient, balanced stride, along with outstanding comfort and durability. It's worth a visit to the website to read more about the features that Brooks has incorporated in the construction of these shoes (also take note of the commendable environmental initiatives Brooks has adopted in the production, materials, packaging, and distribution of their products).
But what does all that technology mean in the real world? Well, that's the reason I keep returning to the Brooks Glycerin. I have a fairly neutral gait and a high arch, which means I need a cushioned shoe. I rely on the shock-dampening properties of the Glycerin's midsole to keep me running injury-free. And they haven't let me down. I get significant mileage from them before they need to be replaced (typically around 500 kilometres, though I lost track at one point and ran a pair up to about 1000 kilometres – not recommended, but I was impressed with how well the shoes held up). For a lightweight, cushioned shoe, the Glycerins have proven to be quite durable.
For additional support, I use custom orthotics, which I have found to limit my shoe selection in the past. Many other shoes simply wouldn't accept my orthotics well and resulted in a poor fit. Only the Glycerins allowed my orthotics to sit properly inside the shoe and offer a correct fit.
Correct fit also means maximum comfort, which is what I get with the Glycerins. In fact, I'm able to wear them right out of the box. I simply drop in my orthotics and I'm ready to run or race without any break-in period – no blisters or hot spots. They offer snug support around the ankle and mid-foot with enough room in the toe box to allow for adequate ventilation and toe spread during the landing phase of my stride.
A pair of Glycerins have taken me from high-mileage training to a personal best, Boston-qualifying marathon. If you're simply looking for a cushioned running shoe, or if you use a custom orthotic to provide some additional support in a neutral shoe, like myself, the Brooks Glycerin 7 is an excellent choice.