Every year Sporting Life 10K draws more than ten thousands of runners running down the world's longest street ,Yonge Street, here in Toronto. This year 14,000 people took part which is only second to the Sun Run in Vancouver and raised over 1 million for Camp Oochigeas, an organization that helps children with cancer.
The Sporting Life 10K is also known as the fastest course in Canada. The first 7K down Yonge St. is almost entirely downhill, with the exception of a short bump around the 3K mark.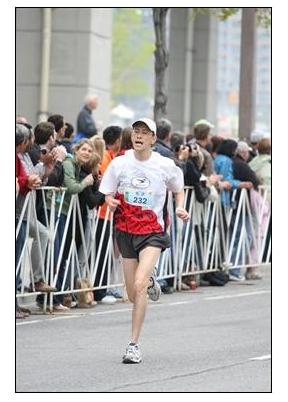 It was a bit warm and humid on Sunday morning when race started. I was right behind the elite runners and felt very good. My run went well until the 8K mark because of the upset stomach, which I think it caused by just one sip of the  sport drinks that a water station provided (Lesson learned: only drink the stuff you train with). My last 2K made me suffer a lot and I was out of breath when I closed to the finish line.
I managed to cross the line at PB 39:30 for this race and I am happy that I can still did it in sub- 40 minutes. My time and rank (8 in AG 50-54) improved a bit than last year 🙂 I just wish that next time they serve NUUN at the water stations… lol
Alain