Race Report
By Roger Hospedales, Team Running Free
Race:  Toronto Island GT 12.9 & Sprint Duathlon
Date:  August 14 & 15, 2010.
Website: http://www.msctriathlon.com/ms/
Sunday August 14, 2010
Toronto Island GT 12.9 (400m swim, 10 km bike, 2.5 km run)
I often get asked why I do these races (being an Ironman guy), and the answer is simple. I love it! With long distance training, I rarely get the chance to go as hard as I can for 40 minutes (I am a wuss) and the GT 12.9 is perfect. Plus, just because the distances are shorter doesn't mean it is easy. Redlining from start to finish hurts, and you don't hurt like this during an Ironman. Doing shorter distances do not make you any less of a triathlete. I doubt we will ever see Simon Whitfield do an Ironman, but does that make him less great, I don't think so. The great thing about this sport is you get to challenge yourself in whatever way you want to and you can find a challenge at any distance. Anyway, enough of my diatribe, onto the report.
400 m Swim – 10:21, 2:36 /100m 
I felt great and in a groove. The water was a bit choppy but it was totally clear, and the temperature was perfect. Made the long run up from the beach to transition – a mix of sand, boardwalk and grass.
T1 – 1:18
Spent a bit too much time here. Too used to wetsuit peelers at Ironman races and every second counts in this race.
10 km Bike – 16:07, 37.2 km/hr (top bike split)
Did not use a bike computer, aero helmet, or any special gadgets today. Just got on the bike with running shoes and mashed away. The glutes got tight immediately, not used to hammering like that right from the start combined with my 4.25 ride the day before. I was hurting pretty good here and even though I had the top bike split I think I should have sucked it up a bit more and pushed harder.
T2 – 0:32
Nothing special. I had my running shoes on already to it was simply rack and go.
2.5 km Run – 11:09, 4:28/km
Starting the run on the grass made it tougher but since was likely the same for everyone; it is a great spot to pick up time. I was starting to get into long distance comfort speed and realized I better just go as fast as I could because that is what I was here for, and with all of the different waves, you really have no idea where you stand overall. I had a great run, and as you can see from the pace, not all that quick but fast enough for me.
Total – 39:25, 4th overall, 1st M40-44
I was happy with my overall performance, it worked perfectly as a speed workout. There was no way I would be able to push these paces on my own. I was not too sore for the next day's race either.

Sunday August 15, 2010
Toronto Island Sprint Duathlon (Run 4.5 km, Bike 30 km, Run 4.5 km)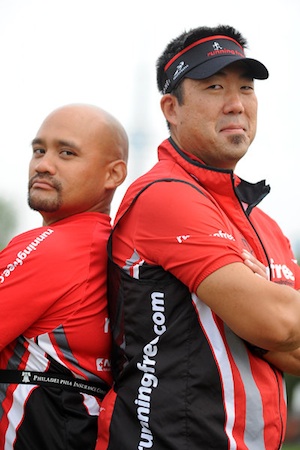 I was expecting bad weather so I brought the same bike setup with no techno gadgets and super deep wheels. I did use an old school LG aero helmet though. I had so much fun the day before that I didn't quite feel like racing today. But my friend and TRF teammate Angus was there and racing with him is always fun so I figured we'd at least run the first segment together and then let it rip on the bike.
4.5 km Run – 21:43, 4:50/km, avg hr 154
Everyone took off while Angus and I coasted along near the back of the pack. My heart rate was in 140's bpm for the first 10 minutes, and since I was here to get a solid tempo run workout, at that point I picked up the pace and increased my heart rate by 10-12 beats. Still not too crazy but I was at least running at my desired Ironman pace (next race in 3 weeks).
T1 – 0:56
Swapped from running shoes to cycling shoes (learned yesterday that the Platform Pedals are not allowed anymore) and went on my way.
30 km Bike – 47:51, 37.6 km/hr, avg hr 171
I really hammered the first 10 km, backed off a bit for the second 10 km, and pushed the pace again for the final 10 km. I had my buddy Gord Avann (another TRF member) in my sights and used him as a pace bunny to chase. Gord is a phenomenal rider so if I could keep pace or make up ground. I knew I'd be doing ok and it provided excellent motivation for 30 km of pain.
T2 – 0:52
4.5 km Run – 20:12, 4:30/km, avg hr 173
Felt good at the start, even better than yesterday, and basically just gave it all I had without totally annihilating myself – I've got my most important training week ahead of me and didn't want to ruin that. I paid no attention to pace, or heart rate and just went by feel. And a negative split too – ok I wasn't pushing too hard during the first run but what the heck I'll take it.
Total – 1:31:32, 14th overall, 2nd M40-44
Very happy with how things went. It was great to know that I could run strong after an intense bike ride. Being strong at the tail end of a race is always a great sign. But Holy humidity! I was soaked from top to bottom, including my shoes. I should have immediately run to the lake and jumped in for a cooling dip. I would have been just as wet but more refreshed. I did pay the SPC tent a visit to get some ART treatment on my left hamstring and IT band. It worked like a charm because I feel 100% today (Monday). ART is really one of the best treatments an athlete can receive. Visit SPC or any other ART provider to discover what I am talking about. In Markham, Brian at Balanced Living is great too.
I must also wish Arthur Kwok on his engagement to Laura Banks. He popped the question to her after she finished the race on Sunday. Some pictures can be seen here.
Picture is courtesy of MySportsShooter.com