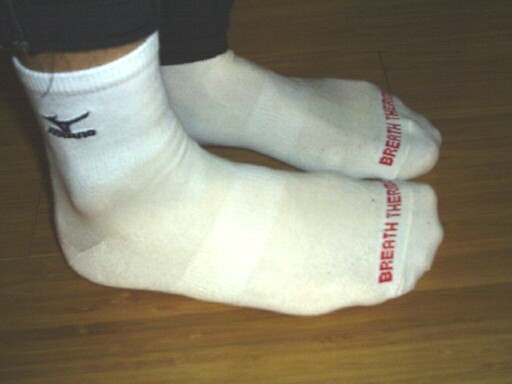 Product Review
Test Date: December 17, 2011
Location: Pickering, ON.
Temperature: -5C to -6C
We knew it would come sooner or later, and thankfully later than the last few years: the first cold run of the dreaded winter running season. If there is one aspect I despise the most about running in the cold it would be cold feet and cold toes in particular. Even worse than a chilly-willy. Can a pair of socks make the difference? Is it even possible to get excited about socks? I am.
The main problem is that our running shoes are optimized to release heat. The mesh top lets the wind breeze through. Great for summer, not for winter. Eventually I will buy a pair a water resistant shoes for winter running. They have a GoreTex lining that improves wind resistance and keeps your toes warmer. Until then, it will be duct tape any time the temperature dips below -10C. The duct tape usually falls off, but that does not occur until after my heater is going – it seems the first two km of my runs is where my toes freeze and then never recover.
A thicker pair of socks is an obvious choice: more fluffy material means more insulation. However, if your shoes are already snug fitting, this can backfire by reducing the circulation needed to keep your toes warm. As a ski racer who regularly jams his feet into undersized boots (a form of masochism intended to improve ski response), cold feet are a similar consequence. Ski racers have learned through many frostbitten toes not to thicken or double up socks – it wrecks the performance of the boot and sends you to the chalet fireplace all the sooner.
So there I was last Saturday afternoon: It was -5C and dropping as I rooted through my sock drawer for a thicker pair of socks. Out came a new pair of Mizuno Breath Thermo socks! I had forgotten about these. My Mizuno product voucher (courtesy of RF Team Lottery first pick) had just enough credit after my Precision 11's for a pair of these socks. Since that was summer, they have sat in the drawer awaiting appropriate conditions to test them properly.
The Mizuno Breath Thermo socks are a light weight race sock. Based on material thickness, I would not think they would offer any protection from the cold. Only one way to find out – out the door we went, new socks fitted snugly on foot, in my usual summer training shoes. It was now -5.5C.
As soon as I stuck my feet inside my shoes, I could feel a slight warming sensation. This was the Breath Thermo material converting moisture from my feet to heat. The effect carried on well into the first 3k of my run. By the time I hit 3k I was fully warm and completed an easy 10k. It was now -6C. My toes never got cold, a miracle given just how thin the socks are! Warm feet on a cold day… definitely a blessing. I will be looking forward to many more toasty runs with my new favourite winter socks. I will even try them in my ski boots.
And now for that chilly-willy. Mizuno does not offer breath thermo wind briefs yet (they have full breath thermo pants). But maybe all I need is an extra sock…or duct tape?
Post Mortem (December 28, 2011): Wore the socks again for a night run, -10C (-18C windchill). This 8k was very slow due to ice and crap on the road as well as trying to follow a very easy ramp up back to full mileage. I was not generating a lot of heat. The last 2k was straight into the wind. Toes never got cold, although I discovered a popsicle in my pants with about 1k left. At least you can run with one hand down your pants – can't do that for your toes! So no BS, these socks really work!
One possible problem is the toe seam is fairly hard and rounded. On this run, it sat on top of my toes and rubbed the tender skin there. Didn't notice this until after I took the socks off and noticed a blood stain. So a word of caution: try them out on some shorter runs prior to a long run to make sure your toe tops won't lose any skin.