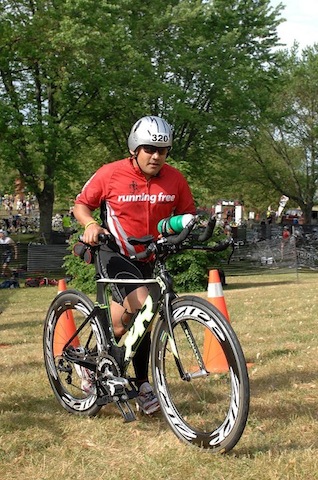 I didn't want to litter the site with separate race report postings so I think I am about to do a first time thing here and pack six race reports in one.
So why have I fallen way behind in filing these reports? Life has been way too busy. I am either spending valuable time with my daughter and loving it (kudos to all you parents out there for finding time to training and raise your kids) or working (day job, and tons of writing gigs now that the triathlon season is in full swing). I can't believe it is almost August already.
Being busy also means not much training, plus a knee injury forced me to back things off even if I wanted to so some training. I am still carrying about my winter hibernation weight. Such factors don't stage the stage for a great season. Anyway here goes, I will try to be brief.
Woodstock Sprint Duathlon – May 26, 2012
The race is a 3 km run, 20 km bike, and a 3 km run. I ran 14:58, biked 37:49, and ran 15:25. Total time of 1:09:33.0. Despite the beginnings of my left knee injury, the only thing that stood out for me was my biking. Still not up to my capabilities, but I salvaged it with a late 5 km charge where I was riding 40+ km/hr. I love the run course at Woodstock and running for the dam. The longer races on Sunday take you into the more beautiful trails. The bike has some rolling terrain but the real difficulty is the winds. On the left is the QR CD 0.1 making its race debut at Woodstock.
Binbrook Duathlon – June 9, 2012
The race is 5 km, 29.2 km, and 5 km. I ran 31:08, biked 51:50, and ran 28:22. Total 1:52:38. The plan today was to finish the race with my daughter and get a nice finish picture. However, a morning feed put us behind schedule and we got to the race with no time to spare. By the time I got down to the start, everyone was gone. I looked across the lake to see most of the field well past the 1 km mark. Oh well, I was not looking forward to a great race today anyway. I biked fairly well to catch up quite a few I gave a 5-6 minute head start to, but I gave up too much time to some of the faster runners I usually need to get ahead of by the second run. I turned my attention to just enjoying the final run in the rain (that stuck around for the rest of the day) and getting ready for a finish with my daughter. However, as I approached the finish my wife and daughter were nowhere to be found. They were under the Recharge With Milk Tent taking refuge from the wet and now slightly chilly conditions. I'll have to wait until another day for that picture. I love racing at this venue but next time she will be old enough so we can feed her in the car ride there.
Welland Half Iron Duathlon – June 24, 2012
The race is 5 km, 90 km, and 21.1 km. I ran 27:48, biked 2:35:25, and ran 3:04:37. Total 6:10:20. Ran steady to start (felt good), biked really well considering my lack of training (only less than 2 minutes off from last year) – so I guess my QR CD 0.1 is working some magic, but once I got off the bike I knew I was in trouble. My shoulder did its dislocation routine but this time from staying aero the whole time, and my left knee and arch was shot. This was not going to be pretty. Once out of T2, I chatted with some pals on the side for a few minutes, then made my way out on the course. It was pretty much a survival march from the beginning. I could not call what I was doing running. I was not going to risk trying to run and causing more damage. I almost called it a day at 7 km chose not to take the easy way out even if it meant walking.  I gimped it in for the 3+ hour half marathon finish. I was happy to see such a great turnout for this race (largest ever for Welland) and it is only getting bigger. The only sad part was some the blatant drafting/cheating going. This peloton knows who they are and I am glad the officials caught a lot of them, and some of them multiple times – it is noted in the results in the T2 times. Too bad there are not stricter penalties. Two minutes per violation is not enough.
Huronia Sprint Duathlon – July 8, 2012
The race is 5 km, 20 km, and 2.5 km. I ran 26:21, biked 38:50, and ran 13:29. Total 1:20:31 for eighth overall. I did not run for two weeks heading into this race thanks to Welland. It turns out that might be the plan going forward because I had the best overall race of the season so far and was the first one I actually felt like I was racing. I ran a controlled first run to keep the knee pain in check (felt good by 3 km), then biked hard to pass as many as I could – most of that passing occurring within the first 5 km on the climb out of town. On the fast downhill back into town, I got a flat tire, there was a car behind me but I steered into the middle of the lane so I'd have more road to play with considering the flat tire. I made it down safely and rode the last 1 km and a bit on the flat rear tire. Once back on the run I ran hard out of T2 to the turnaround and once I saw I would not get caught from those behind, I eased it in to the finish and did a Blazeman Roll since I had the finish to myself and wouldn't mess anyone else up. The new Huronia venue is a nice and cozy spot and not too far from Markham (90 minutes or so). The hills come early on this course so get ready for that heart rate to spike early. After the first 5 km, the course flattens out and you can start ramping the speed back up. The run also has a nice rise out of the park and out into a nice trail system that goes up and down. A sweet venue to do a race.
Gravenhurst International Duathlon – July 14, 2012
The race is 10 km, 40 km, and 5 km. I ran 57:59, biked 1:17:40, and ran 30:30. Total 2:49:16. Once again, I did not run since Huronia due to my knee issues. I had zero intention of running hard, and was going to try to ride hard and get a longish workout in. Even at 8 am the run was steaming hot. By the time I was done the first 10 km my hands were wrinkled like I'd been swimming for hours. For whatever reason, once I got on the bike and found myself just enjoying being on the bike and basically cruising along at Ironman speed – nothing wrong with that I guess, this is supposed to be fun after all. Anyway, it turned out to be my slowest ride ever on this course. The heat was in full force for the final run but knowing I was coming back tomorrow, I took it easy. But many others were suffering badly. It looked like an Ironman out there. I was glad we got our 10 km run first. This race is always sold out (the triathlon) so if you are eyeing this race, sign up early.
Gravenhurst Sprint Duathlon – July 15, 2012
The race is 5 km, 22 km, and 2.5 km. I ran 27:06, biked 41:20, and ran 12:49. Total 1:23:07. I actually felt better today but once again I planned to chill out on the run, go hard on the bike and run the last run harder than the first run. Mission accomplished on all fronts. I biked much harder than the day before, and ran the second run at a faster pace than the first. It was another hot one today but easier to deal with since the distances were half that of the previous day.
That's it. I will try and keep up to date going forward. I still remain out of shape but I am having fun with my kid and at the races. I will worry about going fast next year, or the next, or the next………..
Have a great rest of the season everyone.
Roger