After an injury plagued year (left knee, heel, and right shoulder), training was pretty much non-existent this spring and summer. I can count on one hand the amount of long rides (anything longer than 3 hrs) that I've done this year.
Following my race at the Welland Half Iron Du (rode a decent 2:35 for 90 km but knee issues forced a long shuffle/walk for the half marathon), I stopped all run training and just ran on the weekends at the races. Not ideal Ironman preparation to say the least. It did no favours in the weight loss department either.
Knowing I was not going to set any speed records this season but I still had two Ironman races on the schedule – Ironman Louisville (my 19th) and the intimate Iron 226 (my 20th) in Ottawa – I just wanted to make sure I had enough fitness to get through those with my shoulder feeling worse than ever. Oh yeah, the other part, those races were within 6 days of each other.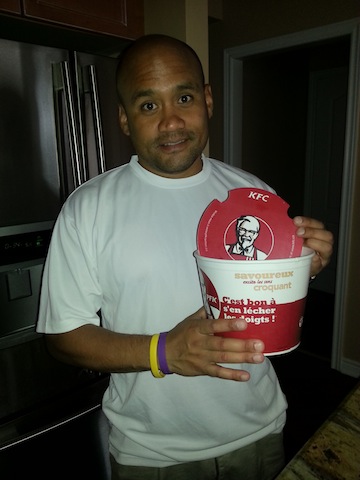 (above) The perfect way to prep for racing Ironman Louisville. Monday and Tuesday of race week.
Anyway, the plan was to enjoy the Ironman Louisville experience with my family and treat is as a long training day for the second one. And that I truly did. I loved Louisville. The people are great. So welcoming and friendly – to the regular people on the street to those working in the restaurants, hotels, and stores. Very refreshing. The race itself? Very enjoyable too.
The swim is not as bad a many make it out to be. I was one of the last people to jump into the water (a time trial start – I was not going to line up, I sat and relaxed on the grass in the park as the line went down) and started 40 minutes behind everyone else. The water did discolour my swim suit but I didn't get sick and didn't hear of any others. A straight forward swim that is easy to navigate. I had a record worst swim of 1:55 but that was due to my shoulder dislocating. So I basically did one arm swimming with my left for 3+ km. Took a long T1 to get help and get it back in somewhat.
I really enjoyed the bike course. It had lots of everything. Flats, and lots of ups and downs. One of the best I've ever ridden. The heat beat down a lot of people though. I've never seen so many people laying at the side of the road trying to recover, crying, passed out, and waiting for help. I could feel my back roasting but a quick shower of water from my bottle took care of that.
The run was brutally hot but made better by the fact I got to plant a kiss on my one year one daughter at the start of the run. The run takes you through the heart of downtown and out to old Louisville and past Churchill Downs. Nothing special here except for the finish line in Louisville's downtown 4th Street Live area. I've never experienced anything that loud and packed. One of the best finish lines on the Ironman circuit for sure. I calculated to the minute what I had to do to finish in time and just strolled it in with my PINK SLS3 socks with butterflies and my Salomon Exo SLAB II Shorts (I was real popular out there) to save my "running legs" for the following week. Ironman 19 was completed. Aside from the heat, Ironman Louisville is a great race. The race organization is top notch, the volunteers are stellar, and it is a great place to visit. The race swag is sweet too – cool transition bags are the big score this year for official Ironman competitors.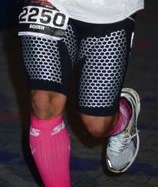 All that time in the car driving back home from Louisville didn't help leg recovery but one day before driving to Ottawa, I got some ART and massage treatment from Brian Bennett of Balanced Living and got my right shoulder and legs feeling great. However, my wonky shoulder randomly decided to slowly pop out on the drive to Ottawa.
I didn't sleep much the night before the Iron 226 because the pain was horrible. When I did sleep I did so on my right side with the hopes the pressure would get it back in the socket somehow.
Race morning the shoulder was a bit better but not much. But at least I knew it was already out and I just had to deal with it in the water. I wore a sleeveless wetsuit and the top shoulder panel provided a bit of downward pressure which helped. I ended up swimming 1:35. And I will gladly take that given the burning in my shoulder and lack of swim training (this was my 4th swim all year).
Despite the lack of bike training I still wanted to bike in the 5:40's, knowing that I was probably not going to be able to run much of the marathon. The course is 12 laps (yeah I know) but it makes things easy to pace. The problem though is the constantly shifting winds. And the wind was kicking the butts of the Iron 226 competitors for the last 4 laps as the winds picked up. Only five of us rode sub 6 hrs. I rode 5:59, and had to push hard on the last lap to get that. But in reality I rode in the 5:40s if you factor in I had to pull over 3x (pee break, special needs stop, and to repair a chain).
For the run, I basically made a deal with myself where I promised to run (whatever lame pace that run may be) unless my body (and not my mind) gave me no reason to. I ran the first 10 km and felt pretty good. But I hit the wall for 15 km. I thought finally 2 ironman races in two weeks is finally catching up me — I wanted to rip my shoulder out (the pain was brutal), my left knee and heel were shot, right foot numb, blah, blah. The timing worked out in some way as I got to chat for 2.5 km with fellow Running Free member Rob Shortis. He was on his final lap of the Half Iron and took some pics of him and his son finishing together. I slogged onwards, made a pit stop, and made the effort to run again. The body responded and I was running better than ever. I put in a really good 5 km+ lap, followed with two more solid laps, another wall hit with 2.5 km to go but I took in some liquid and talked myself into suffering just a bit more to get this thing over with and ran the final 2km in to finish. My 20th Ironman race done.
The Iron 226 is not a marquee race (32 of us this year), and is just one of many events being run at "The Canadian" on Saturday. Yes, it does have tons of laps but given it is a small budget race you can't expect tons of roads to be shut down. It is a nice little family feeling race that services the Iron 226 athletes well. The volunteer support is outstanding and all from the local Ottawa triathlon and cycling community. With the multiple laps these people see you a ton and it gets quite fun with each lap. The really cool part is the celebratory breakfast the next day – a friendly gathering with your fellow athletes and the race organizers, staff and some volunteers.
The aftermath – my legs feel awesome. Call me crazy but I know that I could have knocked out a third Ironman in a row and gone faster if I could have entered to do one somewhere. Maybe an Ultraman is in my future? 52 Ironman races in 52 weeks? I need a new shoulder first though. Stay tuned. Next time I do an Ironman though, I vow to train for it. Things are so much easier that way.