I purchased the new Hi-Vis Beacon Jacket by New Balance. I saw this jacket on a poster at Running Free and I needed it! This jacket is awesome for visibility; especially for those dark mornings or evening runs. The coral jacket looks very cute and fashionable during the day light as well (the safety feature would be the eye popping coral colour)!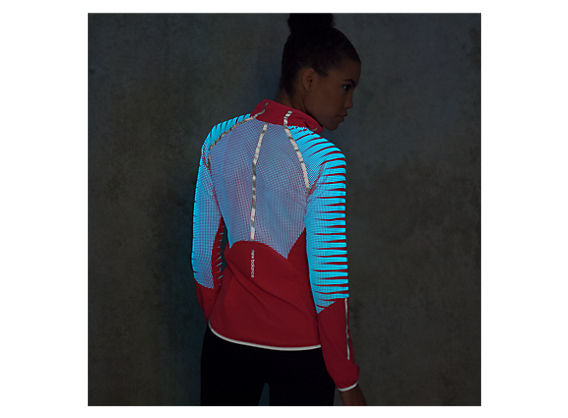 There are strips that reflect light to make you visible to cars. Also, there is glow in the dark material that really makes you glow. For this feature to work, you have to 'charge' your jacket first. You have to put the jacket under intense light for 10 mins and voila- you are glowing!!! I've gone out without charging the jacket and I still feel very safe and visible.
The safety feature was what really attracted me to the jacket in the first place. Aside from this feature, the jacket is nicely designed for running. The fabric is soft, lightweight and technical so you don't feel cold or wet as it wicks moisture away. There's a bit of give in the fabric and it moves well with you as you run (I have bigger shoulders and it doesn't pull or feel tight)
So far, I have nothing but good things to say about this jacket! I get really nice compliments every time I wear it. Besides being fashionable (hey- running is hard work- might as well look good too!!!) this jacket stands up to the performance.
I would HIGHLY recommend this jacket to anyone. The guy's version of this jacket is lime green and it looks great too! In terms of price, this jacket is a bit on the pricey side but it is very comparable to other high performance jackets with the added feature of being very visible.