last fall i decided to tackle a 10k (my first ever race in that distance) as a bit of a time trial in advance of the road2hope hamilton marathon.  this year, when the organizers of the barrie spring thaw races sent a request out to the barrie roadrunners to support their event, i thought that the timing was right to once again test my mettle and gauge my conditioning – this time in advance of the mississauga marathon.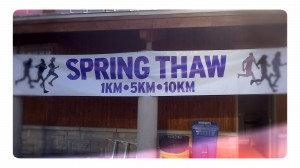 pre-race
i had a mental goal of running sub-40min., but knew that it would depend on the conditions and the pace of the other runners around me.  with this being a small-field event (maybe 130 competitors total participating in a 1k run, 5k walk, 5k run and 10k run) and having reviewed previous years' results i gathered that it could be hit-or-miss as to whether or not i'd place in my age-group, and how fast the finishing times might be.  but having my newly acquired Skechers GOMeb Speed 2 on my feet, i felt like something really good was ready to happen.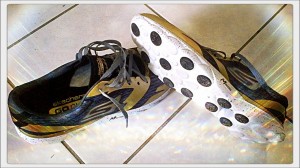 i couldn't pick up my kit the day before the race, so i arrived early on race morning, got a few kms of easy warm-up in, ran several strides and then did some lunges/stretching before picking up my bib and ankle-strap chip.  the registration space was well organized (even if the volunteers were reading their what-to-do instructions straight off of a sheet) and i got set up with relative ease.

as the 10k race was the second last event to go in the staggered-start arrangement, i spent some time chatting it up with my friends tom and brandy who were running the 5k.  tom is an 18-min. 5k runner who is built like a tank – he's got the physique of a pro-wrestler in a small 5'6″ package, and he runs like the wind.  i'd had hoped that perhaps we might overlap on the course so that i could try to keep pace with him, but the logistics just wouldn't work out that way.
the race
the line-up at the start had a fair number of high-school aged students – the Spring Thaw is an event organized in support of
Unity Christian High School
 so i gathered that many of the families enrolled in the school showed up for it.  there was also a bike pacer right at the start planning to lead the group for the first 2k or so until we would hit a limestone trail at which he would bail out – i think mostly because the trail was still a bit mushy with snow/ice spots that could make pacing (even with aggressive knobby tires) a hazard for runners trying to follow.
1st km – 3:44
i started right at the front of the pack and kept up with the bike pacer/marshal and it felt like a great way to go.  after about 400m i settled into a nice rhythm and followed the hum of the tires just ahead of me, thinking that if i could keep this going that i would be golden.  at about 650m i was passed by a teenager who seemed to be moving very strong, and i was ok with that – i did want to stick to an even-splits kind of race strategy, so i let him go but managed to keep no more than about 20m behind him.
kms 2, 3, 4 – 4:07, 4:11, 4:03
i felt decent with the pace, and nearing the 2k mark we lost our bike pacer, leaving just my teenage friend and i to keep the pace.  i found him to be fairly steady, and i didn't mind creeping into the 4:xx/km territory hoping to have something strong left in the tank for the final third, especially if i had to race this kid to the finish line.
km 5, 6, 7, 8 – 4:04, 4:07, 4:06, 4:11
at about 4.5k we had a hairpin turnaround and just after that i found myself closing the gap on the leader.  i wondered at first if i was picking up the pace, but sure enough i was staying steady.  when i caught up to the leader he quickly tucked in behind me – so my immediate thought was that he was going to take advantage of a bit of drafting, save himself for the final couple of kilometres, and then take me and whomever else down.  but about 600m after making the pass i realized that i wasn't hearing his footsteps anymore – i didn't look back, but instead told myself to stick to my race and try to feel good through to 8k.
since the 5k race started 15 min. after the 10k race and shared part of the same course, i caught up to the 5k runners at about the 7k mark.  up to that point i'd found it challenging to push myself, as it was like being out on a tempo run on my own.  with no one to try to keep up to or with, i found it easy to let a few seconds slip here and there, making it up with the occasional surge.  
i want to also mention at this point that there were two aid stations available along the 10k route – i didn't make use of any of them, but it's worth noting that this event was well-staffed, including various course marshals.  at no point did i have any questions as to the route, and they were all very encouraging as i was plugging away.

km 9, 10 – 4:09, 3:55

coming down the home stretch i was able to begin to 'pick people off' as numerous 5k runners were now in my sights.  this was a psychological boost and gave me focus on both accelerating smoothly and looking good/relaxing in my stride.  however, the 9th kilometre also produced several momentary vomiting sensations – and this was new to me.  i must have been pushing myself harder than i thought i was … and with each perceived wretching instinct i had to concentrate on relaxing my upper body and taking deep easy breaths.  i don't know whether or not this slowed me down at all, but the result was that i managed to keep going without having to hurl.
with the finish line in sight i managed a decent push knowing that there were cameras catching the finishing straight.  the organizers said that they would be sending a complimentary finish-line photo to each participant, and i wanted mine to look half-decent, especially if i was going to place in my AG.    
official race gun time: 40:59 / garmin GPS 10k time: 40:37
post-race
my friend tom was there at the finish line ready to congratulate me on a strong performance, as well as to graciously fetch me a bottled water and a half-banana from the refreshments table while i paced around trying to regulate my breathing again.  i spent a bit of time 'unpacking' the race with he and his wife brandy when i finally noticed the second place 10k finisher – the teenager whom i'd followed through to 4.5k – coming in at about six minutes after i'd crossed the line.  i went over to him to thank him for letting me follow his lead, and he commented on how he thought i must have been a good runner, and that he'd come into this race without really having trained.  ah, to be young again …
i stayed through waiting for the medal presentation, and in so doing was able to cheer on another friend (marc) who raced 10k on this day just as he had done one week prior – almost posting a new PB this time around again!
it was fun watching the medals being handed out, as they were awarded to the top three finishers in every AG division (by gender).  tom, brandy, marc and i all received medals, which was a real bonus!  and as it often is with smaller races, there were age categories where medals were awarded by default because of the number of entrants – some groupings not even having the full complement of three finishers.
having been recognized for the fruits of my labour, i went on to finish my morning run with an easy 15k, completing a 28k morning.not bad – a new 10k race PB, a 1st place AG finish, and 1st place overall.  as far as lessons learned goes, i discovered that being a frontrunner (literally) requires a different kind of discipline if you're going to try to take down any records – even just your own.  i feel as if i might well have had a better chance of going sub-40 if there were other faster runners to keep up with or even just a few of us in the end going toe-to-toe as we duelled for podium places.  
so maybe i exchanged a fast time for a first-place finish.
still, i'll take it – and will continue to #GOlikeneverbefore!