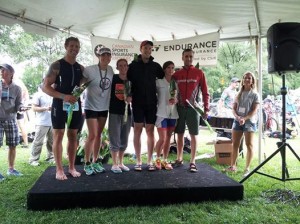 For my first Olympic distance race of 2014 I had the opportunity to compete in the 2014 edition of the Toronto Triathlon Festival.  I participated in the Olympic distance Triathlon, and was hoping for a solid race after a terrible run at the Rose City Half.  Training had been going well leading up to this race, with the running starting to come around.  Skip to the end of this report if you want a point form quick version of my positives and negatives.  In my reports I attempt to be thorough for those who are looking for information about the entire event, as opposed to strictly my own personal results.  For those of you who have a couple of minutes, or are planning on doing this race next year, enjoy! J
Day Prior to Race
As this venue (Ontario Place) is the site of the Pan-Am triathlon next year, the test event ran on Saturday.  I headed down with a friend to watch the Pro draft legal race.  It was a great experience to see the intensity of draft legal racing first hand (and to see Canadian Kyle Jones win!)  It also provided a chance to get "the lay of the land", to cut down on stress on race morning.  It was also mandatory to attend a pre-race meeting prior to race day.  We didn't have to travel far so making the trip two days in a row was not a big deal for us, but for those athletes that live further away it would be a weekend affair.  Alas, no meeting meant no racing so off we went.  With a sigh we made our contribution to the City of Toronto with our first deposit of $20 to the parking machine (parking was not included with race entry).  We agreed on the fact that race organizers got TWO main highways shut down to ride on meant that we should stop complaining.  We made it the pre-race meeting held at Coronation Park (also the finish line).  The meeting was short and sweet as promised, and with our new wrist bands we were able to pick up our race kit.  Back to Milton to put our legs up and watch the tour J
Race Morning
One of the things that I was not looking forward to was waking up at 4am for a race.  You long distance folks are probably familiar with this terrible occurrence, but it was new to me.  Back down to Ontario Place (with no traffic may I add), and again the $20 deposit to the parking machine.  Transition was quite close, maybe a 5 minute walk, so it was stress free.  Security was really solid at this location, with racers required to have a labelled wrist band, bike sticker, helmet sticker, and matching bib in order to gain access to transition.  There were plenty of volunteers on hand to make this checking, and double checking a lot quicker than it sounds.  Officials also strictly enforced the 'only athletes in the transition zone' rule which made for an easy set-up.  Another cool feature was that each athlete had a numbered spot on the rack.  There was no trying to jam your bike where it won't fit, and it was one of the most organized transition areas that I have seen!  After a quick set up, it was time to get the wetsuit on.  This was made a little more difficult as there was a downpour at exactly this time…oh well, we were all dealing with it together.  Wetsuit on and waiting to get in the water.  I was surprised to see Simon Whitfield standing in the rain near the start pontoon, posing with athletes and giving last minute tips!  Really cool J.  I was a little irritated that we were not provided with a swim warm-up on race morning (there was a 'swim familiarization' on Saturday).  Although it was frustrating, after seeing the swim course, and the sheer number of athletes I understand why this would not have been possible.  Waves would have never gotten off on time and it would have been a nightmare for the officials.
The Swim (27:48)
Despite friends' disgusted faces when I told them I was going to swim in Ontario Place, the swim course was straightforward.  Straight out and straight back, left hand turn and in.  Jumped in the water (approximately 64 degrees), and 3 minutes until gun goes off.  The overcast skies meant the sun was never blinding, but also made sighting a little difficult.  I felt good in the water, and the temperature did not bother me as much as I thought it would.  I tried to find some feet to draft, and as always had trouble with this skill (I'm working on it).  I thought I had a pretty good swim apparently it wasn't as good as I felt it was.  I ended up being about 3 minutes off pace.  Oh well, I was onto T1
T1
Went off without a hitch.  However, I am particular about how my helmet feels, and that my wetsuit and goggles are neatly placed so I can locate them at the end of the race (someone ended up taking my wetsuit and leaving me with theirs at the Rose City Half.  If you happen to be reading this and took the wrong wetsuit home after that race, let me know).  This obsessive behaviour makes me take a little longer than I should.  The run out of T1 was up a short, but steep ramp.
The Bike (1:05:20)
The roads were wet on race day, so I had it on the front of my mind to be careful.  Yes, it is a race, but you can't do much racing when you are waiting for a medic on the side of the road.  The bulk of the ride was on the Gardiner Expressway and eventually the Don Valley Parkway.  For those of you who may be unfamiliar with the area, these are two of the main arteries in the City of Toronto, and I believe the only other time cyclists are granted access is the Ride for Heart.  Basically what I am saying is that riding these roads is a big deal, and they didn't disappoint.  Heading out to the highway were some winding roads through Exhibition grounds, but they were well marked with cones.  It would have been extremely difficult to have gone off course.  Merge onto the highway and the bike race begins.  It was awesome to not have to worry about vehicles while riding.  It made it easier to avoid potholes and puddles.  We had a tailwind heading out and I felt like the first 20km flew by!  I didn't realize how much of a tailwind I had enjoyed until I made the turnaround, and was bombarded by wind gusts.  I was running a Zipp 808 front wheel and a Zipp disc on the back, and as such, I was very susceptible to these gusts.  Heading back down between the skyscrapers was particularly nerve racking because the winds were more forceful, and the rain had started again. I thanked training on and around the Escarpment at times like these. I held a constant power back to T2, taking it easy through the tight turns heading back in.  By the end I had passed about 6 cyclists and had been passed by 2 or 3.  I was pleased with this ride and was ready to run!
T2
No problems here, again taking a little longer than others.  I wear socks…there I said it!  I cannot do bare feet.  To me the extra time is worth it!
The Run (39:40)
I was feeling good as soon as the run began, which started me off in a great mood and ready to push myself.  I had been dealing with some leg injuries all spring and only recently had improvements.  I was just waiting for one of them to reappear, which luckily didn't happen.  My goal was to settle in on the 4km to the turnaround and then try to push it for the return trip.  Coronation Park is about 1km further east than transition, so you had to run past it to get to the finish.  This was also a great place for spectators to watch the bike in and then see runners come past on Lakeshore rd. My goal was to keep the pace quicker than 4:00/km.  I was finding it easier than normal to keep a quick turnover, which I have been working on to hold a good pace and hopefully decrease injury.  I was able to start overtaking other racers, which always helps psychologically.  The trail that the run was on was not closed to the public, so there were some dog walkers, joggers, strollers, etc. to watch out for.  I found that many of the people knew that there was a race happening and they were pretty good at providing space for runners.  I was able to hold strong until the end and I ended up running 10sec off of my PB! I had passed about 8-10 runners (2 of which were in my age group). I was thrilled that I had run well in a race for the first time this season, and was rewarded with a 2/40 age group finish, as well as 35/520 overall.  My run was 16/520, and I was the only one in my age group to break 40mins!
Finish Line (2:17:08)
There was a long finishing shoot, and I am sure if it was a nicer day, there would have been many more spectators lining it.  Immediately after finishing, there were recovery snacks readily available.  There was an assortment of bananas, oranges, bagels, water, and chips ahoy cookies!  There were also booths providing free McDonalds coffee, as well as Hero Burgers for racers (line was way too long so I did not take advantage of this).  Allegedly there was complimentary steam whistle beer, but I was responsible for driving home so I did not confirm this.  I did, however, take advantage of the Chiropractic College students that were on hand to provide treatment to athletes.  I got worked on for about 20 minutes, everything from stretching to ART on my calf.  They were not rushing people off the table and did a really great job!  While packing up we had to deal with a wicked downpour (the sprint athletes were on the bike).  Then the sun came out just in time for awards, where I got to sport my Team Running Free Gear for the camera!
Overall Thoughts and Pro/Con list
Overall, I thought that this race was well run and planned.  Being downtown, there are added stressors (parking, traffic etc.,) that I found were not as big of a deal as I had anticipated.  If this fits with my schedule next year I will definitely consider racing it.  Now for the Pro/Con list:
Pros
Got to ride on the Gardiner and DVP!
Roads were closed to traffic
Had to pick up race kit prior to race day which cut down on lines race morning
Clean, organized transition area
Run and bike course were well marked
Finishers medals, if that is your cup of tea.
Finish line festival had something for everyone!
Plenty of competition (my age group 25-29 was 40 deep)
Cons (I realize that the organizers cannot be held responsible for many of these)
Price- once you added in 2 days of parking fees for the Olympic race (prior to the price increase), it was upwards of $150.
Pre-race meeting- although I personally did not mind heading down to check out the race venue and pick up my race kit, I realize that it could be a serious pain for someone travelling from a further away.
No swim warm up- As I explained, although I like to be permitted to warm up, I understand that it was just not logistically possible
Water temperature- This is more of an FYI, not a complaint.  Lake Ontario is cold and there is nothing that can be done about that.  The water was about 64 degrees.  Although some chose not to wear one, a wetsuit is strongly suggested.
Wind on bike course- again just an FYI.  If you are new to using deep rimmed wheels, don't let this be the first time you use them.  The winds on the highway can be quite strong, and gusts from in between buildings can be quite aggressive.  As with any race, you should be well aware of how your bike handles in these conditions.
Early race start- I assume this is because of the highway closures, but you will have to be to transition around 5:30.