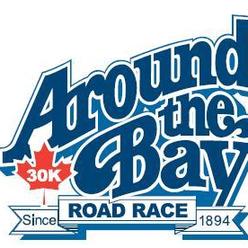 Event : Around the Bay Road Race
Location : Hamilton, ON
Date : March 29th, 2015
Race : 30k, 5K, 2/3 Person Relay
Charity : St. Joseph's Healthcare Hamilton
Website : www.bayrace.com
I did it!  I ran 30k – my longest distance yet!  I trained through one of the Coldest Canadian Winters without any major injuries.  I beat any obstacle that came in my way to train for this race.  I am so excited relieved that this race is over 🙂
Here is my race recap for the Around the Bay 30K Road Race
The first place I wanted to hit was First Ontario Centre to visit the Expo and Pick up our Race Kits.  The expo started on Friday and went all the way until Sunday, although kit pick up closed at 5pm Saturday.  Race pick ups were super fast and very well organized and we had zero lineups receiving our packets and shirts.  There were tons of vendors at the expo showcasing their products and future races.  We were also able to pick up old ATB shirts (that didn't state the year) and hats for $2 and $5 – sweet!  At the event were some volunteers helping runners with race day and route questions, which we found very helpful.
I woke up race day morning with the sun shining and knew it was going to be a fantastic day! The temperature was -10 and climbing. 🙂  We left plenty of time to drive to Hamilton.  I was a little concerned about over 7000 people arriving at the same time. We got a close parking spot to the Centre $20 for parking is CRAZY!  We headed inside for a quick washroom break and all things considering for such a big event, it was the fastest moving line up outside a women's washroom lol.
I really had no expectations for this race.  5 years ago when I first started my running journey, ATB was really just a pipe dream.  My goal was to finish the race and keep a pretty consistent pace of 5:45/k.  In just 4 quick weeks, I would be running my first full marathon and ATB to me was my dress rehearsal for my "big day!"
Around the bay route was changed for 2015 taking out what most have called the "Hill of Death" due to construction that would not be completed for this weekend.  Although there were still hills, the elevation would be gradual and not all at once.
The race time was set for 9:30am.  The amount of runners was just amazing as you looked ahead for miles and miles.  I guess because I had no real pre-race jitters it didn't phase me to to sync my Garmin.  It took approx 10min to cross the start line and after getting my watch all figured out we were off!  Lots of hydration tables, porta potties, spectators, high fives, kids, signs, banners, kleenex, bananas, oranges and cheering along the route.  The first 20k were pretty much flat with a few bridges & the route was beautiful and the energy high!  And then the HILLS hit at 20k!  They kinda just suck you in, chew you up and spit you out.  I was right on pace keeping to my 5:45/k pace.  My ankles were becoming sore from the inclines and when I hit 26k it was pretty much a mental game from there.  I saw the famous "Grim Reaper" who gave me a high five and then I pretty much pulled myself together.  First Ontario Centre never looked so wonderful as we crested a small speed bump.  I suddenly found some energy and picked up my pace.  I knew in no time I would see my husband and kids at the finish line and as I ran down into the finish, I could hear the spectators screaming and cheering!  What an amazing finish line.  I couldn't see my family, but I knew that they were there.  I looked at the gun time clock which read 3:05 and since I messed up my Garmin at the start line, I had no clue what my chip time was!?
After the race, we received a bag to load up on water, snacks, bananas and the Medal – the BLING!  I headed upstairs where I found my biggest fans – my family and cried (tears of happiness of course!)
Race results are immediate – someone should of taken a photo of my face when I found out my chip time was 2:55:41.  I was beyond thrilled with my time and I kept right on track for my goal pace.  Race day photos were ready quite quickly, but much too expensive in my opinion.  I had some pretty awesome photos from the weekend taken by friends and myself & those would be just fine.
Overall, Around the Bay was a fantastic, fun, well organized event that I will for sure be back for next year.  I am ready to move on to my first full Marathon.  Around the Bay was a great warm up for this race.  Thank you to the Organizers, Volunteers and Spectators for an amazing Day!