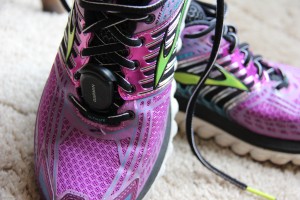 The Brooks Glycerin 12s were my first shoe purchase this year to be my recovery and back to running shoe. December 22nd I became a mother and with that milestone my body went through a tremendous change of pregnancy, injury and surgery. Currently I'm recovering from a hip adductor tear that I injured in my 3rd trimester pregnancy. Buying new shoes was my first intention to get back to training and it was also a necessity as my pre-pregnancy running shoes no longer fit.
Features of the Glycerin 12 include: 3D fit print, super DNA midsole, rounded heel, ideal pressure zones, segmented crash PAD.
The 3D fit print is the technology used for the construction of the upper shoe making this shoe light weight, flexibly but still maintaining it's shape. I have found this shoe to be light weight in comparison to the Ascis Gel Nimbus. According to the brooks website these shoes should weigh 10.9 oz and they were bang on 10.9 oz on my kitchen scale.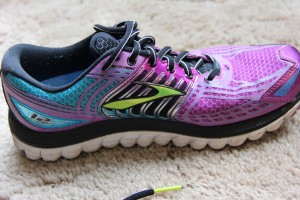 This shoe has Super DNA technology providing the cushioning aspect of the shoe. The sole is composed of a viscous non-Newtonian material where the molecules are connection through strands creating what Brooks calls nanosprings. The goal is to tailor the cushioning to the individual without impacting the energy-return of the foot strike. These shoes do have a cushy feeling however I don't have many shoes to compare it to. I can say that I haven't exasperated my hip adductor injury any further but that could also be attributed to listening to my body and my current training regime (very slow pace).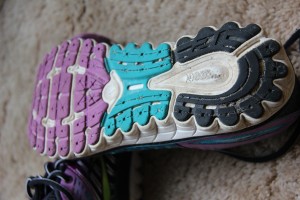 The rounded heal is said to offer better alignment and minimize the stress on joints. I never felt any bone on bone pain while wearing these shoes however my hip adductor would begin to ache after a few km of running. However I would attribute this pain to the injury itself and not caused by the shoe itself. The Glycerins do provide that feeling of rolling over the foot as a run which is the similar feeling I would get from my Brooks Cascadia 8s.
This shoes is equipped with "Ideal pressure zones" meaning that the shoe was designed to disperse pressure evenly across the foot and should give it a float like transition. I agree that these shoes make it easy to roll across the shoe and I choose this shoe in the store because I didn't feel and pressure points under my foot. These have been my only running shoe this year and after running in them for a few months I still don't find any pressure points. I would certainly pick these shoes to run a half marathon because they are very smooth and lightweight.
I absolutely love the colour of this shoe with the purple and the teals. I'm always drawn to bright shoe colours and even with my running attire I will dress in bright colours. Something about wearing bright clothes makes me feel peppy which is always good for running. The other bonus is if I dress like a pylon, maybe motorists will see me and won't hit me.
Overall I loved this shoe. It's a great ride, with a nice roll over the toe giving a super smooth transition. When these wear out I will certainly be buying another pair.