The Spring Run Off 8k course is truly diabolical. After 7.5k of hills, you are treated to The Hill – a giant 365m climb, after which you attempt to sprint to the finish. Such a giant that everyone gets timed going up the hill, and they give out separate awards for the fastest climbs. Why subject oneself to such torture? Well, for several good reasons.
It's a Canada Running Series event, which means impeccable organization. The course through High Park is beautiful and the crowd support is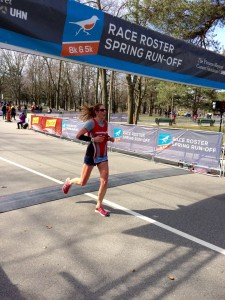 strong. And it's a great challenge.  Life would be boring if every race was flat and fast.
This was my first crack at the 8k, and while it didn't go badly with a 33:54 finish (3rd AG for the race and 2nd AG in the kill the hill challenge), I could have executed it a lot better, and so, I pass on some tips to you.
1) what goes up must come down – and in this case, the downhills are steep and not easy to run. I didn't do any downhill training and lost a lot of time on this.
2) focus on your effort, not pace while running hills – my coach told me this and I didn't listen very well. After charging way too fast up a pretty big hill around the 3k mark, it took another 1.5k for my legs and lungs to recover.
3) the last hill is big, but it's not the whole race – from 5-7.5k, I was running tempo pace and could have gone faster but was too worried about saving it for the hill. That hill is going to slow you down no matter what, so even if you kill it, it won't make up for previous slow kms.
Overall, a fun and challenging race that I am looking forward to taking on again!