Yes, that is the name of the race: That Dam Hill. It runs in London, Ontario.
This is a great little race. I hadn't done it before, 2017 was my first time. There are a lot of advantages and there are some disadvantages to doing this race – I found out the latter in the hard way.
For me, this was a preparation race for my first full distance Ironman which is coming up in 3 weeks. I had wanted to run the full marathon in my training, so I was thinking might as well get a medal for it. About a week before the race I was chatting with Coach Rick and he advised me against it – so I ended up downgrading to a half. It was a good decision. I already have a few marathons under my belt, so I know I can do the distance and there is no point in injuring myself so close to my target race.
The course consists of loops around the park and depending on which race you are running, you do a certain number or try to do as many as you can in a certain amount of time.
This year they offered a half-marathon, a marathon, a 50-miler and the 24 hour race which was the Canadian National Championship. In previous years they offered 3-hour, 6-hour and 12-hour timed races in addition to the 24-hour one as well as 50 km, 100 km and 100 mile distances.
That Dam Hill is there indeed. And although it is not a big hill, it is still a hill. If you did that hill once or twice in a race, no big deal – it is honestly not that big. But when you need to do it again and again – it does wear on you. For a full marathon, you need to go up the hill 18 times. For a half, 9 times.
Here is the elevation map: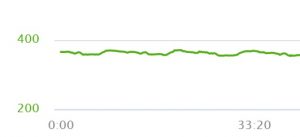 As you can see, the hill is not that big – about 15 meters elevation. Then you get a nice gradual downhill. Which brings me to the second challenge of the course – the downhills. There is one steeper downhill and then the big gradual one. If you just do your steady pace on the downhills, it is probably easier, but I'm the kind who likes to take advantage of the downhill parts and take "what it gives" in free speed.
Some runners find it challenging on their quads, I find it more challenging on my knees – especially the day after the race. That is the main reason I'm happy that I downgraded. It was hard enough on my knees to do the half.
For the ultra races, this course is great. Every 2.2 kms is one loop. So you can have your support person sit in one spot and you hit the spot every time you finish a loop. If you don't have any support, you can just park your spare gear and nutrition by the course and get away with no support crew even in a 24-hour race. I find that very appealing. Also, I'm assuming that for a 50-mile or 24 hour race, the downhills are not that big a deal, since you will probably not going to push for speed on them unless you are going for the championship. I'm not sure, I have never done an ultra, but I'm guessing that is the case.
Another great characteristic of the race is that there is only a 24-hour time limit on the distance races and as long as you finish at least one loop, you are not DNF on the timed races. So if you want to run a marathon, but you are not sure that you can manage within the 6-hour or 7-hour cut-off that some other races have, That Dam Hill will comfortably allow you to finish at your own pace. You can even go home, have a nap, come back, and still finish your race!
Interesting to note, that the 50-mile race had 5 finishers, 4 of them were women. There were 23 finishers in the 24-hour race, 44 on the marathon and 37 on the half marathon, so it is a nice small race. I managed to score a 3rd place in the half-marathon in women overall category. I guess the course was just as hard for the other runners. I think I might be back for one of the ultras one day!