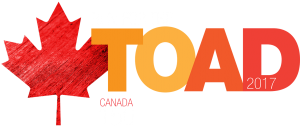 The Run for the Toad Trail Race
Date: Saturday, September 29, 2017
Location: Paris, Ontario
http://www.runforthetoad.com/home.html
This is a trail race event that I've wanted to try the past couple of seasons, I've read nothing but good things and drove the 1.5 hours to join in the fun. I was not disappointed, if anything, it exceeded my expectations by far. This is a one of a kind race, hidden away near Paris Ontario.
This event has it all for anyone looking to try their legs outside on a trail. From arriving in the Pinehurst Lake Conservation Area, it became apparent that this was a different trail event. The start area is covered in a large expo tent where participants can shop for gear or consume pre-race Tim's coffee. This is a very well run event, they have an area for medal presentations, a registration area, expo area and a group table area, all covered in large tents. This event had multiple races with teams and relays occurring during the multi distance events. I was running the one lap 12.5k. Being that this was Canada's 150, there were extra celebrations with pipe bands and canons being shot off.
The run began starting clockwise along the side of Kettle Lake, it's a mixed trail of single hard paths and wider soft sand, it evolves into some beautiful forest areas. There are rolling hills that open into meadows and back again. The most interesting section was through the trailer park which covers a portion of the park, people were outside cooking breakfast, toasting to runners with their coffee as we ran by. Everyone seemed to be smiling the entire time regardless of how long they had been out on the trail. There were two well organized aid stations, with the usual mixture of drink or food to satisfy every taste.
The weather on this day suited my running taste perfectly, slightly overcast, little wind and the temp around 14 degrees. I felt strong the entire distance, always looking to find distance markers inhabited by interesting people or objects. You are never really far away from things, you can hear cheering every so often on the wind, or through the woods, it can be encouraging to know in case something unexpected happens.
Coming into the finishing area is very satisfying. Its a busy area with people doing all sorts of things, I was handed a very nice medal and water, then headed into the expo tent for the great meal I've heard about. The post race meal is catered by locals from St.Jacobs, and its well worth the price of the entry fee. I rested in a covered area, watching runners arrive at their finish or continue on to their next lap, blissfully sipping on a Tim's coffee. I can't remember enjoying a race this much, I'll be back again next year for this one for sure.