Ragnar Niagara 2018 – The HUMAN experience
I have, up to 6 months ago, been a solo athlete.  Train alone. Race alone.
And then I met some really amazing, like-minded people along the way and I realized just how much of the experience I was missing out on.
And the relationship blossomed into an event that completely exceeded my expectations.
Ragnar Niagara 2018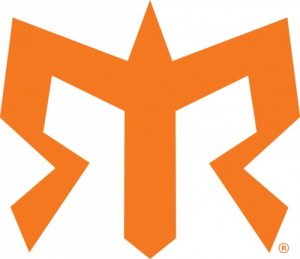 The race is a 36 leg relay from Cobourg to Niagara Falls.  It is 300+ km in total distance, 36-ish hours, on roads, sidewalks or paths.  There are age and gender divisions, along with a 12 person team option, or the Ultra category, which is a 6 person option.
With the 12 person team, you have two vans carrying 6 runners each.  One vans does the first 6 legs.  Then you meet at Exchange 6 and van 2 takes over for the next 6 legs of the relay.  It then carries on swapping after every 6 legs.  In total, each runner would do 3 legs of the relay.
My teammates did this last year, and they described it as a fun event, where the time spent with teammates was primary and the running was secondary.  When your van wasn't running, you had a large block of time to relax, sleep, eat and celebrate everyone's success.
With the 6 person Ultra race, all runners are in one van and you just keep going to the next exchange point, with each runner doing a total of 6 legs.  We did the Ultra.
The lengths of each leg can be anywhere from 4.5km to 12km.  Our team decides to run two consecutive legs.  This meant the van could skip one exchange point and get a little bit of down time (sleep), before the runner arrived. We could also hang around the exchange point after the handoff, knowing we had some time before our runner would be done their two legs.
Most other Ultra teams we spoke with were exchanging at every leg… And we spoke about it after, and came up with different ways to break up the legs (…if we decide to do another Ragnar in the future).  The race organizers did not appear to have hard rules about who ran what legs, just as long as it was done.
This leads into the actual organizing of the race.  The race was well marked with a blinking light on blue signs at every turn. Considering it is a 300km race, that is a lot of signs.  The routes are mapped nicely provided in an app.  This was particularly handy as you could make a paper copy, or just use your phone as needed.  However, as the signs are out in public, and the course is not closed to the public, mischief can occur.  There were two signs that appear to have been moved.  This caused our runners to miss their turn and get semi-lost.  It added about 90 minutes onto our total race time and we were towards the end of the teams finishing.
As we were towards the last teams at the various exchanges, we were approached twice by a Ragnar staff, inquiring if our runner had come in or not.  She was there to ensure we would complete our distances and be successful.  As we were not racing for a podium, they had options to move us ahead.  For example, if we were waiting on a runner to come it, they would have allowed us to release the next runner to keep us moving and make up some time.  Another option she provided was if we had two distances that were the same, we could skip one, and have two runners run the same leg.  (basically getting two legs done at the same time).
To us, the race was not about time.  It was about finishing.  And it was great to know the organizers also had that as a goal.
During the overnight legs, they also give the option for two teammates to run the leg together.  Double up one leg and skip a future leg.  That way, if concerned about safety, the runner does not have to be alone.  We had spoken about bringing a bike and having someone ride along next time. Other teams did this and it seemed to make them more comfortable.
The only glitch worthy of note in the organizing that could have been avoided was that the team captains were told that the full team did not have to be present at kit pickup.  When we arrived at kit pickup, we were told that all members HAD to be present.  I had been scheduled to work that evening, but as luck would have, my shift was canceled and I was at pickup.  But it could have been a problem.
But all-in-all, considering the scope and logistics, the Ragnar staff did a terrific job on the event.
To me, this race wasn't about swag.  It was about the human experience that is felt when a group of people come together to face a massive challenge, knowing that there is only one possible outcome: To Finish.
You ask yourself: "What do I need to do to ensure we complete the task?".  Or "What do we need to do for each other to ensure they are successful?"
My three (double) legs were 21.8km, 12.4km and 17.6km, respectively.  It's not easy running on tired legs, but stopping never crossed my mind.
I think the smile on my face at the end of my 3rd legs speaks volumes.  I did my part.  After the hand off, I was walking back to our van, and was beside another team, when one young woman called out "You were doing amazing out there!"   Being recognized by a complete stranger is the most amazing feeling.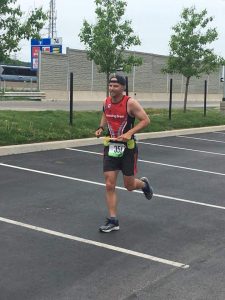 And that's what this event was about, everyone cheered for each runner as they came into an exchange.  Teams pulled their vans over mid-leg to get out and cheer for their teammate as well as everyone on the course.  I was offered a full bottle of water on my first leg by another team, as it was 27+ degrees out.
Everyone wanted everyone to be successful.
A few things that made our trip and experience amazing:
– A 12-person van, for 5 runners and a driver is the right size.  (the 6th runner would be on the course).  We had enough room to spread out and lay down, and never felt cramped.
– Team bathrobes are sooooo much better than team shirts.   (Great at exchange points to stay warm and a beacon for the incoming runner to spot.  Seeing your teammates as your turn the last corner, is such a boost!  And… they are a great conversation starter with other teams.)
– Strawberries and cheese are amazing after your final leg!
– Being a "Yes" team, anytime someone asked for something.  Can we stop here? Yes.  Can I have that?  Yes.
– Engaging in the full experience, from van decorating, to getting lost, to functioning on minimal/no sleep… Yes.  It is awesome.
I wouldn't want to change a single thing about my experience.
Our Team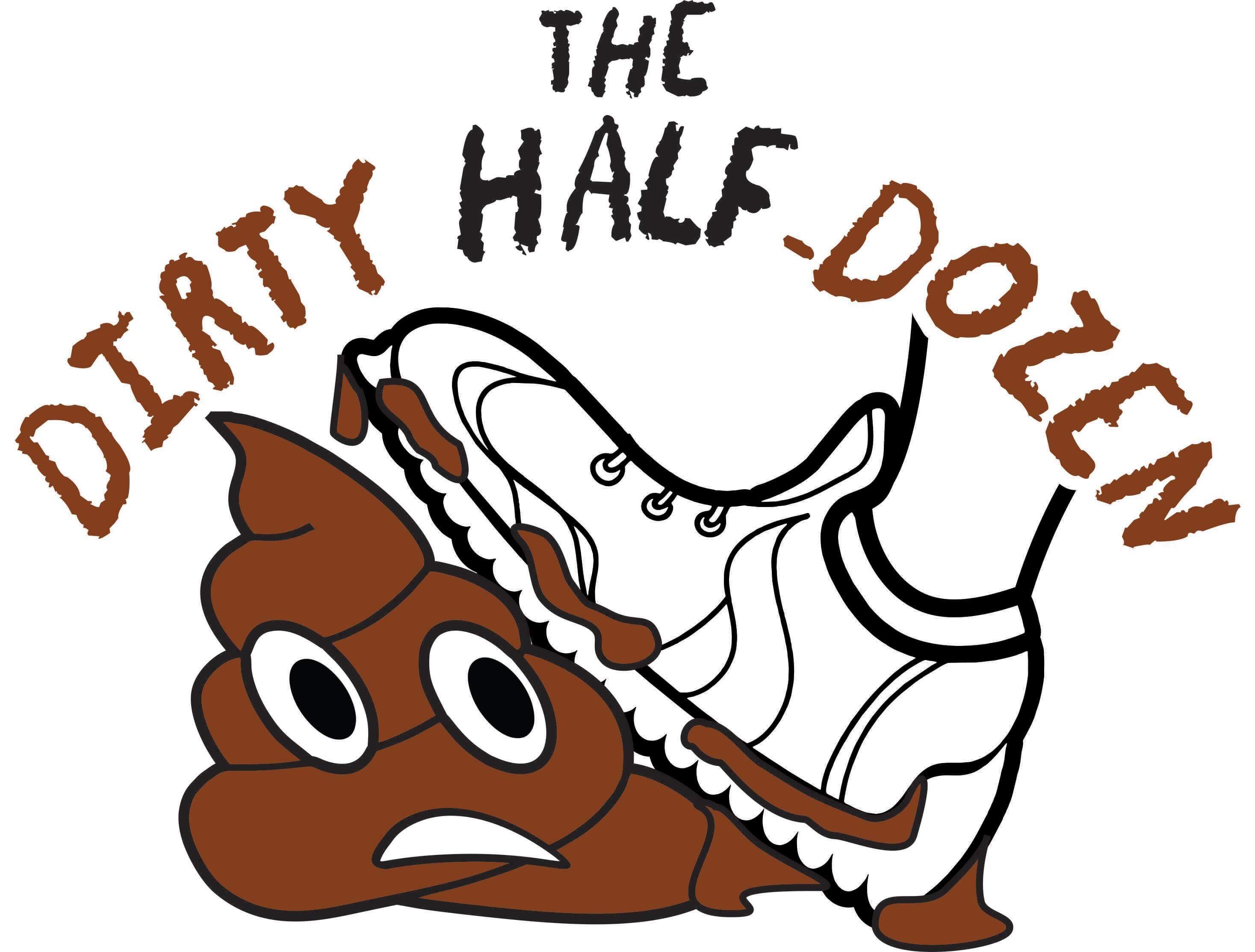 Paul, runner 1.  The lead.  And what a trooper!  Never stopped, never uttered something negative.  He also has the ability to chat up anyone… even the tourists in Niagara, while wearing a bathrobe.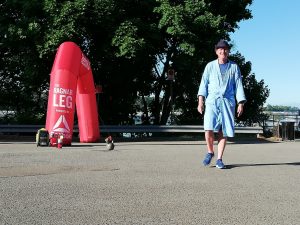 I was runner 2.  The rookie.  And last minute addition to the team due to a medical issue.  So happy to have gotten the opportunity!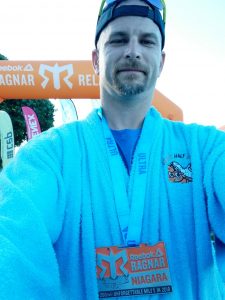 Peter, runner 3.  The quiet one.  But solid as a rock with quick consistent legs.  He also has the super power to sleep anywhere, whether on a picnic table, or behind a van, or…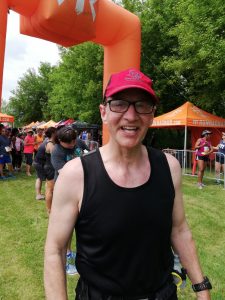 Baldish, runner 4.  Our Captain.  She had us on  point for everything.  Made sure we were organized, prepared and smiling.  Her ability to smile through anything was a ray of sunshine.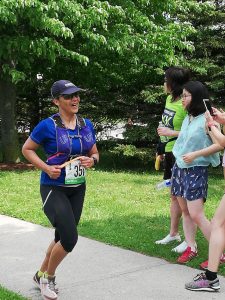 Derek, runner 5.  Our navigator.  Although he got detoured on the course, he got our van to every spot we needed to get to.
Melissa, runner 6.  Our closer.  Solid performance in the last, hardest and longest leg of the journey.  I don't imagine running through the Niagara hills was a breeze, but you did it!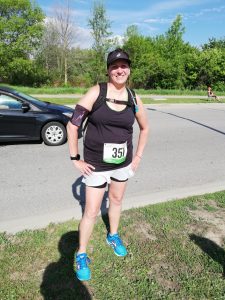 And although not technical on the team, he was a major contributor to our success.  Our pilot.  Captain Cory!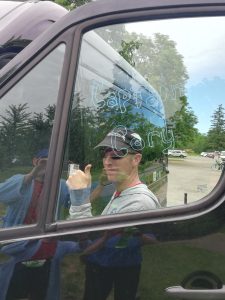 These are amazing teammates.  You taught me so much about the human experience, I cannot truly do justice in this article.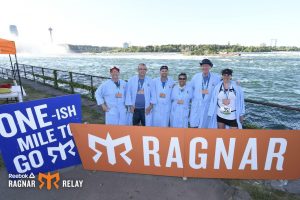 To anyone on the fence, find a few people and give it a try.
-Patrick