A while ago, two of my friends asked me about joining them for this year's "Spin the Lakes" Cycle Tour in Huntsville. The event is described as "a ride geared for everyone to participate – from the race enthusiast to the first time ride – that takes you around several of the Muskoka lakes along routes with breath taking views and spectacular rock cuts". Between their enthusiasm and the description of the event, I was convinced to sign up for the 100km route (I clearly have a rubber arm ).
Over the winter, I took in numerous spin classes to prepare for the hills of Muskoka. I also had my road bike set up on my trainer in the basement for those really chilly days. By early May, however, my longest "ride" was a double spin class – so naturally, 100K on an extremely hilly route sounded like a great idea. But I knew I would have fun regardless, and as the ride weekend approached, I was ready to roll.
We took the 2-hour drive to Huntsville on Friday, and got there just in time to sign in and grab a couple route maps. There were numerous staff and volunteers around to help us and answer our questions and everyone was super friendly.
We woke up on Saturday to a cold-ish, rainy morning. I opted to wear my bike shorts, my jersey, arm sleeves and a jacket. For the most part, I was comfortable – though soaked to my last stitch – throughout the ride. For a few moments we were worried that the ride may actually be cancelled due to rain or thunder, but the weather held and we were good to go.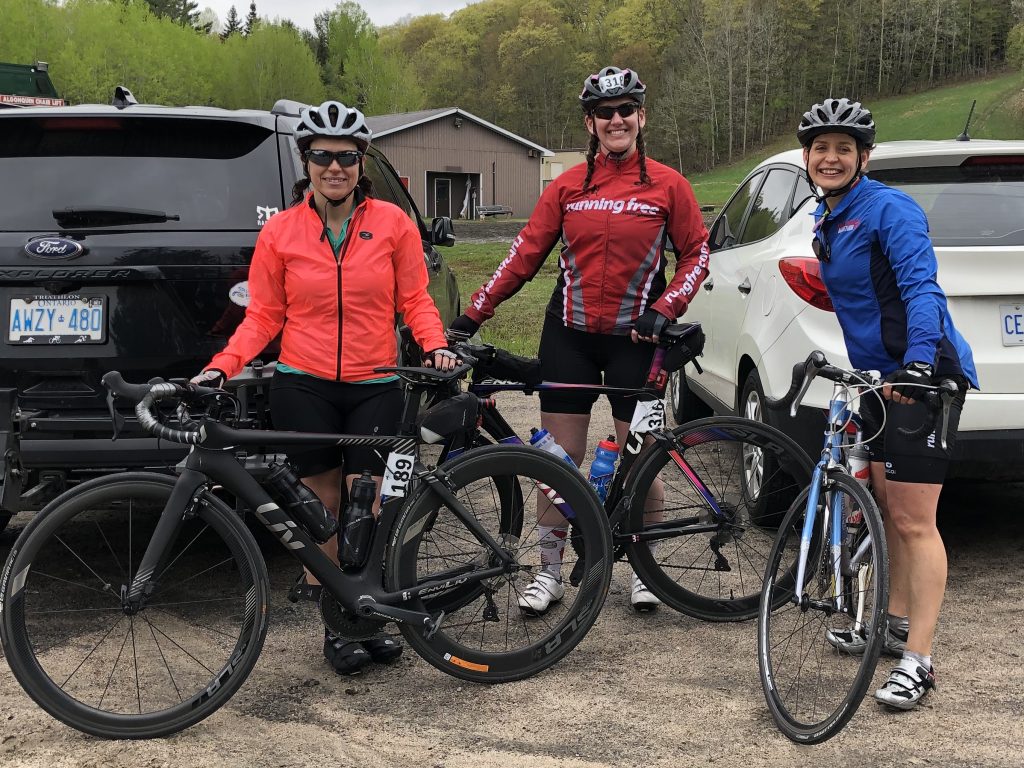 Most of the route is the same as the Muskoka 70.3 course, and there really weren't any flat stretches – just lots of climbs and descents. There were three aid stations along the way, around 40K, 70K and 90K. We stopped at the first two to stretch our legs, grab some fluids and cookies and mentally prepare for the next section. By the time we reached the third station, we opted to just power through and get to the finish line.
I loved that the ride took us through several small towns in Muskoka. One of my favourite moments was passing a sign for Port Sydney, a very small village – the entrance sign says "Port Sydney – Home of 500 nice people and one old grouch". So cute!
At around 65K, I really started to feel fatigued – it felt really hard to keep my bike moving. Thankfully, one of my friends noticed that my back tire was getting a little flat and suggested that we stop. Sure enough, I had put a hole through both my tire and my tube. We rallied together and, with the help of a very sweet stranger, we managed to change my tube and put a patch on my tire.
The last 15K or so had a lot of really hard hills, and I actually had to get off and push my bike up the second last one. But at long last, we made it back at 102K in just about 5 hours (we were out for about 6 hours including the breaks and the time it took to change my tire). But it was a great day and I'm so proud of us for finishing it. There was a great spread waiting for us, and we thoroughly indulged before heading back to Deerhurst for the night.
Overall, I had a blast. Despite the rain, I am so proud of us for finishing the event. It was my longest bike ride ever, and I was thrilled to have been able to do it in a pressure-free environment with my friends and around 600 other cyclists. I would do this one again for sure!