Best headphones ever.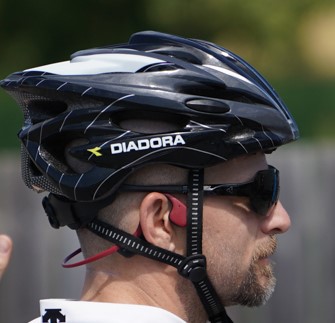 If you are looking for some good headphones, that are actually safe to use, save yourself the hassle of shopping around and just get a pair of AfterShokz.
I have been using the AfterShokz Treks Air for the past year and they are fantastic.
When road running with friends, I can hear the conversations around me. When road cycling, I can hear cars approaching from all directions. When trail running, I can hear the wind in the trees and birds chirping. And during all of this, I can still hear my music clearly.
They don't cover your ears, so they don't impede peripheral noise that may affect your safety. They fit comfortably under a hat or under the straps of a cycling helmet. And after wearing them and sunglasses for 10 seconds together, you don't feel either.
Of note, then running on the sidewalk of very busy roads, the ambient traffic noise can be louder than the headphones, and as such the headphone volume may need to be turned up louder than desired to compensate. But I find the traffic noise never seems to be long enough to warrant much change.
Lastly, the headphones have a built-in microphone for making phone calls. However, when out and about, it was told I sounded distorted while using it. I don't much want to talk when I'm out running or cycling, so this feature is rather irrelevant to me.
https://www.runningfree.com/products/AfterShokz-48367/AfterShokz-Trekz-Air-p50703/
They connected easily via Bluetooth to my phone and have lasted 7 hours consecutively (on moderate volume, not overly loud).
Comfortable. Quality sound. Safety.
What else could you want?
P.S. Unlike in the image, when cycling, glasses *should* be worn outside the helmet straps. In the case of a fall or accident, you want them to fly off and not get tangled up in the straps, reducing the potential of them impacting the eyes/face.