Newmarket – October 20, 2022
If you know me then this won't come as a surprise to you but in case you don't: I'm a bit of a sock guy. I wasn't always but I have been for a while. When you're training at high volume, have foot issues or maybe a combination of both you need to put thought into what's on your feet. That includes the socks you wear, not just your shoes or insole.
There's a lot of good that can come from a sock… They protect your feet and keep them warm; you can even look good while doing it with the variety available today. If you need support, your socks can be there for you too and that's where OS1st comes in.
I picked up my first pair at the Toronto Waterfront Marathon expo and I've loved them so far. I've worn the OS1st plantar fasciitis sock on some bike rides, runs and throughout the rest of the day.
Let's talk about these and dive into why I'm such a fan:
The Fit
You can find OS1st socks in 4 sizes: S, M, L and XL. I grabbed a medium, wear a men's size 8 shoe and these fit great. The compression hugs me in my arches and the heel cup is right where it should be. Say goodbye to the sock heel over your Achilles! There's also a left and right sock which I think is super important to make sure the fit is just right.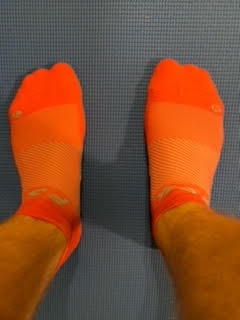 I appreciate that these are a low profile sock but don't sacrifice coverage. My heel and ankle feel protected above the collar of the shoe and of course there was zero slippage or scrunching. That's important in a no-show sock which has a tendency to do both.
The Compression
There is Compression Zone Technology being used throughout the sock, concentrating on 4 different zones.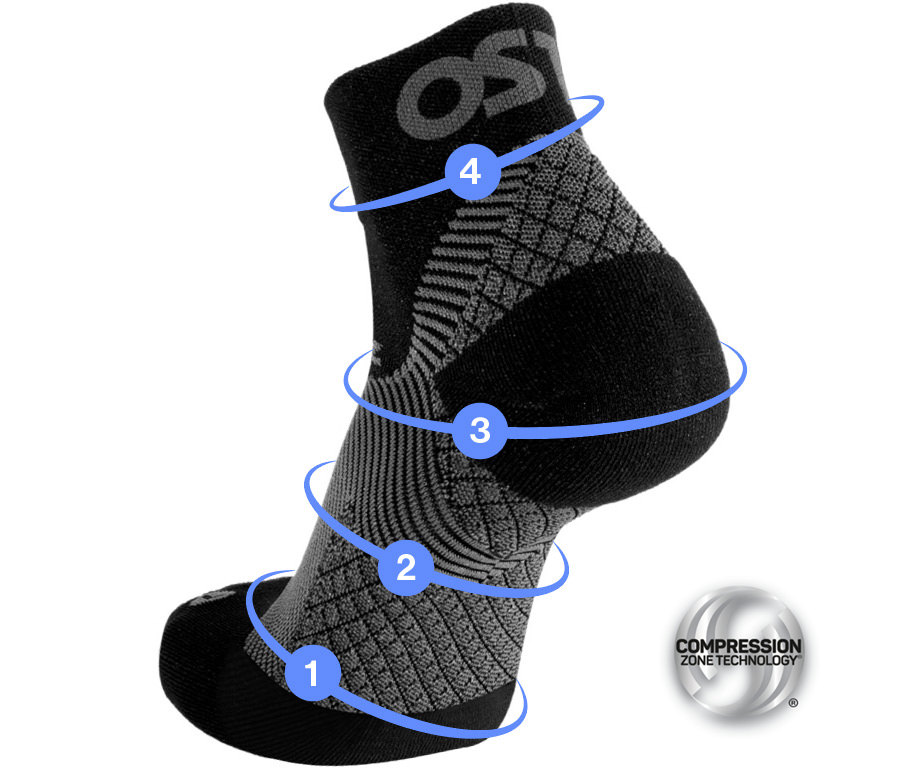 Zone 1 (Light – 10-15 mmHg)
Boosts venous flow and provides stabilization.
Zone 2 (Firm – 20-30 mmHg)
Lifts the Plantar Fascia and boosts venous system.
Zone 3 (Moderate – 15-20 mmHg)
Shaped-to-fit design.
Zone 4 (Firm – 20-30 mmHg)
Supports the Achilles and boosts venous system.
The socks feel good. You know they're there and supporting your foot more than a typical sock. They aren't too tight and there's no pressure around the ball of my foot either.
The Feel
I ran outside on some fairly cool days (~2 degrees) and didn't have any temperature issues. I also rode on my trainer inside which is a pretty hot environment and things were good there too.
Like I said above, there's no slippage and no rubbing around the collar of your shoe. This is a sock you can wear on the daily and feel good doing so.
Final Thoughts
Overall, this is a great sock. The compression is just right and most importantly, with the broad range of sizes available you can make sure it supports you where it counts. I'd definitely recommend these socks to anyone and have already picked up a pair of the merino wool versions to try as well.