Uxbridge – May 27th, 2023
Last year, thanks to 5 Peaks and Running Free I was able to participate in my first ever trail race (Race Report). I strapped on an old pair of hiking shoes, not sure if my Endorphin Speeds would appreciate being taken off-road and had the time of my life. I picked up a pair of Speed Goats and vowed to do more trail running.
A few weekends ago I participated in the 5 Peaks: Trail Hub Touch the sky – Enduro distance (14km) and had another blast.
Now that I've participated in two 5 Peaks events, I have to say there are some amazing themes that were consistent across both races. First off, they are incredibly organized. Race day comes with enough nerves and registration should not be one of the contributors. The parking is well staffed and it's very easy to get a spot with everyone arriving at once. Finding the registration tent and getting your racing bib and time chip has been a breeze each time. Next up, the "vibes", and let me tell you that they are magnificent! The trail running community is great, super friendly and welcoming. This extends to the staff and volunteers from 5 Peaks. Everyone was very friendly, the music was good and the MC is stellar at her role. Finally, 5 Peaks has brought me to 2 beautiful locations only 30 minutes away from where I live and I never knew they existed. On top of being a friendly and beautifully organized event, I've learned about another beautiful piece of nature to enjoy in the future as well.
Now let's talk about the race itself…
This was a really tough race, the track was pretty technical, lots of different terrains, pitches and a combination of single-track and more open portions. After completing the first loop (~7km) I found myself feeling quite tired and accomplished… Maybe I had bitten off more than I could chew. I've included some photos below of the course as well as the elevation to give you a better idea of what it looked like on paper. There were switchbacks, roots, sand, leaves and just about every ground cover you can imagine in play. I might call it "relentless" in the sense that any time you were cruising on a flat or downhill there was quickly a challenging section that needed to be overcome. This course challenged me and I thought it was super fun and a great accomplishment to finish.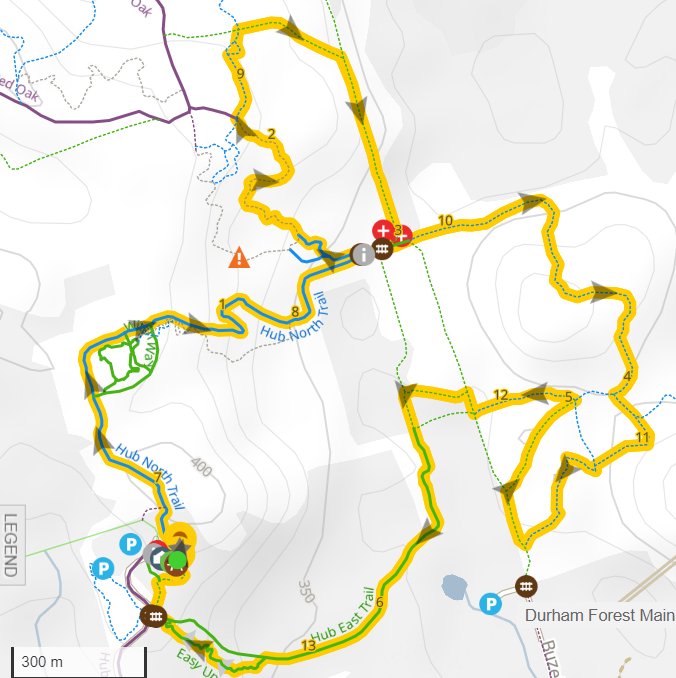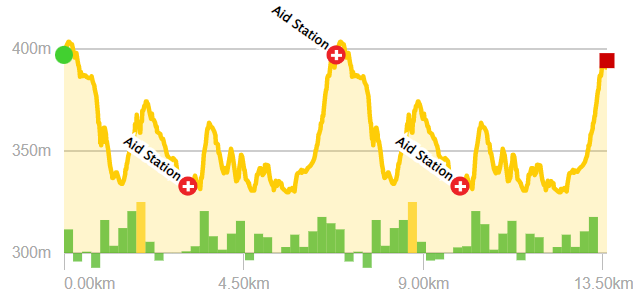 In summary, I think that trail running is great and I think that any of the 5 Peaks races are a great way to get into it or just continue your love of running on the trails. It was my pleasure to be there representing Team Running Free, even more so taking a place on the podium in my age group (30-39).