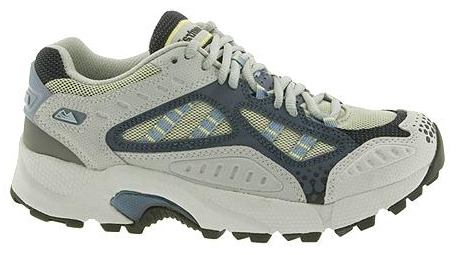 The design of the Montrail Hardrock running shoe was inspired by the Hardrock 100 Mile Endurance race, which is run on very rugged trails, and as such, the Hardrock is a true off road trail shoe. The idea behind the design is to offer maximum foot protection from hazards such as sharp rocks and roots, and the shoe is best suited for those who run on technical, rugged terrain. The midsole of the shoe is thick which helps protect the sole of the foot, and the outsole is very aggressive and offers great traction on wet rocky, rooty surfaces. A plastic TPU plate also covers the length of the shoe to further protect the foot.
I first heard about the Montrail Hardrocks when I attempted the HURT 100 Mile race in Hawaii a couple of years ago. The HURT course is run on 99% extremely technical rocky, rooty mountain tropical trails. I wore an aggressive trail shoe, but it obviously didn't have enough midsole, and the outsole didn't offer nearly enough traction on the slippery trails. I left HURT that year barely able to walk and had my first ever DNF (did not finish).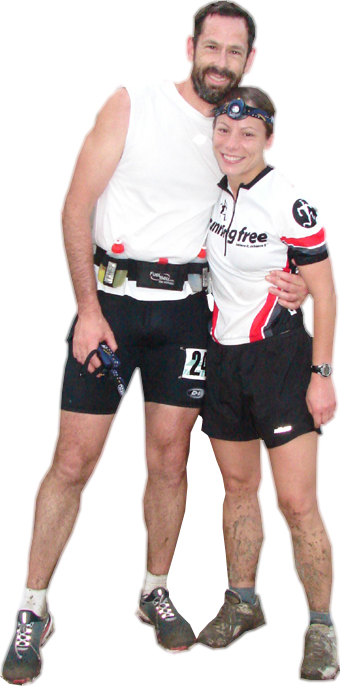 I immediately began looking for a new trail shoe that would stand up to those types of tough trails, as I knew that I'd be back for more HURT, and running other 100 mile races that coming race season. I took the advice of local Hawaii ultra runners and tried the Montrail Hardrocks. I loved the shoe right from the beginning! The shoe has a wide toe box (there actually is a regular and wide version) which is perfect for my slightly deformed ultra feet. The Hardrocks also have a snug heel cup so that your foot doesn't move around in the shoe. The Hardrock isn't the lightest trail shoe, but for the amount of protection it offers, it is a good combination of support, comfort, weight, and durability. The life of the Hardrock is fairly long as well, and I have been able to get approximately 800 miles on a pair of shoes before I feel that the cushioning of the shoe is no longer good enough. My only negative comment about the shoe is that the treads fill with mud quite easily, and once that happens, the shoe becomes fairly heavy and loses some of its traction.
Since my first 100 mile trail ultra I have exclusively worn Montrail Hardrocks. My feet have been very well protected, and I rarely develop blisters in long ultra races, except for the occasional dislodged toenail or two over the years. Wearing Hardocks allows me to run hardcore technical trails much quicker and with more confidence, and I don't have to worry about my feet getting hammered. I would recommend the Montrail Hardrocks for any serious trail runner, who spends time on technical, rugged trails.