I'm not going to write a technical review of this shoe that tells you about the materials from which it's made nor am I going to repeat the claims in the marketing material created by Brooks. I am going to write about running in this shoe.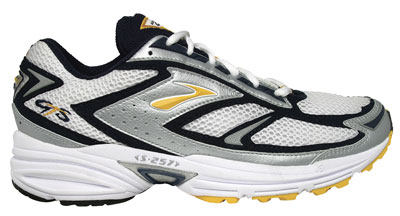 I started running in the Adrenaline a few years ago, when it was suggested to me by one of the excellent shoe fitters at Running Free. I was training for the 2004 Mississauga Marathon at the time, and had been having some tightness in my right hamstring and glute, which I have since realized is a symptom that the support in my current shoes is starting to wear down. On top of the recommendation from the Running Free staff, the Brooks sales rep also had some great stretching tips for me and a few other team members.

I am a moderate pronator and have a fairly narrow, long foot (I take a 13, narrow and the fact that this is usually in stock at Running Free is reason enough to shop there even if I wasn't a team member). Prior to trying the Adrenaline, I used the Nike Air Structure Triax, a New Balance stability shoe, the Adidas Supernova Control, and the Saucony Grid Stabil. Each of those shoes provided the support I needed, but didn't fit me as good as the Adrenaline does and many of them were heavier than this shoe.
During training periods, I'll generally put around 50 – 60 KM a week on a pair of shoes, and I've found that the Adrenalines have stood up fairly well to that level of training, usually needing to be replaced every 12 to 16 weeks.
I've run in pretty much all weather conditions in these shoes from hard downpours to hot summer runs to incredibly cold winter days. These shoes breathe well, which is good for me as my feet get hot rather quickly when I run, but they also let in the water and cold. That's not a huge concern for me since I would rather have the ventilation when I need it than to have more weather protection. Brooks did have a winter version of this shoe for a while, but I didn't try it and I'm not sure if it's still available.
The biggest accolade I could have for Brooks and this shoe is that it's fit and function have stayed pretty consistent over the years that I've used it and I'll continue to use it for all my training and racing as long as this holds true. Oh, and I had a PB in the 2004 Mississauga Marathon and qualified for Boston. I'm not sure how much the shoe or the stretching helped, but I was injury-free on race day!