– Date: June 3, 2007
– Description: Becel Ride for Heart
– Location: Toronto
– Sport: Cycling
– Race web site: www.rideforheart.ca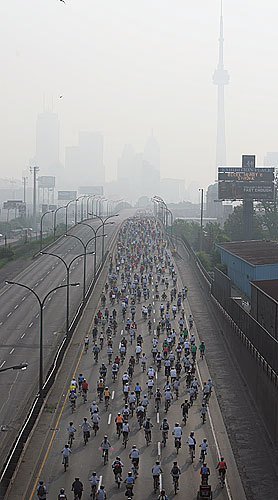 The 10th annual Ride for Heart on the Don Valley Parkway caused mayhem on the streets on Toronto but for thousands of cyclists it was a dream come true – free reign of smog free roads! Yes, I know the folks in Ottawa are laughing at us. Their usual Sunday closures of the Colonel By Parkway and other local streets for cycling and in-line skating are the norm. However for Canada's largest city, the Becel Ride for Heart makes up (somewhat) for our car-centric city.
The Becel Ride for Heart is the one day the DVP isn't a parking lot. Instead, it becomes a massive cycling rally where all sorts of athletes, recreational riders, commuters, families come out to ride. Members of the public have the option to ride 25k, 50k, 75k (or more) by simply paying the $35 and a donation. Thanks to Team RF member Rick Choy who got 8 of his athletes to come out and ride. In total this group raised over $8000 – nice work!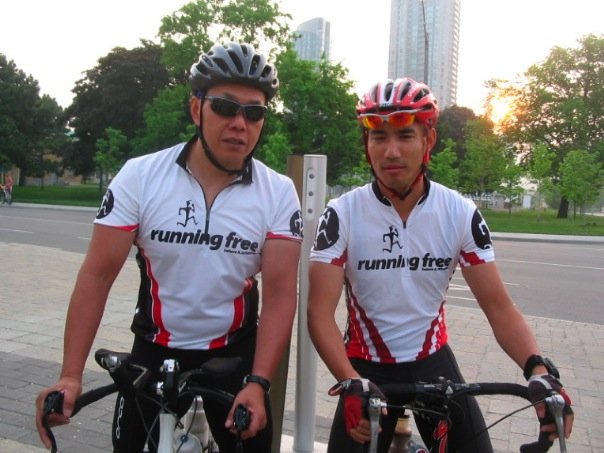 Our little group met at the Princess gates at 6:30am. Not sure how we made it to the rolling start line as I was oggling the super expensive and fast looking bikes! Amidst the bike envy, a little crash happened in front of me as a guy couldn't unclip and took out a small peloton! Through the carnage we headed west on the Gardiner for a bit before turning back east and onto the DVP.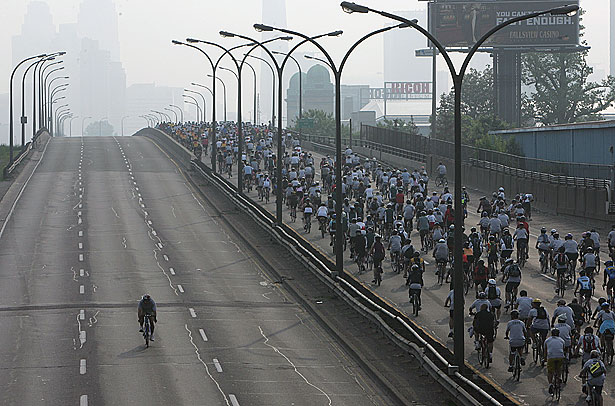 What people do not realize is that the DVP is quite hilly. From Bayview to Don Mills is a slight incline, and from Eglinton to York Mills there is another incline. With the wind in our faces, our peloton had the open road to ride – what a feeling! Good thing we started early. As we approached the turnaround point at York Mills, the DVP has a nice downhill before turning around at Bayview for the extra 25k loop.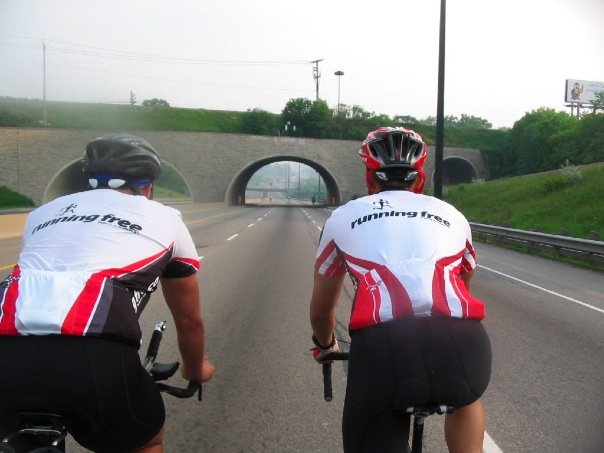 I got trashed talked by my old Richmond Hill Master's friend Martin who is doing the Rideau Lakes Bike Tour (Ottawa-Kingston-Ottawa) and was doing a 125k loop. I followed him but quickly lost (dropped?) him in the throngs of people that emerged mid-morning. Thousands and thousands of cyclists. Quite an impressive sight. More impressive was the guy riding a fixed gear bike towing his kid! Great ride in a great cycling city! Thanks to Rick Choy for organizing us for this wonderful event.