Stage 4 (of 7): Nipika to Whiteswan Lake, 113km, 1139m of elevation, 45.1% single/double track, 54.9% gravel road (August 2007)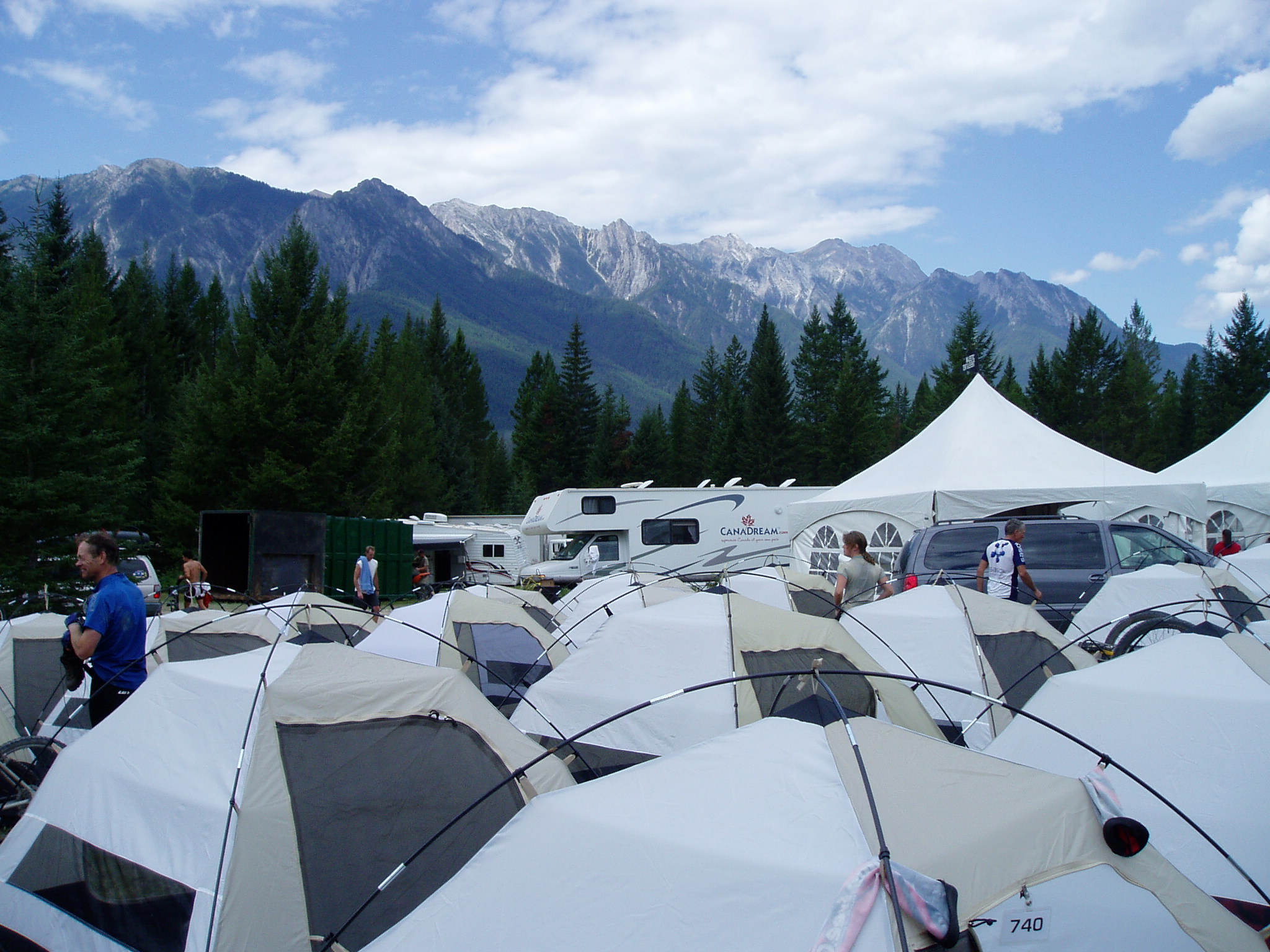 With each day, we were getting worn down but we would get in a groove of what to do each morning and evening. I would never dream of riding, sleeping, eating and doing that for 7 days straight – how lucky are we to be able to do this? Stage 4 would make me think that yes, I am lucky, but boy how lucky am I to suffer like a dog?!
Not more than 10k in through the dusty ATV trails of the Nipika Mountain Resort (have I mentioned how beautiful it was here?!), I got a flat. Our first real mechanical of the race. Not bad considering. However, this would be the first of 2 flats of the day, and 1 of 4 I would get the entire race. I made a mental note to switch to tubeless tyres after this race!
According to the route book, this would be indeed be a long stage but it only had two massive climbs, each one about 600m. After the second climb there would be a nice 40k descent into White Swan Lake. Mentally, Bill and I to ride conservatively for the first climb, pick up the pace up the second climb and coast into the finish line. I am pretty sure most of the riders had the same plan.
At the start line we eyed our friends Harper and James – they were doing exceptionally well, placing in the top 30 each day. Both of them were fresh from Raid the North Extreme so they had so good fitness going into this race. But to finish in the top quartile of this particular field of MTBers was truly impressive.
On the first climb, any thought of riding conservatively was erased. It was a slog. A never ending mountain that kept going. Once past one curb, another one lay ahead. With the sun beating down us, it became yet again another sufferfest! I think what made it brutal was some nasty hike-a-bike sections. These weren't your everyday hike-a-bikes – these were at a gradient where I would struggle to hike up, let alone hike up with my bike!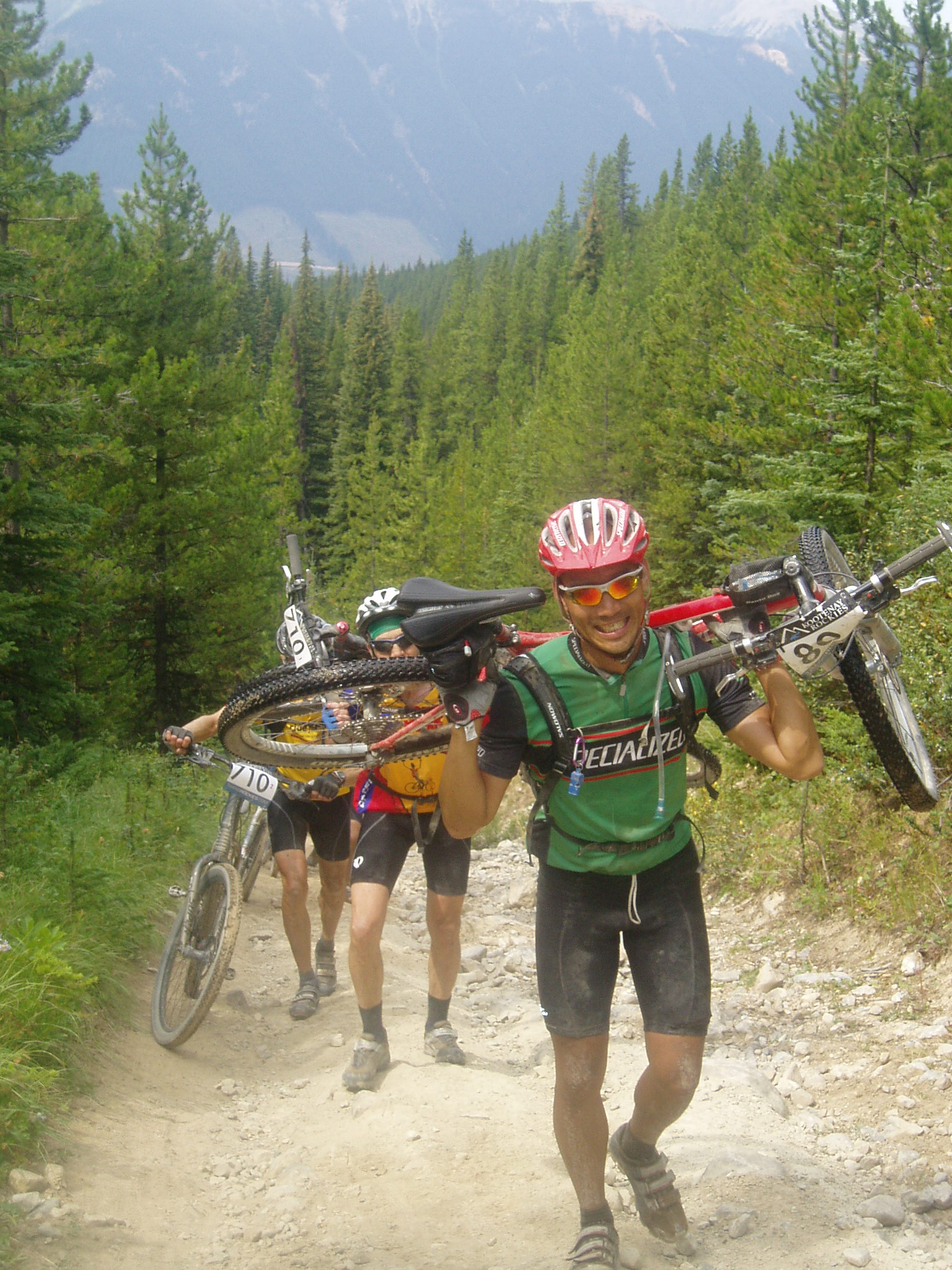 What goes up must come down. There were some blistering downhills on logging roads that made it a joy to blast down. I admit, I braked more than should. After my crash, I became a little tentative. At the bottom of the descent, we forded a couple of rivers before ascending the second climb. I started well – in my middle chainring, spinning up some steep gradients leading the paceline. I felt like I was a super domestique in the tour – that is until the pitch changed dramatically and I "cracked"! If the last mountain seemed endless, this climb continued to climb and climb and climb. Apparently the route book elevation was about 300m off!
Finally we summited. We would now coast for 40k. For the first 10k, Bill led and I sucked his wheel. We flew past a couple of teams and were moving at a decent clip of 35-40km/h. Then we hit some rollers, and the massive headwind and the heat and then the wheels came off. At about 90k in, I hit a very bad stretch. I was bonking out although I had ate and hydrated well, this 40k downhill was not downhill at all! There was probably another 1000ft of climbing (300m) that was tacked on! Boy o boy was I ever wrecked.
Paceline after paceline blew by us. A couple of riders fell off the paceline – they too looked completely shattered. Bill took out the tow line and finally after 4 days of being patient with me, I got on tow. Bill was an animal. We overtook the teams that passed us! We finally entered White Swan in what was the hottest day of the entire race. We were broken (more me than Bill) but we learned, never to trust that route book!