Stage 6: Elkford to Sparwood – 2300m elevation gain, 57% on gravel roads, 27% on single/double-track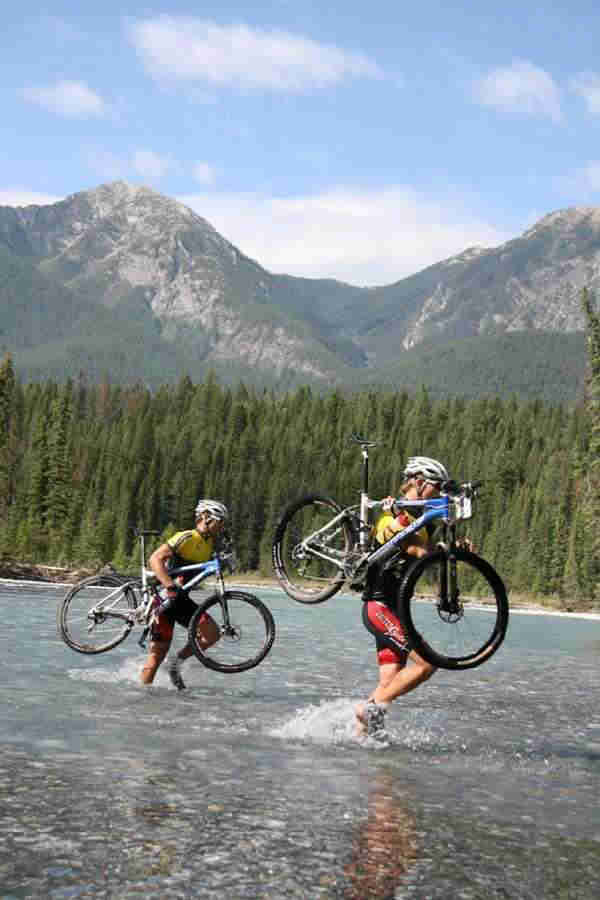 The penultimate stage – the Alp D'Huez of the Transrockies Challenge. Not only was this stage the longest (116k) but had the most elevation gain (2300m, 7000ft!), almost 700m (2100ft) more any other stage. While each stage tested you in different ways, Stage 6 would be both a physical and mental test of all previous 5 days combined. The race organization declared that this was the hardest stage ever in the race's history. I gulped. To top it off, the high temperatures and blowing haze from all the forest fires would add to the difficulty.
I dreaded this stage but decided early on if I had made it this far, Stage 6 as difficult as it may be, would be what the transrockies is all about. I decided to "man-up" and tackle this stage full on. The best is due to our improved performances on Stages 4 & 5, we had moved up from the third wave to the second wave – we were now in the thick of things. To take advantage of our newfound position, we started off with an up-tempo pace, moving through th field on the 3km uphill road climb out of Elkford only to experience some major backlogs on some nice single track by Josephine Falls.
The first of two major climbs went to 2000m. Bill clipped me on tow as we made our way up the hair pin turns. I could not believe what an animal Bill was. He was on fire as he set a ridiculous pace up the mountain, passing teams who were doing double takes. I was red-lining it to keep the tow line slack. The little extra momentum that Bill provided was an added relief for me as I was suffering beyond belief, breathing heavy and trying to turnover my dead legs. Many hard core MTBers did not like towing but as adventure racers, we knew the best way to keep the team pace high was to tow. Since there was a huge gap in fitness between Bill and I (Bill being on the podium at last year's MTB Ontario Cup and a former Olympian and myself barely being able to put 200k of riding a week due to work and other priorities), it only made sense for us to tow. Otherwise I think Bill would have killed me. While Bill screamed up most of the climb there were some nasty, nasty, nasty hike-a-bikes. I would put my bike on my back and hump up the steep climbs with my heartrate nearing 180bpm and my legs tightening up. The descent was fun, screaming down gravel roads until we hit an awesome scenic, flat 30k before approaching the second climb.
The second climb was far worse than the first climb. Ascending 1100m, the climb was endless and both Bill and I were gasping for air. Turn after turn, we would climb. I dry-heaved, unable to hold my stomach together as we climb, not even taking a second to stop and recover. Nearing the top we would top out at close to 2500m, the mountains stretched across my entire line of sight – a stunning view. The last little bit was a bit of a tease. It flatten it out, and as you turned the corner it continued to climb.
The descent into Sparwood was probably the craziest descent ever. Even crazier than the rock garden in the previous stage. It was just dangerous and killer! The super-steep descent, I mean SUPER-STEEP would require both Bill and I (and I am sure everyone else) to hold both brakes down until your knuckles hurt with your butt way WAY behind the seat as we would navigate a nasty rutted trail covered in bushes. So as you screamed by you were blinded by branches, twigs and leaves and oh yeah, watch out for that blind turn or you would find yourself riding off the cliff and into the void!For two miles, yup TWO MILES we descended through this twisty turny, rocky, rutted, branch in your face trying not to crash – although Bill crashed and I crashed into him!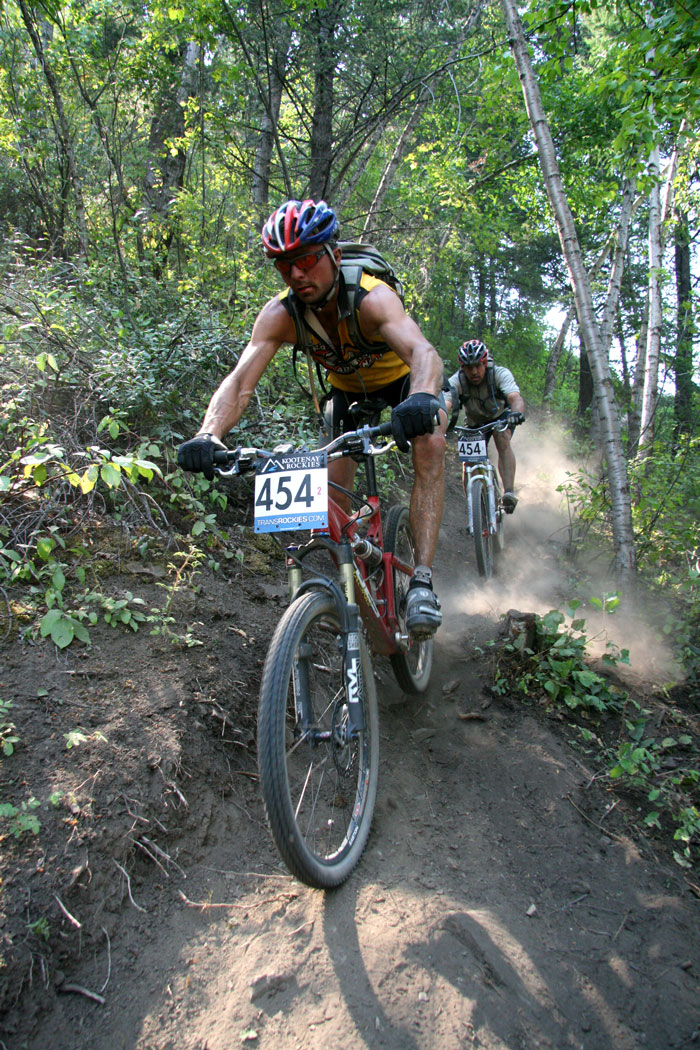 Upon reaching the end of the downhill, our disc brakes steaming due to the friction (I would have to replace my brakes after 6 days!), the course did not end. We hit about 8-10k of some very fun single-track. Not too technical but good flowy stuff. The town of Sparwood was just beside us and we exited the single track and rode on some snowmobile tracks in town. We could hear the music, we saw the banners, and heard the crowd of the finish line but as evil as evil could be, we were sent back OUT of town for a miserable 5k loop that saw us ride down this nasty technical sandy descent that would see riders wipeout and make the highlight video in the evening.
Not to be outdone, we would have to crawl underneath an overpass over some nasty rocks. Of course, yours truly made the video highlights after telling the camera man I would not wipe out. Sure enough, I wiped out. Finally, we would enter the town of Sparwood, completing one of the most epic MTB courses ever. We finished in just under 8 hours. Many teams were out there 12, 13 hours. That would have been so difficult. One more stage left! (well, really 2 more stages if you are a member of Team Running Free!)
Covered in mud and dust, Bill and I headed to the beer store and headed to our campsite where Harper and James had reserved a tent for us (th
ey had an awesome ride and cracked the top 30). We lay on the course, licked our wounds and drank beer – that is what it is all about.