Race:  Bracebridge Half Iron Duathlon
Date:  Sunday August 8, 20010
Location:  Annie Williams Park – Bracebridge, Ontario
Description:  7.5 km run, 90 km bike, 21.1 km run
Website: www.msctriathlon.com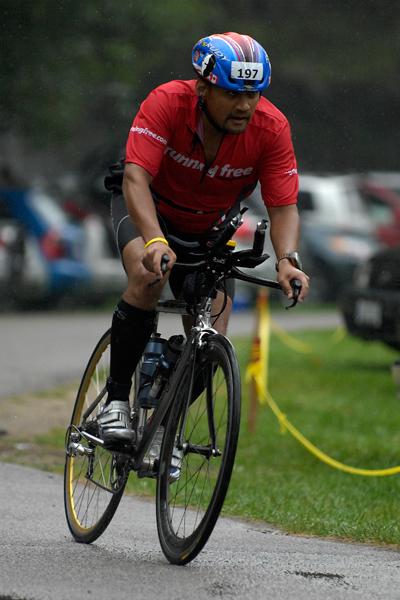 It was another rainy day at Bracebridge, but nowhere close to the crazy torrential downpours, thunder, and lightning we had last year during the bike.
I got 1.5 hrs of sleep the night before the race. I started playing a game called Heavy Rain (yeah maybe not such a great choice given the race conditions the next day) on the PS3 on Saturday afternoon and could not stop until I finished it. I usually don't sleep much prior to a race anyway so no big deal. I stocked up on sleep the previous two days.
I am still in recovery mode from Ironman Lake Placid, and initially, I was just signed up to do the Sprint Duathlon on Saturday. However, with about 28 days to go until my main Iron distance race in Ottawa, I needed to put in a few more longish but quality workouts before tapering for that event. I knew I would not get the same intensity from running by myself so I signed up. So this race was all about the run and keeping the heart rate in the high 150s, which is at the high end of my aerobic zone. This bike is tough so I would not be pushing to hard but harder than I did at Lake Placid.
7.5 km Run – 43:43, 5:50/km pace (avg hr 151 calories burned 549)
Definitely one of the most enjoyable runs I've had this year. I ran the entire distance alongside Mark Cairns, and David Shulman and we chatted and joked about various topics. I won't provide details here because what happens on the run course stays on the run course. I've got your back gentlemen! We did bring up the rear of the race at this point but there was still a very long day ahead of us. Starting off too hard will come back to bite you in the butt – especially for us duathletes because we had a little over 28 km today.
T1 – 1:48
Shed my Running Free arm warmers, slid on my cycling shoes and ran the long grass section to the mount line.
90 km Bike – 2:54:56, 30.9 km/hr  (avg hr 156, avg watts 179, avg cadence 92, calories burned 2143)
After last year's 3 flats and DNF, I was glad to have finished the entire course. Rode steady and mostly aerobic as planned. According to my stats, I went out of my aerobic zone for 19 minutes. These ventures out of the zone were attributable to the many hills on this course (my Garmin data showed 20 hills – nothing too crazy though). There were many rough patches but thanks to John Salt, the roads were clearly marked for us racers to avoid these areas. These up and down courses typically aggravate my back but I ready enjoyed my ride – playing tag with Mark Cairns a few times helped with this. I should mention that Mark was stuck in his small chainring right from the start. So his power has severely harnessed during this ride.
T2 – 1:38
The rain was pouring down at this point, but the temperature was nice and somewhat cool. Running a half marathon in these kinds of conditions is much more tolerable (for me anyway) than the crazy heat and humidity I experienced and crumbled from at Welland in June.
21.1 km Run – 2:07:44, 6:04/km (average HR 157, 1601 calories burned)
As planned, I kept the heart rate in the high 150s the whole way. With that same heart rate, it was interesting to watch how the run pace drifted from 5:15/km pace to 6:30/km pace as my legs started feeling the fatigue of Ironman Lake Placid. This really hit home at around the 14 km mark. Thank goodness fellow competitor (and great guy) Carlos Batista came by soon after that point and he too was feeling the hurt. So we hooked up to make sure we didn't disintegrate further and paced each other into the finish. There wasn't a whole lot of talking going on but I'll always remember that last 5-6km. It was true teamwork in action, in what is an individual sport. Carlos and I finished with the exact same finish time too.
By the way, the aid stations were generously stocked with water, Infinit, Cola, gels, fruit, and pretzels. For me, the cola is like an elixir during the run. The Garmin data showed a lots of little ups and downs (20) on this course but nothing really noticeable other the 2 big hills – which I enjoyed for some reason.
Finish Time – 5:49:49
John Salt (President of MultiSport Canada) greeted us at the finish line, where he congratulated us and gave us our nifty blue finisher hats. Very cool! Congrats to all who finished, you definitely earned it, especially those who had to endure the torrential rains that occurred later in the day. And thanks to the volunteers too, you all had to deal with the conditions too and did it gracefully. If you are looking for a challenging course, and a well organized race that wont break the bank, then consider this one.
On the drive home, I visited a roadside Chipwagon (along 48 near Sibbald Point Provincial Park) and treated myself to a large serving of Poutine – my first time having this stuff. Fresh cut fries, real grated cheese, and gravy. Crazy good!
Photo is courtesy of Mike Cheliak at MySportshooter.com