I just finish my first triathlon and I couldn't have ask for a better way to start my journey into the sport. The weather, the venue, the race, the officials and the organizers were perfect.
Race: Belwood Try-A-Tri
Date: July 24, 2011 at 1:15pm
Organizer: TriSports Subaru Triathlon Series
Website: http://www.trisportcanada.com/home.php
Pre-Race
Let me start by saying that getting into a wetsuit should be a sport on its own. You will definitely need help from someone with some experience on it during your first attempt.  The 1:15pm start time made the nutrition part a little tricky to plan. I ate at around 10:30am and had a banana one hour before the race.
After I got my wetsuit on, I did a short warm-up swim pushing a little harder at the end. It really helped as the wetsuit felt more comfortable after a little water got in and allowed the suit to move and conform to my body. With 5 minutes to spare, I was race ready..
Takeaways –  Arrive early, listen to instructions, do a warm-up, relax.
Swim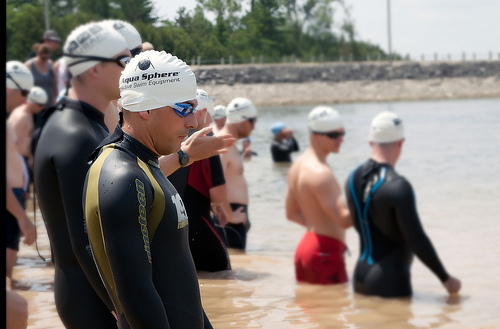 375m with two left turns clearly identified by large orange buoys.
That was by far the most challenging part of the race for me.  After spending the last 4 weeks at the pool working on my ability to swim the distance, I was confident that I could get the job done.  What I didn't prepare for was crowded start; however, I moved right as soon as I could to avoid the crowd and swam towards the first buoy.  Everyone slows down at the turn, making it easy to maneuver.  I've applied the same strategy twice more and found myself meters away from the shore.
There were several kayaks along the way making sure that everyone was safe. Once out of the water, a short run to the transition area and I was ready to start the bike leg of the race.
Takeaways –  Be calm, start slow, and use the buoys for directions as they are easy to spot.
Transition One (T1)
I've followed the tips from my friends at RF Orangeville and I was out of my wetsuit in no time. I did struggled to get my t-shirt and shorts on (more on that later).  Socks, shoes, glasses, and helmet on and I was ready to un-rack my bike and run to the "bike on" line.
Bike
14KM with two loops. The bike course was flat and fast with a mix of paved road and trails.
It was a "fat-tire" event as most of the course was on trails.  I've seen a couple of road bikes but I wouldn't suggest riding one. You may have an advantage on the paved part of the course but the trail portion will really slow you down.
I've done a couple of bike-to-run transition training before the event to help me with the expected heavy-leg feeling.  Again, the race surprised me.  Since I pushed that much harder during the race, my legs were really wonky for the first 500m of the run.
Approximately 10 minutes before the bike leg was over,  I had a gel and water in preparation for the run leg.
There was Police presence in all intersections controlling traffic flow.
Takeaways –  Listen to the officials, they will direct you along the way.
Transition Two (T2)
Not much here, remember to rack your bike before you undo you helmet. Since I was wearing my running shoes during the bike leg, I was in and out fast. Well, as fast as my heavy-legs allowed me to go.
Run
3km on flat and clearly identified course. Water stations at 1km and 2km.
The first 500m were challenging as my legs were heavy and slow. Once I got my "normal" legs back, I was able to gain some ground and finish the race in a much better pace.
Takeaways –  Train the bike-to-run transition over and over. The run doesn't need to be a long one;  just long enough for you to feel your "normal" legs are back in the game.
Post-Race
Cool-down and stretching for 15 minutes and lots of walking. There were lots of vendors to keep me busy
Overall Experience
The race itself was short and fast; it felt more like a very long sprint. I kept on holding back thinking I would run out of steam; it wasn't until I saw the finish line that I was able to let it all out. As I said, the swim leg was the most challenging but completely doable. The bike and run legs are long enough to challenge you but short enough to make it manageable for newbies like me.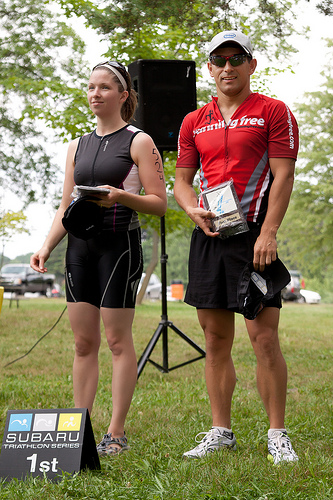 Things I would do differently
Wear my bike and run t-shirt underneath the wetsuit. The tri tops are great for that.
Undo my running shoes before the race.
Push myself harder when my body tells me it's OK to do so.
Do some swim training wearing a wetsuit before the race
Personal Notes
Like all other races in my limited experience, I learned as much about triathlons as I learned about myself during the race.
Most people rightfully rave about the magical experience of crossing the finish line. Personally, the magical experience starts as I cross the finish line with the newly gained knowledge I need to push myself a little further next time. I think the big banner should read "… till next time" instead of "finish line".
The Try-a-Tri event will give you the chance to experience a Triathlon without the training effort required for a longer race.  It will definitely give you a taste of what is to be a triathlete.  Just be aware, it is a very addicting experience and unfortunately we only have a few races left in the 2011 season. Act fast!