Race: Hamilton Marathon
When: November 3, 2013
Result: 4th overall, 2:41:59 (Dream result and huge PB).
The worst part of training for a marathon is the final four days before race day when anxiety builds to supercritical levels. Just when I am supposed to be resting, I cannot sleep. Just when I am supposed to be carb loading, I cannot eat. Sphincter factor of 10. And I am torturing my family. My body is present, but my mind is elsewhere. I have checked out. See you again folks, sometime after the race is over.
But not this time. I ate. I slept. I shared quality time in Montreal with my wife and daughter. Then, I executed the race of my life. My friends, preparation is everything! Here is my cautionary tale of honesty and trust, a prevailing theme in my life these days.
I have read that most pre-race nerves are caused by a lack of confidence and fear of the unknown. Is my training sufficient? Will I achieve my time goal? So dig down a little deeper: have I been faithful to my training plans? Did I blow off some days? Did I overdo others? But I now know this: If we have been honest with our training and realistic with our goals, we can trust our bodies to deliver on race day. Honest effort built upon honest effort creates trust in our self and builds confidence. And with such confidence, anxiety just does not have a chance. First you believe it, then you achieve it.
Yet doubts started to creep into my mind as we reached the 25 km marker of the race. What should have been an easy romp down the Red Hill Valley was turning into an unexpected brutal effort. The winds were howling up the expressway; the km marker signs were floating somewhere close to horizontal. The two fellows I had joined to share the wind blocking were not offering much help.
I was starting to bonk and made a connection: just ten days earlier, I had gutted out a 5k tempo section after already running 21k. That was also into a screaming cold wind with a bonk in full effect. I wanted to bail on that 5k section but I had stuck with it and put in an honest effort. Now I trusted I had built the character to persevere.
But where did my inspiration to train so honestly come from? I give thanks to Anthony Davey for that. His comment (Muhahaha) on my Boilermaker report (24 Seconds) this past July gave me my Touchstone. Every training pace that started to falter (Muhahaha) was corrected. No distance cut short (Muhahaha). No training day missed (Muhahaha). Weekly mileage targets always met, recovery days always easy. As good as Anthony's own PB result was in Chicago this October (2:44:29, 2nd age category), I just knew mine had to be better. Muhahaha. Thanks again, Anthony, for this!
My legs strengthened with renewed purpose, and after 30k I got down to business. I trusted all the training I had completed would take me through. The next 5 km went by in 19:15 and sent me into 4th place, then the next 5 km in 19:01 sealed the deal. I was feeling little distress. One last km in 3:53, a kick to the finish, and it was done!
I had been honest with my training, but I must confess I was not honest with my family. They had only vague ideas what I was up to these past six months, and only understood that whatever it was, I was not home very much. Further, I had taken on coaching of two female runners without ever mentioning it. Those details eventually came out and I almost lost everything dear to me. I had broken my family's trust, all because I was not honest with them in the first place.
This should be the happiest moment of my running career. Instead, I find myself counting my blessings that I still have a family, and contemplating regrets for the mistakes I have made. I am so sorry to have put my family through this. They did not deserve my neglect and poor choices. And the consequences extended further, as I basically had to complete much of my training solo from home base.
So, my training was not so honest after all. This was not an investment in myself to achieve a dream result; rather this was a loan taken from family and friends without their permission. Some will just call that stealing. I hope I can rebuild their trust, and I have learned the only way to do that is with honesty. Honesty to myself, but most importantly, honesty to my family above all else.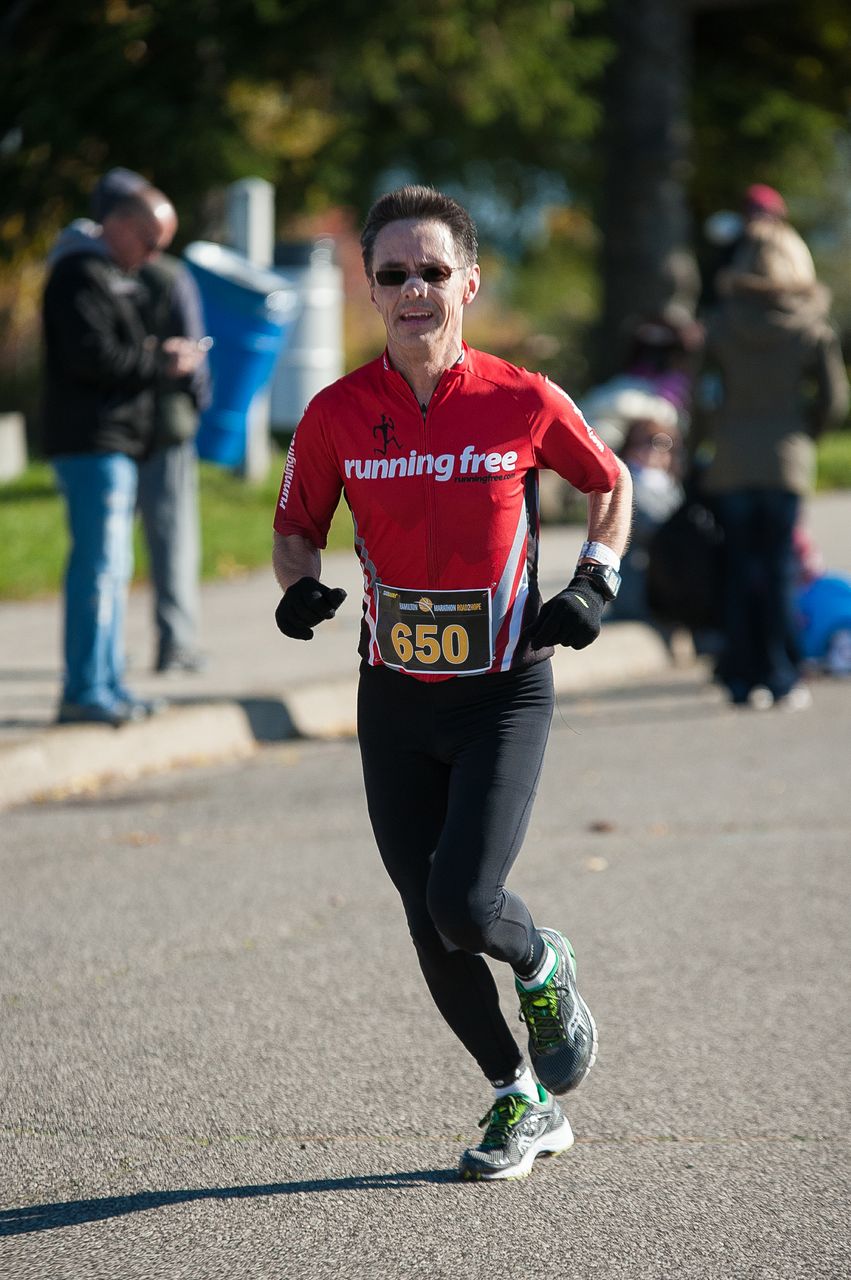 ____________________________________________________________
Some details of my race:
1st half split – 1:20:46
2nd half split – 1:21:13
Slowest 5k split: 19:40
Best 5k split: 18:52
Average Heart Rate: 151 bpm (Target Marathon HR for my age = 151 bpm)
Pacing Strategy: What felt reasonable.
Gels: Gu Roctane, total of 6, at race start and then every 7 km.
Shorts or Tights: Tights (just too chicken to wear shorts).
Shoes: Saucony Ride 6 (Mike, my feet thank you, that was a great save!)
Place after 2k: Around 15th.
Place after 9k: 8th.
Place after 13k: 7th.
Place after 28k: 5th.
Place after 35k: 4th.
_____________________________________________________________
Some details of my training:
Duration: Approx 25 weeks, starting May 12.
Training Plan: Daniel's Running Formula (Coach Jack Daniels), Marathon Training Plan A. VDOT = 61, Points per Week = 200 to 225.
Off Weeks: 2 (less than 80k).
Peak Weeks: 3 (160 k, about 13 hours per week).
Schedule: 7 days, with two per day runs Tues/Thurs on peak weeks.
Longest Training Run: 42k (done twice). Many more 34k to 39k.
Average Weekly Pace: Usually around 4:36/k.
Easy Pace: No faster than 4:20/k, as slow as 5:00/k on full recovery days.
Target Marathon Pace (M-Pace): 3:48/k to 3:50/k.
Tempo Training Pace (T-Pace): 3:36/k to 3:40/k
Interval Training Pace (I-Pace): 3:20/k
__________________________________________________________
Acknowledgements:
Moral Support: My Family!
Chiro and A.R.T: Dynamic Balance Chiropractic, Ajax. Dr. Jeremy Barchman. (905) 686-0960.
Massage Therapy: Athletic Kneads, Ajax. Mike Bosch, RMT. (905) 208-6452.
Foot Treatment: Carlos at The Foot Clinic, Toronto. (416) 638-3338.
Most Awesome Dudes: Steve and Garth at Ajax Running Free. (905) 426-2200.