With winter approaching, it's time to start planning of ways to train indoor in order to prepare for the spring.
Rollers and Trainers are both excellent choices with different advantages.
Dutch company Trax makes a line of indoor trainers, here is my review of two.
Galaxia Rollers (T1100)
http://www.tacx.com/en/products/trainers/galaxia
This is a set of rollers with rubber wheels.  This unit has a special feature that adds wheels under the front and rockers under rear rollers.
This helps accommodate the bike's natural motion of going back and forth.
The rollers had a parabolic shape to keep the bike in the middle.
Being a simple roller, this unit does not feature any resistance nor it has any add-on to hold the front wheel in place.
When the unit is put together, the distance between the front and back rollers has to be adjusted to fit the bike.  The procedure to change the size take about 5 minutes to do, it is quite inconvenient if you have multiple bikes of different sizes.
It is very smooth and reasonably quiet. The rockers system even work on carpet.
The learning curve of a roller isn't particularly steep, this is my first set of rollers, and like most people, I started off using it next to a wall.  I did fall down a couple times at the beginning, but they weren't nearly as disastrous  as you'd imagine.  I have used this roller for one full winter now, and it really helped me get in form when Spring came along.
Blue Twist Cycletrainer (T2675)
http://www.tacx.com/en/products/trainers/blue-matic
This is their "starter" unit with 7 level of Magnetic resistance.  It has a quick release to mount and unmount the bike, the package also come with a quick release skewer for the bike.
At the bottom of the line, this unit does not feature a Handlebar resistance lever, the adjustment has to be made on the magnetic brake.  I found it hard to get a smooth rotation going after the resistance is set to 3 or higher.
The instruction booklet is hard to follow, it has nice pictures of how to put the unit together, but very few words to describe each step.  The unit folds up nicely when not in use.  I plan on using this as a fitness unit that my wife can also use.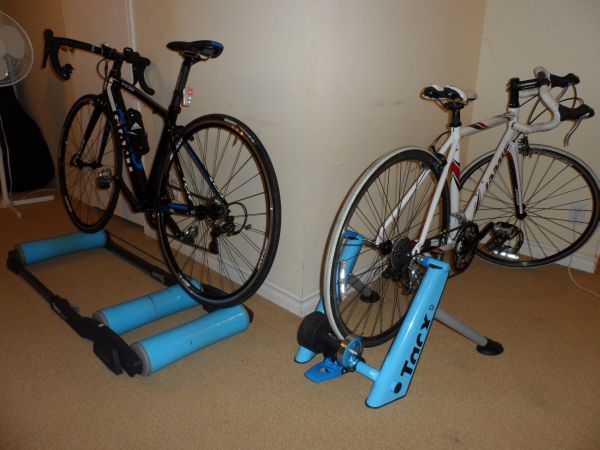 Both units are nice looking and appear to be built with good quality which should last a very long time.
Also worth mentioning is both of these units were Made in Holland.