This was the second race of the Chase the Coyote Trail Race put on by Run Dufferin and Norm and Jodi from the Orangeville chapter of Runningfree.  This race is held at the scenic and hilly Mono Cliffs Provincial Park where the Bruce Trail and the Niagara Escarpment come out to play.
I was a little nervous for this race as my third child was born this year and with each child my ability to train well exponentially dwindles.   I knew there was some ascents that my three children under 5 legs may or may not be able to handle to my satisfaction.  I knew that I had to go home and be a Daddy, and that there was the potential for some imploding.  I have been into running longer distances, so the fact that the race was only 14.4km  made me feel a little bit better.  In the end, I had a blast from the beginning to the end.
I set my goal to be around 1:05, but when I was holding my 5 month old trying to help him fall asleep at 2 A.M. one evening, I thought that this goal was a bit optimistic for this year.  I then settled upon a new goal of 1:10 +/- 5 minutes.  That way I was able to keep the 1:05 in the spectrum, but not feel that bad if a 1:15 materialized.  It pretty much came down to how many times my kids decided to keep me from sleep in the days leading up to the race.
The night before the race, there was only two times that I had to help someone with something, so I was good to go.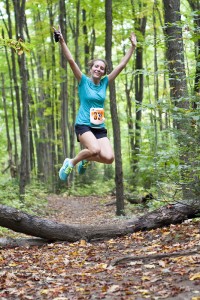 The start was a nice slowly ascending grade of a hill that was wide at times and was a mixture of gravel and dirt as we made our way onto the course.  I decided to go out faster than I cared to so that I didn't get caught behind some bodies later that I needed to get by.  I went out and then settled in.  This was a beautifully scenic course from the start to the end.  I knew or thought that there was three hills of significance to worry about.  The first hill was a long slow ascent and was a great deal of fun.  I got dropped by the 2 or 3 runners I was with, but I didn't care, I was running, my legs were not in trouble, and the trees were beautiful.  I got to the top and remembered to breathe and kept on moving.  There was a series of downhills where I was able to capture a great deal of the space that I had lost going up the hill.  There were twists, turns, and some straightforward trail.  There was nothing that was overly technical, but there certainly was some spots where my foot landed had to be carefully selected.
The second hill was a staircase of steps where you got to run into a person wearing a coyote mask banging a drum halfway up.  This was rather amusing and helped the mind focus on other things.  Once the stairs were finished the hill continued on for a much longer time than I had hoped for.  I had hoped to not walk at any point on this hill or the course for that matter, and I am proud to say that I have walked many hills in my life, but that day was not one of them.  I got to the top and slowed to breathe, popped some salt pills and kept on moving.  By this time I had seemed to latch onto 2 or 3 bodies that were either in front or behind me and they provided a great deal of entertainment for my mind to either watch or try to latch onto them.  I would lose ground on some uphills, but get it all back and then some on the downhills.  It was fun.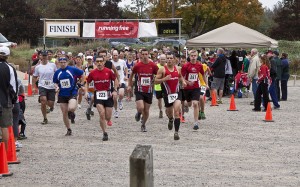 The third hill that I thought was going to be challenging ended up not being the challenge I had thought.  I was pleasantly surprised by how small it was in comparison to what I thought it was going to be.  From here it was all downhill to the finish.  I was ecstatic about this as running downhill has become a major strength of mine in these fatherhood years.  Well the group I had been running with started to pull away, and the guy behind me who I could hear breathing from 100 feet away (who I thought was going to pass out at some point as it was really ragged breathing) passed by me, and that loud breathing guy then went on to pass the ones in front of me.  I was rather amused by this all, but I could not do anything about it.  I was still pushing hard and having fun.  I tried to close the gap on another fellow in front of me, but I guess I run loud downhill, as he must have heard the loud runner guy behind him and did not want another runner to pass him.  I ended up finishing 1:12:45 putting be square in my loosey-goosey goal of 1:10 +/- 5 min.  I came 22 out of 122 and was rather pleased that I could not have given more at any point, and yet was able to go home and parent my children.
This has left me optimistic about my chances as future winner of this race in times of less sleep deprivation and changing of diapers.  However, I have learned that the winner of this year Ryan Atkins also won the World's Toughest Mudder title.  Actually I am not sure I will ever win this race, but I think getting my time down below 1 hour is achievable for me at some point in the future.  It is a beautiful course, put on by great people.