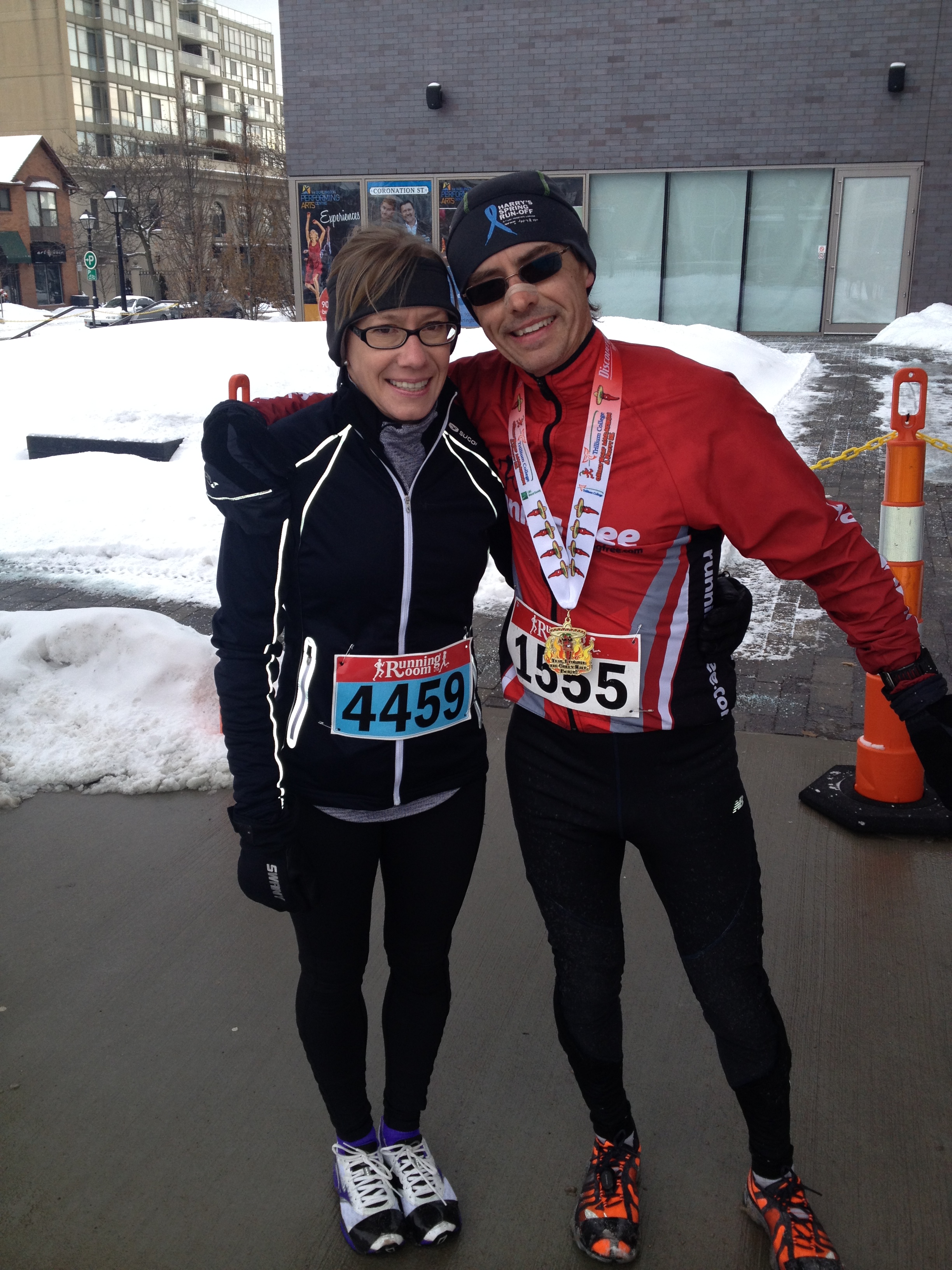 A good half and my "better half"…
Race: Chilly Half Marathon, Burlington
Date: March 2, 2014
Result: 1:19:34, 3rd age (45-49)
This is my third Chilly attempt and – finally – I have an age category medal to show for it.
Year after year, so many show up in peak season form ready to give everything they have at this race. Damned tough competition for certain. How do they do it? This winter has been exceptionally brutal for training. Then Winter delivered altogether more pain for race day: a fresh topping of snow and -15C temperatures. The snow from the previous night had not cleared completely even with a good salting. It was a slushy wet stinging mess. The water stations were also useless, unless you like crunching on ice chips.
Understandably then, less than stellar results could be expected. However, while some racers succumbed to the conditions, many upheld the tradition of great early season performances and delivered over the top PB results.
I knew I was in tough for my age group (45–49) and the results are proof of just how tough: Hiddleston (1:15:27) took 1st age and Ndereva (1:16:53) 2nd age. Lucky for me, Fuentes and a few other London area men did not show. Also lucky (for me), Team Running Free associate John Gardener (1:19:46, 4th age) was found fending off a cramp around 18k when I zipped by. It was close. Not by time, but by luck of the draw.
Also, some creative management of the awards: Predrag Mladenovic (1:11:56) was awarded top master even though he had won 3rd place overall in a close battle with three others. Next up for top master then should have been Hiddleston, and if the awards up top were correctly assigned, then 2nd age should have fallen to yours truly, and 3rd to John Gardener. A bit of road salt into the wound…it does sting!
I also must tip my cap to a pack of Black Lungs who all finished in the 1:15's: Conron, Lee, Chacra and Hiddleston. Very impressive, given both the training conditions this season and on race day itself. With these guys trampling my mojo, turning 50 cannot come soon enough! And now onto my "better half".
Race: Chilly 5k, Burlington
Date: March 2, 2014
Result: 1st age (F45-49)
The above is not my result, but I feel so proud that I own it just the same. As I left the start line in the half, she crossed the start line in the 5k, her first race in some 30 years.
With the separate start lines and routes, I feared I might not get to see her. Fortunately, as the half'ers were heading east the 5k's were returning west on the other side. We got in a quick wave to each other. With less than 1k left in her race, she was looking very comfortable! On the other hand I had already passed 5k in 18:30 for my race, and I was having worries that I was too ambitious.
It was a new experience showing up for a race with my best friend beside me. I felt more relaxed and calmer. We laid out our race clothes together. We did a little warm-up together. We made plans to meet after our races. I knew she would win an age prize. I even fretted that only she would be taking one home (it was close). We sat together during the awards and took pictures. We had lunch after. It didn't matter that I got home late after the race, that it ate up most of our Sunday. This was our day – shared together – and there will be many more.
Looking up the results after. Post-race aches and pains. Having second thoughts about starting too far back. Lamenting about not going out fast enough or pushing harder. Getting tangled up in the crowd. Those were my memories of my first road race (Sporting Life 2002), and now they are her's too. So much more yet to come!