One of the wonderful things about entering races is that, in addition to pursuing our own fitness goals and trying out new challenges, we also have the opportunity to support causes that use races as a way to raise money. The 4th Annual Walk It Off Run-Walk-&-Roll 5km race in Newmarket, ON is one such opportunity. The Walk It Off Centre in Newmarket provides exercise-based recovery for people with spinal cord injuries, and the fun race they put on every year helps to raise money for this centre (one of very few in North America!). The race, held on the paved trails that run through the center of Newmarket, is wheelchair and walker friendly, and there were plenty of wheelchair and walking athletes to join runners on the scenic course. The race also offered a Silent Auction, massage, bouncy castle and face painting for kids, in addition to a pancake breakfast, with all proceeds going towards helping people with spinal cord injuries to be able to heal.
After realizing the importance of the cause the race raises money for, the results of my racing efforts seem like an after-thought. Nevertheless, since I chose this local race to be my goal spring 5km of the year, I did seek to run as well as I could. I was happy with my result! Race day broke hot and sunny, with temperatures into the 20's C by the 10am race start. Even with the heat, I felt loose and focused, going out with the early leaders at a crisp pace. The course has markers for every km, and while I noticed that the heat was gradually slowing my early quick pace, I was still able to maintain a smooth, quick turnover that gradually shifted into a strong, laboured finish in the last half km. I came 4th overall, 3rd male, and 1st runner over 30 years old out of a field of over 300 participants. The mostly flat course aided me in running 19:01 for the race, which I was pleased with. Fellow Team Running Free athlete Jesse Diaz provided the pace bike as a course marshall, leading the front runners (who finished roughly 30 seconds ahead of me) through the park-path course. The race also graciously supplies professional photographers throughout the course to take pictures of runners as they run, and a couple of these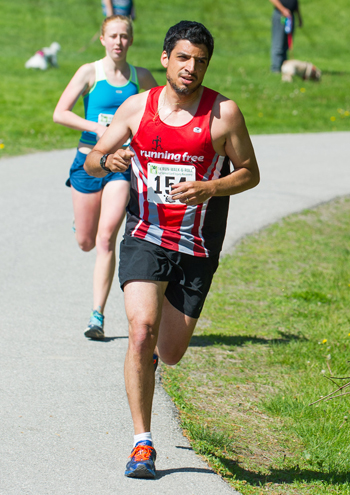 pictures are featured on this race review!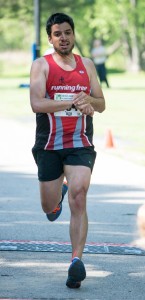 All in all, a great morning running a well-organized race on a beautiful course. This local race (close enough to my house to walk to the start line!) has become an annual staple to me, for reasons that extend well beyond my own racing! It's great to know our entry fees and fundraising go towards such a meaningful cause. I hope to run, walk or roll this event in the future!