I felt quite pumped after Ironman Mont-Tremblant and was eagerly looking forward to racing at Toronto Island the week after.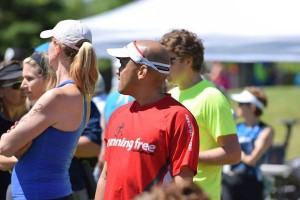 Due to unseasonably low Lake Ontario temperatures, the swim was cancelled. And I actually was looking forward to swimming, imagine that.
Toronto Island Give-It-A-Tri turned Duathlon – Saturday August 23, 2014
2.1 km Run – 9:07, 4:21/km pace, 167 Avg HR
T1 – 59 seconds
10 km Bike – 16:33, 36.3 km/hr, 176 Avg HR
– 260w avg, NP 262w
T2 – 1:04
2.5 km run – 12:30, 4:38/km, 174 Avg HR
11th overall 40:12 – first among Men 45-49
Not too much to say with such a short race. I brought out my road bike with a wheel cover and used the PowerCal for power measurement. I ran hard and knew my soleus was going to act up since I don't run this hard too often. I was happy with the result and soon after the race I knew I didn't want to run on Sunday so I gave fellow Team Running Free member, Jason Ng a call to either do the race in my place or join me for a relay.
Toronto Island Duathlon Relay –

Sunday August

24, 2014
Jason didn't want to ride and I wasn't too keen on running so this partnership worked fine. With it being a Sprint Duathlon, we figured we'd be one of a handful of teams, it turned out to be quite a turnout of 17 teams, which is really exceptional.
Having also done Ironman Mont-Tremblant the week before, Jason impressively banged out the first 5 km run in 19:13 (4:01/km pace) to lead the way. We made the quickest T1 of 50 seconds and I took my turn on the bike.
I brought out the very quick QR Illictio equipment with a disk wheel and a PowerCal for wattage measurement. It was a bit breezy, and there were a few moments where it hurt and I was tempted to ease up on the effort because I knew we were likely well ahead, but I could not let Jason down. I knew he'd be pushing hard so I had no excuse — this is the cool part of racing in the relay division. I completed the 20 km Bike in 31:45 (37.8 km/hr, 173 Avg HR, 255w avg, NP 258w). 
We executed another top transition of 36 seconds, and Jason was off on his way.
Jason fired up the 2.5 km run in 11:35 (4:08/km), and the captured first overall in 1st overall 1:03:46.
Lakeside Duathlon –

Saturday September

13, 2014
After completing Ironman Mont-Tremblant, and slipping in a fun and quick two days of racing at Toronto Island, I did not feel like racing and felt I was done for the season. Since TO Island I managed to slip in a few short runs here and there within my busy work schedule. Lakeside creeped up really fast and next thing I knew it was the Friday before race day. So why go and race when I didn't feel like it and the weather was supposed to be horrible? I had to be there anyway, since my little one was making her triathlon debut later that day at the same venue. Plus, I was somewhat interested in seeing how my body would perform.
Due the to expected rain, I packed my workhorse Litespeed L3 Road Bike for the race. I threw on a disc wheel to make up for some aerodynamic loss.
First 5km run (23:16, 4:40/km pace, 180 Avg HR)
This surprisingly felt great….at least for the first 3km. I was humming along at 4:15/km, and it felt effortless. I had a feeling it wouldn't last but I just went with it. My pace did slow during the final 2km but I finished the first 5km mucky run in 23:16. Which was pretty darn good in those slow conditions.
T1 – Used some pedal platforms today, which meant using running shoes all day. I was in and out of there in 42 seconds.
20 km bike (36:43, 32.7 km/hr, 180 Avg HR, 278w avg, NP 299w–measured with a PowerCal and it definitely seemed off today. Likely thrown off due to my loss of conditioning)
I never felt good at all. I just did not have the legs to push as hard as I wanted or capable of. This is what not riding the bike in the past few weeks can do for you. Plus, my road bike set-up with clip ons is not the same as my QR Illicito. My right arm went numb and crampy (forgot my bottle of Honeymaxx in the car so no fluid during the ride). Regardless, I dragged whatever effort I could out of my body and finished in 36:43.
T2 – Zipped in and out in 33 seconds.
Final 2.5 km run (11:38, 4:48/km, 192 Avg HR)
With no more races left in the season, I had no excuse not to run hard. Plus, it was cold, wet and miserable, so I just wanted to get this day over with. I managed to hold off some faster runners and finished 13th overall in 1:13:10 (fourth among Men 40-49 – I didn't realize I let some guy pass me late to claim third spot). I was happy to be able to run that hard with an achy soleus and still put in a decent ride on my roadie in those miserable conditions.
This race did not matter in terms of the Recharge With Milk Overall Duathlon Series Standings as I'd already claimed top spot in the Men 45-49 category.