Aside from starting the swim a few minutes late, and losing my timing chip in T2, this was my best executed Ironman race.
Despite making a shift to eating less carbs, I stayed with my go to breakfast of 2 bottles of Boost at 3-4 am, and another one later at 5-5:30am. I then sipped on Honeymaxx during the morning and right up to the lake for the swim start.
The Official Stats:
3.8 km SWIM – 1:25:42 (2:15/100m)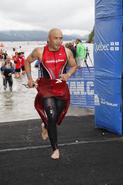 – Considering my shoulder issues that restrict me from getting in the swim training that I'd like to do, and that I started 2:12 minutes after my wave start (if you wanted to see evidence of this you just need to look at the video of the swim start and at 42:12 of the video you will see me in the green cap going into the water on my own through the red cap wave), I was very happy with this swim.
– The water got choppy as we approached the turnaround, but it did not bother me much. Maybe a few gulps of lake water here and there but I felt I was not losing time and holding my ground well when compared to everyone around me.
– Swim tip when doing this race: Give yourself some extra time to go through the crowd to get to the water for your start. The start resembles a marathon start with all the waves assembling one after the other. Even though I was at the start early, I forgot that and spent too much time going through the spectators, and the access to the water was fenced off to funnel athletes through a path parallel to the beach. My wave started, and I was still trying to make my way through the spectators, and the waves already waiting for their start.
T1 – 11:36
– The run from the water to the change tent is a long one at Ironman Mont-Tremblant, and this year it was not carpeted. Running barefoot does not feel great with my right foot issues which go back two years, and the extra chill to the air and water this morning helped numb it a bit.
– I did not wear my Garmin during the swim (I did not want to lose it in the lake due to contact with other swimmers, and I did not want to tuck it under my wetsuit sleeve because it puts too much pressure on my wrist – it made my hand numb at Welland), I kept it in my T1 bag and turned it on while in the change tent.
– The change tent was crowded and it took some time to find a spot to change. Typically, I'd want to fly in and out of there, but it was a chilly day ahead (temperatures in the teens with rain and wind in the forecast) and I wanted to make sure to dress properly (a tight fitting layer underneath my Tri top, Running Free arm warmers and calf sleeves). In retrospect, that was a good move, because I saw athletes pulled off to the side all over the course – either seeking help for hypothermia or dropping out of the race because of it.
180 km BIKE – 5:59:36 (30.03 km/hr)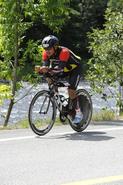 – Due to the multiple Garmin resets at the start of my ride (It was trying to sync with another PowerTap wheel – even though I went through the trouble to syncing everything on race morning. So I had to and all done on the fly as I was riding), I had no real idea of my bike time as I was riding. I just paid attention to riding steady, getting in my nutrition, and keeping my heart rate and wattage in check.
– My Garmin did manage to track 5:52 of the ride and it captured these stats:
142 avg HR, 169w avg, 184w NP, 79 rpm avg cadence, 350 TSS
– 4:40 of stop time due to two nature breaks and a stop at special needs.
– This ride felt easy and intentionally so. Ideally, I would have liked to average 200w, but I paid more attention to HR, and amped up the wattage if things felt too easy. I particularly made up a lot of ground on the windy highway section (especially during the second loop). I wanted to make sure I managed my effort to ensure a great run.
– Nutrition was a bit of an issue with the colder temperatures. I drank one full bottle less than I normally would have, so I was in a 300 calorie deficit. I tried to make up for it my grabbing some Honey Stinger Waffles at a few aid stations. I ate two of them and had no issues.
T2 – 2:09 *definitely incorrect. I wish I was that fast in there. This was part of the timing chip fiasco.
– This is where I lost my timing chip. I removed it to swap out the calf sleeves and put on some compression socks and remember putting the chip on the chair beside me with my race number belt so I would not miss it. I obviously did. I remember doing a final check of the area to see if I missed anything and I saw nothing. I know now that the chip was all packed up in the T2 bag and taken away by a volunteer. — I found the chip in my bag when I was unpacking at home.
42.2 km RUN – 4:42:00 * actually ran 4:18-4:19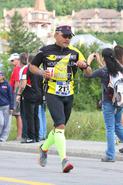 – There is no point in putting up any stats here since they would be all out of whack. I was clipping along really well and just before the far turnaround (approx 9.5km) I realized that I did not have a timing chip on my ankle. I hoped to have my best day ever out there, but that goal quickly changed into making sure I got an official time. Why? I need an official completion time in order to punch my ticket to get on the Kona start line.
– I then stopped at each timing station to report in so that race/timing officials knew that I actually ran to those checkpoints. I tried getting a new chip but that was not possible. They did not have them out on the run course and typically only offer replacements after the swim.
– At the 16 km, one of the timing guys told me that I might not get a time today, and to maybe check back into T2 to see if I could find the chip. He also called into the main timing station at the finish line and could not get an answer so he told me to keep running and he'd have an answer for me when I got back. I was not feeling all that confident. But thought, I could at least show them my Garmin file to prove I ran the whole way. Not sure if that is admissible anyway.
– Once I completed the first loop, I did run back into the T2 change tent to find the chip, but no dice (too bad it did not occur to me during that time to check my transition bag). I reached the timing guy (this time at the 25km mark) and he gave me the all clear to keep running. He told me I would not get a run time, but I would get a finish time. With my spirits boosted, I finished the run strong despite an ache in my problematic right foot – I was hoping for a bigger kick in the final 10 km but no overdrive today.
– The 4:42:00 was just an estimate and based upon the time of day I crossed the finish line.
– Examining the Garmin file, and with all the stops at the timing stations, and the re-visit to T2, my run time was actually, 4:18-4:19. Without all the shenanigans, who knows what that final time would be. Nutrition was fine and I even had some of the Red Bull at a few aid stations. It was mainly a steady diet of what was offered at the aid stations – cola, water, Honey Stinger gel, and a few gummy candies.
TOTAL TIME – 12:21:00
– Yes, in actuality the finish time was lower, but I was just overjoyed to be able to get a finish time at all. One more Ironman to go and I should be able to toe the start line at Kona in the next year or two. And this will be a great point to build from to be even faster next year.
Thanks:
– To my family for all their support and my in-laws for making the trip to come and cheer. If there is a place to bring family to watch an Ironman race, Mont-Tremblant is the perfect location. You really do need a team at home to pick up the slack when you are away doing long rides and runs. I have that in spades thanks to an understanding wife and kid. Having a great location for a race where everyone can have fun during Ironman week helps a ton.
– To the Markham wing of Ignition Fitness. You athletes are the best and you make me look good. First and foremost, you are all top notch people, but your passion for performing to your best is inspirational and forces me to be on top of my game too.
– To Running Free, Quintana Roo, and Honeymaxx. I am fortunate to have access to the products of my choice, and all three of these companies are the best.
– Rick Choy – sorry you had to miss out on this race. I hope you get better soon. You've got me on the fastest bike I've ever ridden (QR Illicito) and your fit on it set me off on the fast track right from the beginning. If you are looking to get a new bike, see Rick about getting a Quintana Roo.