Well, this has been a first full season of doing a lot of multisport and running for me.  I set out at the beginning of the year to race 500 miles as a goal for me as well as raising  funds for Heart & Stroke Foundation, both of which have been fantastic personally but will fall short of my goals. Injuries and health related issues plagued me which I was made to stop for 2 months of any training or racing.
This weekend will be the start of my final push to log my miles in to get close to the 500 goal. I am at 308.2 miles with 198.8 miles to go. I have 3 races left starting with ScotiaBank ½ marathon this weekend, then next weekend my wife and I are driving to Miami on the Wednesday for Ironman 70.3 and then the following weekend back in Hamilton for the Run2Hope Marathon. I love the Miami race as it is a very flat course for the bike portion where we ride along close to the Everglades National Park up to the turn-around and then back to the ocean. I can ride anymore hills this year as my right arm is the only one with enough strength to hold onto the handlebars pulling my up hills. My left arm doesn't have the strength to allow me to come out of the saddle to push myself up the hills, so I just sit back and enjoy my ride as long as I can up the hills and sometimes eventually have to get of the bike and run it up the hill.
The calculation is 109.6 miles in 3 weekends leaving me 90.4 miles short of my racing goal. I might try to get in a few 10k's before the end of the year, but I will not make it. I am already booked in for New Orleans 70.3 in April and looking at Ironman Florida next year UNLESS by some slim chance I can win a lottery for a KONA slot LOL (yeah right).
I have made PB's this year and have even broken them during the year as well. Normally I am closer to the bottom of my AG as well as the whole field when I cross the finish line, but my best race this year was the Toronto Island Triathlon at the end of August after being sidelined for 6 weeks. I entered the Duathlon by winning the entry from MultiSport Canada and finish the race 4/16 in my AG and 25/81 in the field, WOW I must have been Charged with Milk not just Recharging.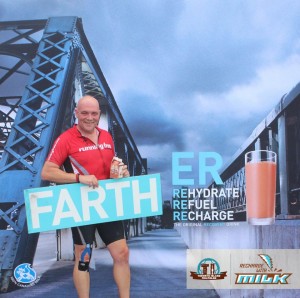 It has been a fantastic year as being a part of the Team Running Free and meeting new people.The athletes as part of this team are great, encouraging and fun to be around. I have found new products as the sponsors for Team Running Free have been good for me, GU (which I have been using for a while now), Nathan's great fuel boxes on the bike and running belts, Aquaman, Fox River, they are very comfortable sox to run in. Thanks to the other sponsors for being there as well, Quintana Roo, Montrail, Mizuno, CW-X and 7 Systems Supplements. I will try out these others either over the winter or during next season if I am still able to do this next year.
Richard
Damaged Heart